Steve Viers went through UGM Recovery and was hired as the chef at the UGM Men's Shelter. His story was told through the following video at the UGM 2013 annual banquet. Although Steve has moved on to other culinary opportunities, the story of his restored relationship with his mother is still a powerful one.
After you watch the video, you might be interested in the letter below from Steve's mother, Nancy Helldorfer:
To the Staff and Volunteers at Union Gospel Mission: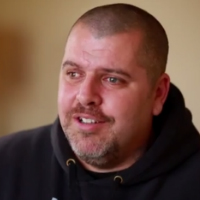 I have waited many years to write this letter and was not even sure it would ever happen. Even though it is not close to what I feel, I hope this letter will express some of the overwhelming love and thankfulness I have for what your Mission and what God's love have done for my son.
My son was the most beautiful and loving baby and child that any mother could ever wish for. He was very inquisitive and loved to dance and sing. No matter where I took him, people loved having him around, and he loved being with people. He also loved animals and was constantly taking our birds to school under his shirts for show and tell. There always seemed to be a stray animal following him home. My favorite time with him was when he was sitting in my lap and I was telling him how special he was and what a special man he was going to be. I also felt very strongly about never lying to anyone and encouraged this daily in my children.
I won't go into the many years and what kind of problems Steven got into because he has shared this many times and has told the story much better than I ever would be able to. But I do want to talk about being the parent of a child who was very good at telling stories and being a mother who wanted to believe her child over anyone else.
Things would go missing, and I never even thought it could be my son. Even when the police called and asked me to come and pick him up, I always wanted to believe that Steve just happened to be in the wrong place when something happened. When my bottles of wine seemed to empty quicker than expected, I never thought of my son drinking them. I could go on and on, but I think you are getting the picture.
Using the Kubler-Ross model, I was in denial for over 20 years. Whenever Steven had a problem and he called, I would accept him at his word and "help" him start over. At least, that is what I thought I was doing. I had no idea how much damage I was doing and how much farther away from the truth I was going. I had so much anger toward my son (at least I thought it was toward my son) that I just wanted him out of my life.
I finally realized that I was really angry at myself because I did not have the strength to tell Steven how much he was not only damaging himself but also his family. I thought at first I could heal things if I bought enough material things for him and made his life comfortable. I actually started bargaining with God. I would pray if he would help Steven, I would "do something for Him." Naturally, since I was setting the guidelines, that was never going to happen.
I had spent many years going in and out of depression because of all the anger that I carried inside, not understanding that I needed to let go and quit trying to control all aspects of my life which included how I pictured my son and what his place was in the family.
With the help of my daughter, my sister, and my husband, I was able to realize that no matter how much I loved my son, it was OK not to like what he did. And it was OK to tell him what I expected and that if he was not able to live with that, he would have to leave. It is so easy to tell someone else how to deal with something, but there is no way that I will ever be able to describe the day that I sent Steven out of my house with no idea where he was going to end up.
I had to accept the fact that he could put himself in harm's way and I might not ever see him again. I packed him a bag lunch, and my sister drove him one hour to the closest freeway where he started hitchhiking to Spokane. All I asked was that he call me when he got there so that I would know what city he was in. Never think that the worry was over once he left town. The years of pain and grief were mixed with the child that I remembered, and in my dreams, they would become confused. I would see Steven falling and try to catch him, yelling that mom was here and would never let him fall, but I would never be able to catch him. This was an ongoing dream for many years after he left.
When he called five years ago and said that he had been in a recovery program and was graduating, I knew I would be there. Not that I had high expectations, but the fact that he had done something positive was something to celebrate. I wasn't sure how long it would last, but I was willing to be supportive; so my daughter, my two grandchildren and I came to see him complete his program. It sounded good, and the people involved had many positive things to say about Steven, but I had heard the same story too many other times to accept it at face value. He needed to prove by his actions that he really meant what he said and said what he meant.
When I came to visit this month, I was still of the attitude that I was here to see if life had really changed or he was still telling me stories. As much as I loved my son, I had learned not to believe anything he told me.
After spending time with Steven, going to work with him, and having a few heart-to-hearts, I have come to the conclusion that he has finally found the man I knew he could be. I have never been more proud of the person that he has become and meeting the people that have supported him has even made me more sure that he has finally found himself. He has also found a family that not only supports him but will always be there for him. You have done for my son what I have been unable to do, as hard as I tried.
My daughter Jackie said it best, "I finally have my brother back."
Unconditional love is only able to go so far unless there is someone to help lead you out of the wilderness, and that is what you have done for my son. Being able to speak to the residents and find out that the Mission truly does not only speak the Word but follows through in actions was truly an eye opener for me. I have not found a lot of Christian believers that are as accepting of other beliefs and show as much love as your Mission does, and it shows in every word and action that I saw while I was there.
I spoke with a young man who was just starting the program, and he was wondering why his family did not seem very excited for him. Please let the men that live there know that their actions are going to speak louder than words ever could and that change does not happen overnight. It has taken me many years and multiple visits before I finally could believe that my son had "found the light," and I have the Mission and God to thank.
I could spend the rest of my life praising your presence in my son's life, but that would not get us very far. Instead, I am going to pray to God that your work continues to grow and that He will continue to bless you in all the ways that He sees fit.
Thank you, again, for taking time to speak with me and allowing me to spend time with Steven in the place that has meant so much to him.
Go with God and may many blessings come your way,
Nancy Helldorfer, mother of Steven Viers
We don't get letters like this every day, but we do have uplifting stories of life transformation on a regular basis. Want to get a little inspiration in your mailbox once a month? Click on the link below.