By Barbara Comito, Director of Marketing and Communications
(Edited from a Spokane MarCom blog post)
Some of UGM's most prolific partners are business owners who want to improve their community by giving back. These partnerships are good for UGM as well as the businesses.
In addition to bolstering a company's reputation, charity partnerships tend to strengthen morale and employee happiness. "If you make your company a positive force in the community it can improve employees' regard for their corporate leaders, which can only help you" (Entrepreneur, "4 Ways Your Company Benefits from Giving Back").
Large corporations often have matching gift programs, doubling the donations their employees make. In volunteer grant programs, employees give of their time while the company provides funding to the charity of their choice. But what about small, local businesses? How can they make a difference?
Here are five examples of real-life partnerships between local companies and UGM. They're only a drop in the bucket of creative ways businesses can do their less-fortunate neighbors – and themselves! – a lot of good.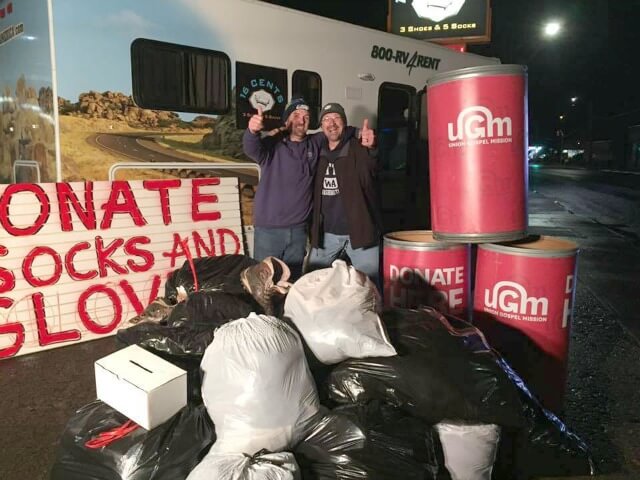 Crazy Campout – Turn a drive into an event. Every year, UGM serves a full Thanksgiving dinner for homeless individuals and low-income families. We love to give out warm clothing items – thick socks, gloves, hats and scarves – but we don't always have enough to meet the needs of our 1,000-plus guests. For three years in a row, 16 Cents, 3 Shoes & 5 Socks, a local furniture store, stepped up to help, holding a weekend campout in the parking lot of one of their stores. Thanks to lots of Facebook Live, they collected more than 1,500 pairs of socks and 252 pairs of gloves during the #CrazyCampout. Good publicity for the business. Lots of needed items for UGM.
Charity Auction – Every year, at their anniversary event, Dealers Auto Auction holds a charity auction to raise money for four local charities. They showcase their auctioneers' amazing talent by auctioning items with a low cost to DAA but high value to their fellow dealers – choice of lane, date and time for an auction; front row parking for the Thursday auction all year long; a moose dinner featuring game shot by owner Bob McConkey. Fun event for DAA. Valuable funding for UGM.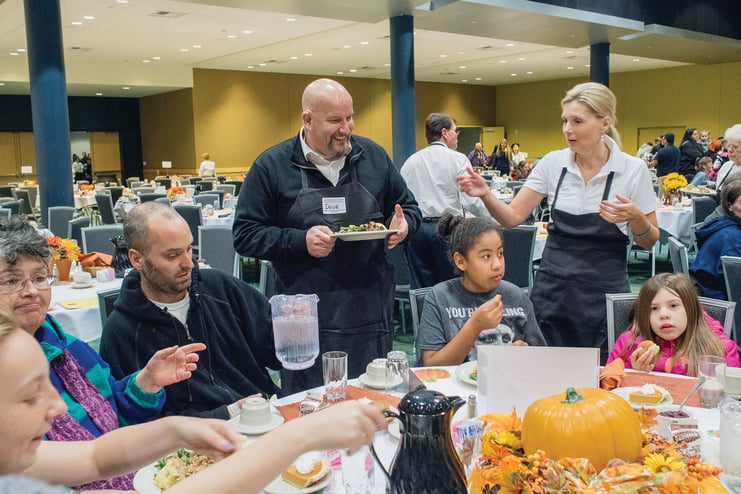 Sponsorship Combined with Volunteering – Larry H Miller Dealerships have underwritten UGM's City-Wide Thanksgiving Dinner for the past three years. The general managers and their spouses, along with other staff members, also come to serve the meal. UGM benefits both from the team's enthusiasm and their underwriting support. At the same time, managers and their families bond over a hands-on volunteer experience to a group of people who are generally very grateful.
Donate your leftovers. OK, that sounds bad, but in many cases, your leftovers have real value. If your company does regular computer upgrades, chances are your old computers might be better than what's sitting on the desks at your average non-profit. A local screen-printer recently brought UGM a bunch of t-shirt misprints. The logo was wrong, but they still had excellent value as clothing. Brent Christian from Tobler Marina in Hayden, Idaho, donates boats he has taken as trade-ins, but doesn't plan to sell, to UGM Motors.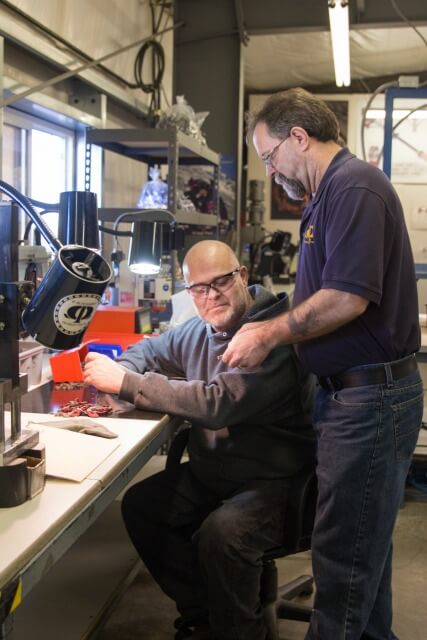 Employment Opportunities. Part of what UGM does is help people get back on their feet after periods of unemployment, and one of the ways businesses help us do that is by providing business practicum experiences. Participants in our long-term recovery programs do 240 hours of volunteer work at a local business. The business gives an individual some valuable work experience and a possible reference while receiving 20 hours a week from a conscientious worker.
Of course, in each of these cases, we seek to express our appreciation for the business's generosity in every way available to us (social media, our newsletter, event displays), but the real value is so much bigger than the publicity. Businesses and UGM working together make the community a better place to live, and that's a benefit all of its own.
To come alongside UGM as a business partner, click below.