When Tiffany, Director of Vocational Advancement, discovered she needed a kidney transplant, finding a willing donor was no easy task.
After waiting for several months, she met Daisy, and earlier this year, Tiffany had her transplant.
When she returned to work, Tiffany went to the Men's Recovery community meeting to thank them for praying for her. The following is a reflection Tiffany wrote after that meeting where she realized the parallels between the men's recovery journeys and her own.
(If you'd like to learn more about Tiffany and Daisy's journey together, click here.)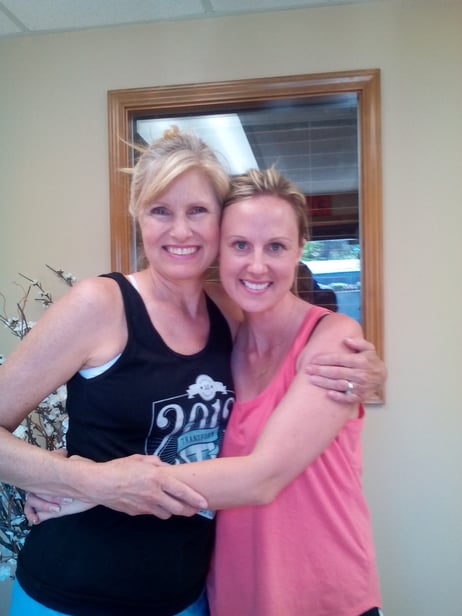 By Tiffany Riddle, UGM Director of Aftercare and Vocational Advancement
Jerry (Director of Men's Recovery) asked me to share about my kidney transplant journey since all the recovery guys had been praying for me. I instantly thought What am I going to say? I really had only one nugget in my head – an "aha" experience during my kidney transplant.
I started by sharing briefly about the surgery and how they put the kidney right in front under my left hip, as I pointed to the exact area.
They put me on all sorts of anti-rejection medicine in order to keep the new kidney hidden from my body. This did a number on my body – my hands and arms felt as though they were shaking like crazy and wanted to randomly reach out, like I was frantically waving at people. So, I would hold onto a pillow on my lap to keep my arms from rising up so much. My stomach was bloated like I was six months pregnant and full of pain along with causing me to race to the bathroom often. The guys in recovery chuckled and one said they all could relate to those symptoms. We all laughed.
There were also times I laid in bed quite depressed, partly due to the medicine and partly because I just felt bummed about my state of recovery, even though I knew it would get better from watching my sister who had her kidney transplant a year before.
I was in a hard place physically because of the surgery and because of the amount of medicine the doctors had me on – at that point, 60 plus pills a day. Every 12 hours, I would take close to 30 pills with a few others in between.
I became aware that God is not only in our good, healthy times, but he's also in our depressing, hopeless, frustrating, and hard times of recovery. I can be grateful to God and still be in the midst of struggling.
As I closed, I thanked the men for praying for me and expressed I felt energetic, now, and grateful to be back to work. I admire these men and told them, again, how they inspire me.
It was when they started asking me questions that God really revealed to me the parallels between my surgery and recovery to their surgery and recovery….the surgery of their hearts.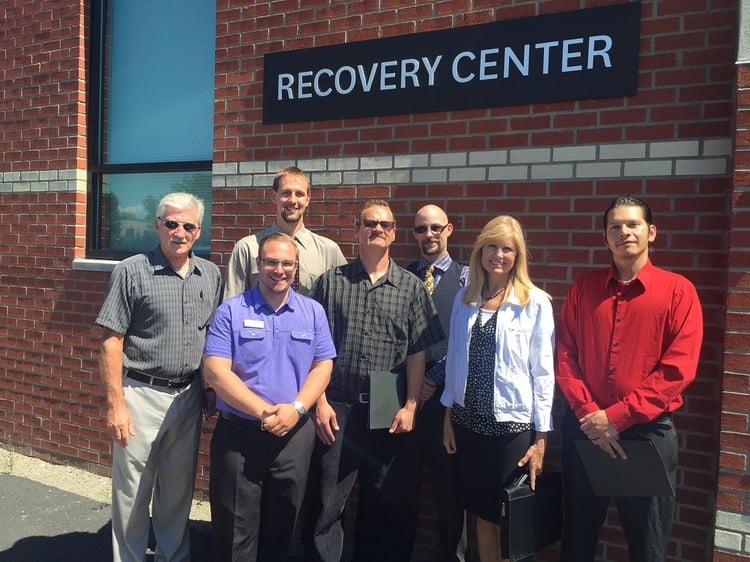 "How long will you be taking this medicine?"
I'll be on anti-rejection drugs for the rest of my life. The drugs reduce the white bloods cells in my body so they are not as strong. I am, therefore, more susceptible to infection and have to be more careful. These drugs hide my new kidney from my body since it is a foreign object, and if my army of white blood cells finds it, they will attack it and try to reject it from my body.
"Did you ever think 'why me' in this process?"
A little. I am a very positive person almost to a fault sometimes. Often when I am going through something big like this, I have to slow myself down to think and feel. I have to tell myself it is okay to feel sorry for myself and to allow myself to cry, and I do. Boy, does that feel good. I cried alone and in my husband's arms, then I put my boots back on and am back to feeling strong and positive.
God gave me a connection to what the men are facing through my own experience.
"This," I said, "would be a good practice for some of you…release the valve and let the tears flow. Allow yourself to feel bad, sad, and sorry for the situation you are in and then put your boots on and fight the battle before you."
I felt the guys were with me as I spoke. They were relating to my experience because it was like their own. We were both in a battle for our lives and it was and is not easy!
"Will you get involved with a kidney transplant support group?"
You know, I have thought of doing this… There is a need to support each other in our recovery because we are in different stages and some of us are doing better than others at times. Just like you guys. Don't you have a connection with people who are going through recovery like you?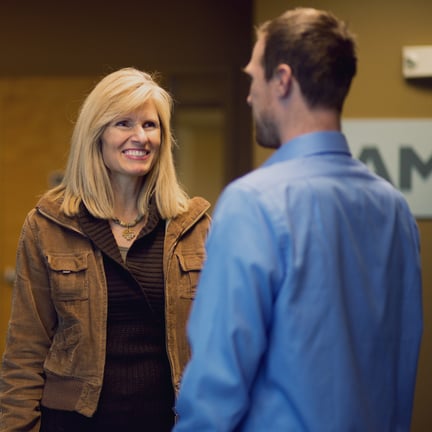 They were with me! I was so excited to see how we related to one another.
Several of the guys stated that they were glad I talked about being strong and allowing myself to think and feel. One said he had tried that and was amazed at how much better he felt afterwards.
They expressed gratitude to me for sharing my struggles and how great it was I could relate to what they are going through.
As I left the front of the chapel, I told the men, "You are in surgery right now. Your hearts and minds are in surgery and when you finish the surgery then the recovery will begin."
I smiled, laughed and was again grateful for the time I've been gifted to work with our men and women in recovery as they look outward toward the life God intended them to have.
Is someone you know going through a difficult time? Encourage him or her with the greeting card below. Download, print and send. You're sure to make someone's day!