Editor's Note: We found this letter in our parking lot. As you can see, it was an assignment – write a good-bye letter to your drug of choice.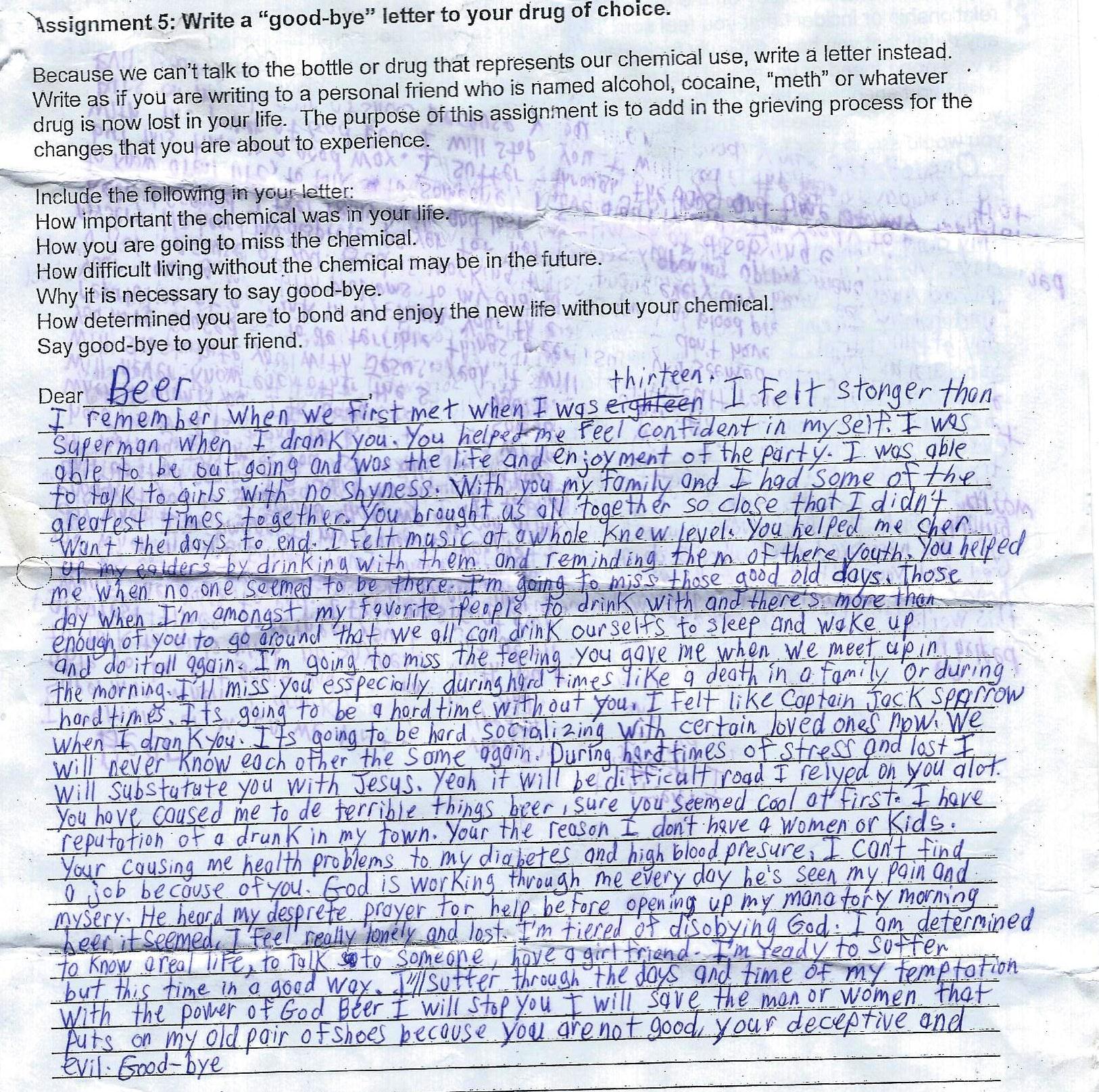 Dear Beer,
I remember when we first met. I was 13. I felt stronger than Superman when I drank you. You helped me feel confident in myself. I was able to be outgoing – the life of the party! I was able to talk to girls with no shyness. With you, my family and I had some of the greatest times together. You brought us all together, so close that I didn't want the days to end. I felt music at a whole new level. You helped me cheer up my elders by drinking with them and reminding them of their youth. You helped me when no one seemed to be there.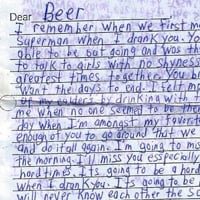 I'm going to miss those good old days. Those days when I'm amongst my favorite people to drink with and there's more than enough of you go around. Those days when we can all drink ourselves to sleep and wake up and do it all again. I'm going to miss the feeling you gave me when we met up in the morning. I'll miss you especially during hard times like a death in a family or during the morning. It's going to be a hard time without you. I felt like Captain Jack Sparrow when I drank you. It's going to be hard socializing with certain loved ones now. We will never know each other the same again.
During hard times of stress and loss, I will substitute you with Jesus. Yeah, it will be a difficult road. I relied on you a lot. You have caused me to do terrible things, beer. Sure, you seemed cool at first. I have a reputation as a drunk in my town. You're the reason I don't have a woman or kids. You're causing me health problems, too – my diabetes and blood pressure. I can't find a job because of you.
God is working through me every day. He's seen my pain and misery. He heard my desperate prayer for help before opening up my mandatory morning beer. I feel really lonely and lost. I'm tired of disobeying God. I am determined to know a real life, to talk to someone, have a girlfriend. I'm ready to suffer, but this time in a good way. I'll suffer through the days and time of my temptation with the power of God. Beer, I will stop you. I will save the man or woman who puts on my old pair of shoes because you are not good. You're deceptive and evil. Good-bye.
Learn more about addiction in this short video segment from the Counselor's Couch.
You might also enjoy