By Merrily Brast, Staff Writer
"I lived 50 years for the world, for negativity. I'm living the rest of my life for the Lord. No matter what."
David, a 6'11", former professional basketball player and resident at the Union Gospel Mission Men's Shelter used to be prideful. After all, he was playing basketball professionally all around the world.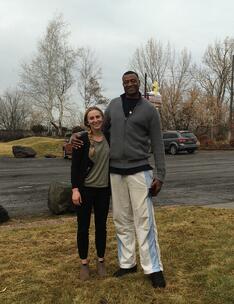 "I had attitude. You know, I wasn't humble. And my Agent [at the time] she told me, she said, 'One thing about you…you don't have character.' And I was so bold in asking, 'What's character?' I didn't even know what that was. Until I got humble with the Lord, that's when I got character."
A Life Changed
David recently devoted his heart to the Lord after coming to the Mission. He had originally come to Spokane to be with his half-sister, but after realizing her struggle with drugs, he knew he needed to leave.
"I actually got scared into submission and asked the Lord to just take me. You know, I'm ready. Cause she scared me, I just didn't know what to do. I thought she was gonna die."
He left his sister and decided to head for the bus station, but his plans were altered when he received help from an unexpected source.
"As I left, there was a guy, getting high, standing right on that corner. He said, 'I was waiting for you.' I said, 'What do you mean? I need to get to the bus station.' He said, 'I got a better place for you.' That general brought me right here. Just goes to show the Lord uses everyone. It's the best place I've ever been."
Since arriving at the shelter, David realized his plans in coming to Spokane were not the same as the Lord's. He has experienced the hand of God.
"I had a plan on coming here, going to work, but the Lord had a better plan for me…the Lord had a better house for me. And it seems like everything I ever did, drugs, everything, it seems like it was never there. From the time I stepped in that door, they let me in, I felt nothing but love. And I know the Lord, He has something for me to do."
Setting an Example
Last week, God used David to encourage the next generation of talented basketball players.
A recent tournament called "The Dan Fitzgerald Memorial Basketball Tournament" brought several of the area's best high school basketball teams to Spokane.
Dan Fitzgerald was a legendary basketball coach also known for his altruism. The tournament honors his legacy by giving the proceeds to various charities and involving the teams that come to town in volunteer work for local outreaches.
The boys' teams from De La Salle, and Corvallis, Oregon both served at the UGM Men's Shelter where they met David.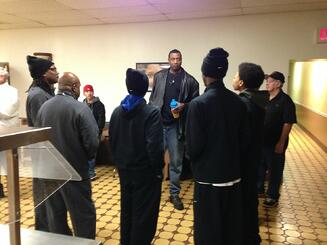 David shared some of his story, talked with them about basketball, and expressed to them there is more to life than playing ball.
"This basketball you going through right now is gonna be fun. College is gonna be the same way—you're gonna do good. May be in the pros. But what you do afterwards is what's gonna count. So get the grades. Be humble. Everyone you meet, learn something from them. Listen."
David still plays on occasion. But whether he gets to play professionally again or not, he wants to do what the Lord asks of him.
"I'm serving the Lord for the rest of my life. Whatever the Lord puts before me, then there I am."
You can be a part of the work done at Union Gospel Mission by volunteering. Sign up at the link below.