Poor work history. Felony record. Long periods of unemployment. Addiction issues. Lack of education. No transportation. No appropriate work attire. No teeth.
These are some of the hurdles to employment facing the men and women in our shelters.
And, if you can't get a job, it's hard to break the cycle of poverty and homelessness.
Inside, read the stories of four men and women who, aided by your support, were able to get back to work.
Larry Rowe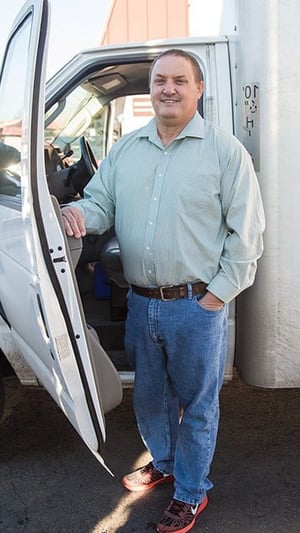 Larry Rowe found himself in need of a fresh start after being unemployed for six years. He spent the first two years caring for his ill mother and the next four isolated as he tried to cope with her death.
That's when he moved from Texas to Spokane in order to take part in UGM's Employment Ready Program.
"Two years of being here, I got God back in my life and just slowly got my confidence back and my self-esteem back, and now I'm back on track."
Larry began working at the downtown Thrift Store in January 2014. Now, he drives the UGM donation truck, giving him the chance to personally thank those who helped him re-enter the work-force—an opportunity he cherishes.
"I think I have one of the best jobs in the Mission because I get to meet, every day, the people who help fund this. And I really enjoy that.
"When I took this job, I looked at it as a stepping stone to get to my career. But I have fallen in love so much with the people I work with that I just can't imagine going anywhere else. I work with a bunch of really nice people."
Sherina Hartman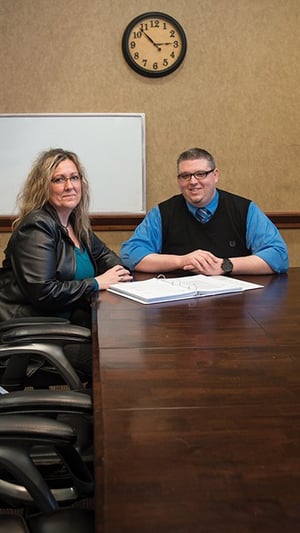 Eight months ago, Sherina Hartman was going through LIFE Recovery at the Center for Women and Children. Today, Sherina is on the other side of the table, working as a case manager for clients at ACES Community Services, an outpatient mental health clinic.
Sherina began with administrative, clerical work during her business practicum, but upon finishing, she was offered a full-time position doing case management.
"I think God was completely at work there and that was His plan for me all along. I majored in psychology in college, but I never used it…I love this company. I love the possibilities and the confidence [they] have in me. It's just been such an awesome experience for me. I'm really happy here, to be part of all of this."
Regional Marketing Director and Business Development Specialist for ACES, Joshua Mason, said the benefit goes both ways.
"She's got the compassion. She's very candid. We just knew we were dealing with a genuine person who had the right credentials and experience to really do anything, so it was a great fit."
Sonja Garza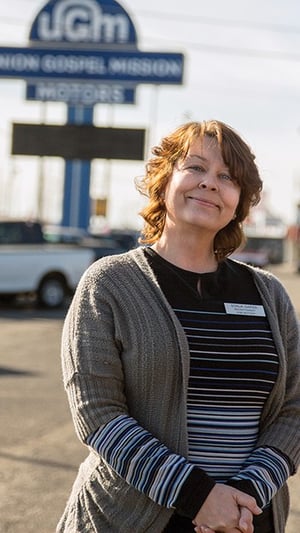 Walk in the doors of Union Gospel Mission Motors, and you will find the sweet face of Sonja Garza.
Sonja holds a year-long position at UGM Motors helping with vehicle in-take. But her job also gives her the opportunity to thank donors in a unique way.
"When people come in and bring a car for donation, I didn't realize when I was over at Anna Ogden Hall just what that donation really means. When I was going through recovery, I had no idea who was paying my way…so I'm able to show them gratitude and just what their donation means by sharing a little bit of my story."
It is the uplifting, open staff and environment of UGM Motors that has provided a safe place for Sonja to continue healing.
"I know that I'm capable of a lot of things now, and I am built up here. I'm told what a good job I'm doing…it's really uplifting. I have more confidence. I'm really being invested in and that makes me feel worth something."
Dean Lynch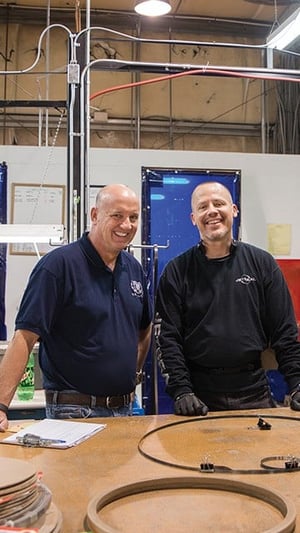 "Six years Army, four years Coast Guard, 13 years of construction." Dean Lynch's resume proves hard work is not an issue for him.
But injury, depression, and rage rendered him unemployed and homeless in 2013. That's when he came to UGM and diligently applied himself to the challenging work of recovery.
"The growth and the change I've received far exceeded my expectations."
Dean's work ethic, as well as his impressive resume, landed him a business practicum at JETSEAL, a high-quality, seal-making company.
"I wanted to pick something that I felt I could not just survive in, but maybe, possibly thrive in."
Like Sherina, Dean's practicum resulted in full-time employment with the company, and he couldn't be happier.
"They offered me a job, and I absolutely wanted it, so I went for it…Ever since then, I've been a full-time employee, and I couldn't be more pleased…I've never worked in this atmosphere ever—I mean, it's definitely one of the top atmospheres I've ever worked in."
That is the goal for all our residents—a position in which their skills, talents, and passions can be utilized, paving the way for them to become contributing members of society.