Reason #1: Shari Griffin
Shari, 50, just finished the first four phases of the LIFE Recovery program at the UGM Center for Women & Children in Coeur d'Alene. In phase 4, she did her business practicum (240 hours of unpaid employment) at the Kootenai Humane Society. When the practicum was over, Shari was hired, but the animal shelter is located at 11650 N Ramsey Road in Hayden. Quite a drive – especially in Shari's 1985 Chevy truck that gobbled gas and was in need of expensive repairs. Essential stuff – like brakes and steering.
Through UGM Motors' Vehicle Assistance Program, Shari was given a 1997 purple Pontiac Grand Am that had been donated, repaired and detailed. "I love the color!" Shari said as soon as Motors' staff pulled the car into view.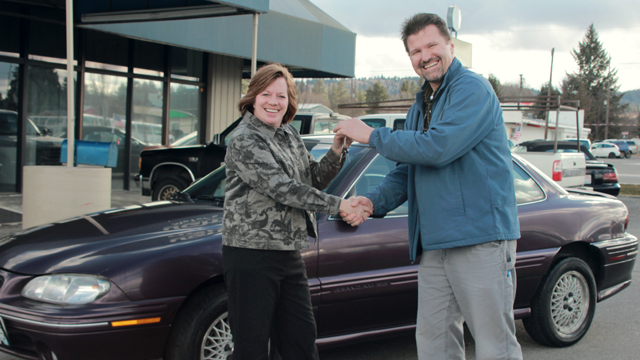 "I'm extremely grateful," she said. Before coming to the Center for Women & Children, Shari had been living in a downtown motel. "Just when I thought things could not possibly get any worse…snap, snap, snap, they just kept going downhill."
Now that she has completed the program and has a job, Shari is saving to get a place of her own and move out of the Center. She simply could not afford the repairs needed to make her truck safe, and she couldn't get to work without it. The donated car "will make the world of difference," she said.
Shari loves animals, and she loves to serve others by transporting them to doctor's appointments, business practicum placements and recreational activities. Now, she'll be able to do that safely.
UGM Motors gives away one to two vehicles per month to a resident in one of UGM's programs who has been recommended by a staff member. Want another example? Brittany and Brooklyn also received a car through the Vehicle Assistance Program.
Reason #2: Dionne Varney
UGM Motors provides training opportunities for people in transition.
As part of her recovery, Dionne Varney needed to find a new career. Before coming to Anna Ogden Hall, she spent 14 years in the adult entertainment industry. "I had all this experience," she said, "but I wanted to do something that my family and the Lord and I could be proud of. Bottom line, something wholesome."
Dionne is now working as a receptionist at UGM Motors. She has excellent customer service skills and cherishes working in a wholesome environment.
"Devotions in the morning are the BEST way for a group to start the day. I work with a great bunch of people and to spend the morning in God's word, prayer, and praise is awesome. I love knowing that ultimately we are all working for Him."
Dionne said she really needed a 9-to-5 job to keep herself balanced. "In the past, overworking was the best excuse I had to feed my addiction. I had no boundaries and worked whenever I was needed and even when I wasn't. The more I worked, the more I used and the more emotionally unavailable I was for my family. At the Motors, I have a set schedule and accountability at work and with my life choices."
UGM Motors provided training to 18 different individuals in 2013. Trainees came through UGM's Employment Ready and Recovery programs, as well as Career Path Services.
Reason #3: Daisy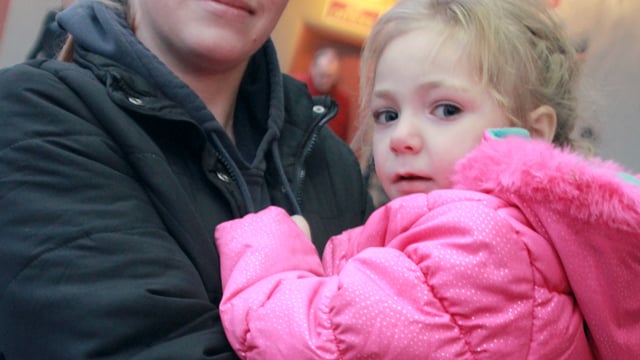 Daisy is one of the 99 children who were staying at UGM shelters on a recent evening. When you donate your vehicle to the Union Gospel Mission, you are helping to provide food, shelter, clothing, medical care and much more to people like Daisy.
In 2013, UGM provided 113,916 nights of shelter and 363,235 meals at our four shelters; 5,625 individuals received clothing; over 1,500 patients were seen in our medical and eye clinics; and 244 men, women and children participated in UGM's long-term Recovery.
All the proceeds from the sale of your donated vehicle go toward providing homeless services. This is not always the case when donating a vehicle.
"About one-third of the charities we follow use telemarketing companies," says Sandra Miniutti, vice president of marketing and chief financial officer for the nonprofit monitoring organization Charity Navigator. According to Miniutti, these for-profit companies take an average of 60 percent of funds raised through phone campaigns." (Edmunds)
In 2013, UGM Motors generated $143,322 for the ministry. That's enough to provide 11,076 nights of lodging and meals at one of our shelters.
Reason #4: Maximum Tax Credit
The Union Gospel Mission is a 501(c)3 non-profit organization and, as such, is able to give you a legitimate tax deduction for your donation. Because we do not use a third-party to solicit or process vehicles, your donation is not eaten up by middlemen.
Plus, since Union Gospel Mission operates an actual dealership – with sales and service – you can count on getting the maximum tax donation. Here's why: UGM Motors evaluates each donated car. If it is beyond repair, it will be scrapped, and you will be entitled to a $500 deduction. However, if it is worthy of repair, our ASE-certified technicians put in the work to improve its value, and you can deduct the actual sales price. You benefit directly from the quality repairs made to your vehicle.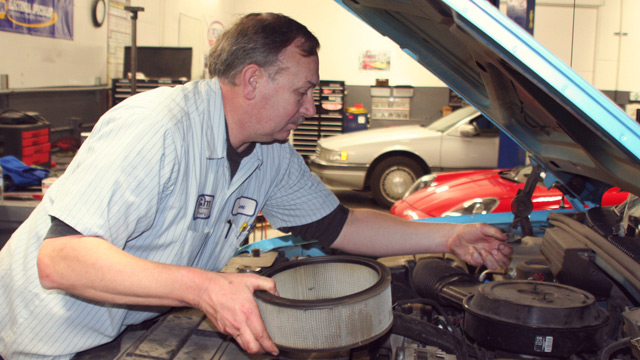 Reason #5: Investing in Integrity
UGM Motors strives to do business the right way. They want everyone to win – the donor, the buyer and the ministry - and all proceeds go to work right here to make our community a better place.
Here's what one satisfied customer had to say:
"I felt like when I met with Sean, he was just so warm and helpful. He wasn't the usual CAR SALESMAN type. He really tried to aid me on my lunch hour and wasn't pushy in trying to get a car off the lot.
"We purchased a car the same day that I came out to the lot on my lunch hour. I had originally gone out to the lot to purchase a different vehicle but the 4 Runner was such a better fit and it drove so well and seemed very well taken care of. In addition to that, it had all the bells and whistles-sun roof, air conditioning that actually worked, stereo, etc.
"I would not only consider recommending UGM to friends and family members….I already have!" – Kim Pilkinton
Have a car that's just sitting around taking up space? Click on the link below to find out more about donating it to UGM.