If you hang around UGM for any time at all, you'll hear talk of the difference between "checking the boxes" and pursuing real life change. Even when you're checking the boxes for all the right reasons – like a mom trying to get her children back - it's not sustainable. Transformation doesn't start with outward behavior. It starts with heart change.
Elizabeth grew up learning more about rules than about love. Rules, however, did not equal order and stability.
"We kinda just went to church here and there, and then, when we got back to the house, everything was kind of chaotic and a mess."
At home, Elizabeth heard that God is angry and will "take you out for your sins." Her understanding of the Bible was, "This is what you should do, without any whys or deep explaining as to why we're doing what we're doing. Tons of rules."
Elizabeth knew her behavior could get attention and sometimes approval. "When I was recognized, it was because of the good things I was doing. … My whole receiving of love was based on my performance and if I wanted to give that performance or not."
Not surprisingly, Elizabeth didn't always feel like performing. Sometimes, she rebelled instead. She thought it was unfair that she had to earn her family's love. Without complete acceptance and a voice of her own, she was vulnerable to destructive temptations.
"I always felt like my self-worth wasn't there, and just had a lot of insecurity, and so when I got presented with meth, I was like, 'Oh, this really fulfills me.' … And it was a huge lie, and a mask."
Without any strong sense of identity, Elizabeth's drug use quickly became an addiction. "Maybe I could have stopped, but instead I just didn't have any self. I didn't know where my place was."
As an adult, Elizabeth saw her addiction rob her of her newborn daughter at birth. But amid the devastation was a blessing: Her desperation to get baby Celine back motivated her to seek help at the UGM Center for Women and Children.
At first, Elizabeth's plan was just to do whatever it took to get Celine. But she discovered that led to the same old rut of obeying rules only long enough to get what she wanted. Mere conformity wouldn't heal the identity gap that fed her addiction, and she relapsed twice.
Then she discovered the truth of Matthew 6:33: "But seek first the kingdom of God and his righteousness, and all these things will be added to you." The addiction and relapses had brought her to "where I was just completely broken and God was able to pour everything in me that I didn't have or didn't know how to have."
Pursuing holistic recovery at UGM, Elizabeth not only got her daughter back but found something else she desperately needed: security in her own identity as a person and a parent. To be a truly loving mom, she had to be secure in who she was.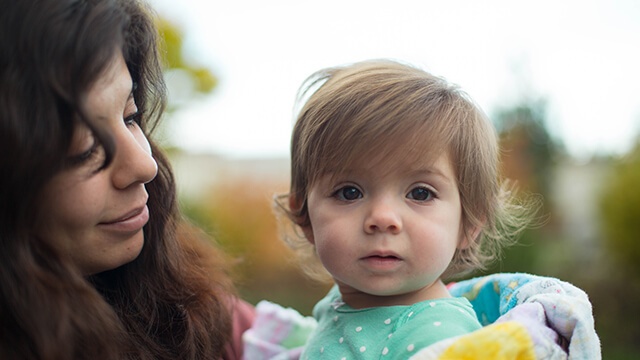 Learning about the unconditional love of God for her made all the difference in how she viewed herself. "It opened my eyes to a different life," she says, a life of confidence in being fully accepted and openly communicating without fear of rejection.
Today, Elizabeth depends on God to lead her family, and that means a bright future on a new path for her and for Celine. "I got raised in a conditional love type of home, where I had to do things in order to be worthy of love. … But I can give her love and still be a strong parent. That I can do that, that's just huge for me."
And she won't be doing it alone.
"I can trust our Father to raise her up in all the ways that He wants me to."
Like Elizabeth, you can celebrate your identity in Christ: Meditate on who He is and what He's done for you, guided by our free Advent devotional. Click below to download your e-book.