Editor's Note: Barbara Comito here. Director of Marketing & Communications for UGM. This blog was written by my 18-year-old daughter, Izzy. It's not specifically about UGM, and yet, it is. It's about all of us. It's about the tough moments in life, and how God often reveals himself in unexpected ways.
By Izzy Comito
One time I climbed a mountain.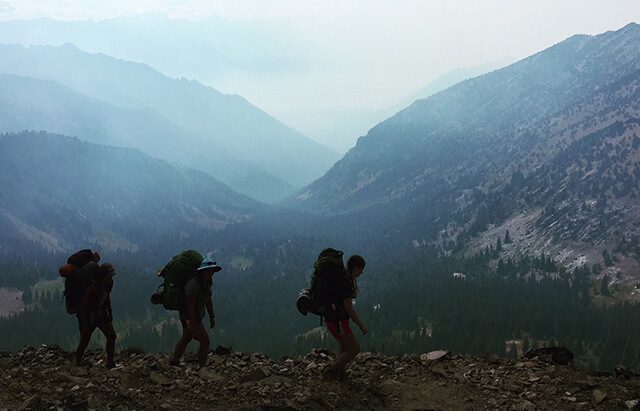 I hiked 32 miles in three days with a backpack the weight of a small child on my back. The first two minutes of the hike were the hardest two minutes of my life; however, every subsequent minute of walking surpassed them and became the new worst minute of my life. You know how when someone does something hard and traumatic, like give birth or run a marathon, their body produces a chemical that makes the pain significantly less in hindsight? That must happen after climbing a mountain because otherwise, no one would ever climb more than one mountain.
On Odious Mountain, however, I promised myself that I would remember. I wanted to remember how hard it was. Because, just like anyone else who has ever gone through anything ever, I learned a few things. Now, don't get me wrong, this isn't an "I learned a lesson that made the journey worth it" type story. No, at this point if I say it was worth it, it has got to be that chemical making me see the whole thing through rose-tinted glasses.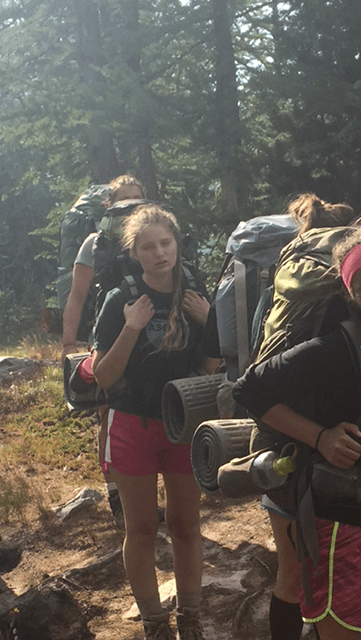 The first lesson I learned was a simple one: I am not created for the mountains. In Amy Poehler's book, Yes Please, she says it might be a little much to expect college-age humans to decide what they want to do with the rest of their earthly existence. She says it makes a whole lot more sense to start crossing things off the list, to find the things that they know deep down, in their souls, that they do not want to do. I think maybe Amy was created in the image of God. I think her philosophy comes from him. Spend your life searching for things that make you feel alive, things you love, things you are suited for. Find what you were created for and eliminate the other stuff along the way. Here's one less thing for me to wonder about, mountains. They're right out. Crossed off the list. Next, please.
The second take away from the mountain is the one that makes me think it was worth it. But that's a secret. Don't tell anyone I said that, and certainly don't tell Past Izzy while she is climbing that mountain.
On the mountain (rather, on the way down the mountain), my concrete image of God changed. Once, on a car trip, my family talked about our concrete images of God. My dad said his was the ocean: strong, vast, unfathomable, and frighteningly beautiful. My sister-in-law said she always imagined a body-building old man, think Santa-esque, with a spray tan. I've always said rainstorms. I will always love rainstorms. They were my image for God for many of the same reasons my dad said the ocean: scary, gigantic, powerful, mysterious, and terrifyingly beautiful. While rainstorms and I will always be spiritually linked, my concrete image of God has changed. To Emily Anderson.
Emily was the 'mom' of the summer program that led (forced) me onto this mountain. I have never been more terrible (whining, complaining, stubborn, mean) than I was on that mountain. And she loved me. I was at my literal and absolute worst, and she stayed with me at the back (the very far back) of the pack. She didn't go up to the front with the girls who were having, and being, fun, the girls who enjoyed hiking. Like her. Emily loves hiking. She could've left me with the Peak 7 guide. She could have, and she didn't. She stayed with me. Because I needed her.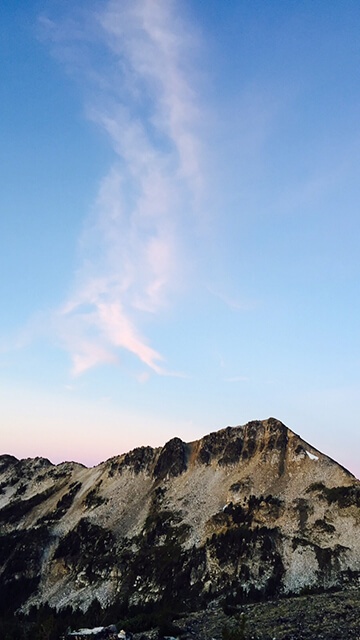 Who else supports me when I need to be supported? God. Who else loves me when I am not easy, when I am, in fact very hard, to love? God.
But ultimately, my new image of God is Emily Anderson carrying not only her own small-child-sized backpack down the mountain, but also mine. One on the back, one on the front. Due to some diabetes-related medical struggles, I actually couldn't go on. It was unlike the thousand times I had said "I can't" on the way up. I actually couldn't. Instead of sitting and waiting for me to feel better, she carried my burden along with her own.
Who else carries my burdens when they are too much for me? God.
I am a person of comfort. I love relief. Rest. Peace. One of the most significant moments in my faith was when I realized faith is not another burden. Faith eases burdens. Not just one burden but all burdens. The heavy burdens along with the light ones.
I think it is fairly clear how this metaphor applies to Emily Anderson. She is a great relief. So maybe it is the rose-colored glasses, but from where I'm standing, this lesson in unconditional love might have been worth enduring the worst week of my life. In fact, it was.
Do you know someone who's "climbing a mountain"? Send them a card of encouragement in their difficulties.