City kids learn to fish
By Jenny Weddle, UGM Camp Director
Every Tuesday and Thursday afternoon, the waterfront at Union Gospel Mission Camp echoes with shouts of "I've got one!" Fishing is one of our most popular activities at camp, and most of our campers have never had a chance to even try fishing, much less catch a fish.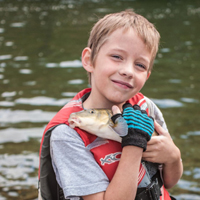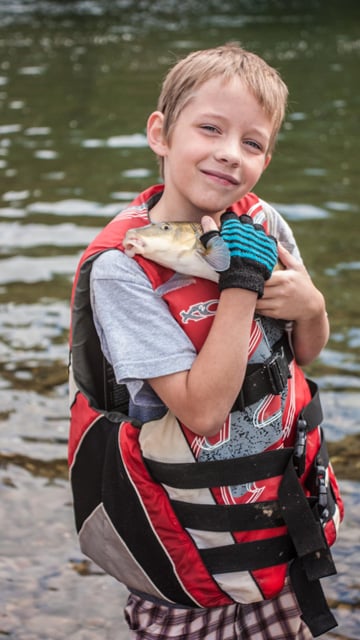 Most years, we have a fishing instructor, usually a courageous gentlemen long in the patience department, who shepherds cabin groups at our fishing hole. This year, we don't have a fishing instructor, so we've adopted a broad, all-hands-on-deck approach to fishing. Can you duck swinging poles? Can you dodge flying fish hooks? Are you squeamish about skewering a worm on a hook? Do you understand the basic concepts of casting and can you explain those to a squirrelly 8-year-old who just wants you to stop talking and start fishing? Fortunately, some of our staff have been able to step up and lend a hand, with additional help from our church ministry partners every week.
Kids love to fish
Campers absolutely love to fish, and we are located at a wonderful spot on the river where fish bite, even in the middle of a 90-degree afternoon. We catch small mouth bass, northern pike minnow, suckers, chisel mouths, rainbows, carp, and a few other species here and there. The kids honestly don't care what kind of fish they're catching. When they finally land a fish, most want to hold it and look at it, have their picture taken, and then finally release the fish back into the water. We don't keep the fish for eating, partly because I'm afraid our very understanding cooks might not be excited about frying up campers' catches. Partly because we don't have the manpower to clean and gut all those fish. And partly because the kids might not be as excited about eating fish as catching them.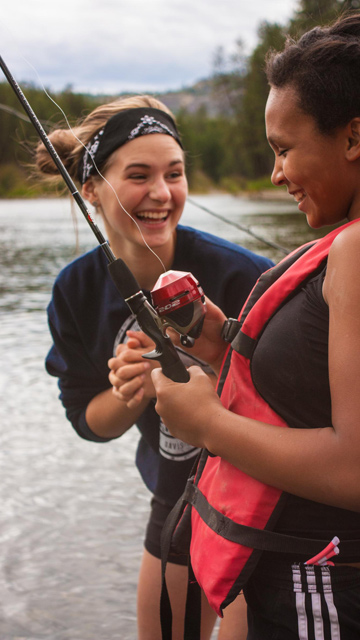 Some girls love the idea of catching a fish, but if the fish gets too close to them, we hear a chorus of "eeww!" and "gross!" At a camp earlier this summer, we had one of those "ew!" girls get too close to a fish another camper had landed. When a staff member took the sucker fish off the hook, the fish slipped right out of their hands and slid through the little girl's hair. Anyone who fishes knows that suckers are both seriously slimy and seriously smelly. Two counselors had to help the camper wash the fish slime out of her hair in the river. She wasn't quite as interested in fishing after that close encounter.
Keeping gear in working order is always problematic. Teaching fledgling fisherman inevitably means a pile of poles at the end of the afternoon in need of repair work. Our patient maintenance team schedules time each week to unravel nests of fishing line, replace hooks and sinkers lost to the river, and fix malfunctioning reels. We typically have 12 poles in usable condition at any time, with 10-12 campers fishing, so the poles really take a beating every week.
UGM Camp partners with Inland Northwest Wildlife Council
Thanks to the Inland Northwest Wildlife Council, broken poles won't be an issue at UGM Camp for a very long time. Just over a week ago, Tim and Wanda Clifford of INWC stopped by camp and blessed us with over 100 brand new fishing poles, tackle and goody bags for our campers. Their generous gift has allowed us to retire old, broken fishing poles, and replace them with identical new poles. We are also keeping an eye out for campers who show particular talent for fishing. Those campers will go home with a complete new fishing kit, courtesy of INWC. We are excited to be looking at a more significant partnership with INWC next year, when we hope to enlist their volunteers in teaching our campers basic fishing skills on a regular basis in summer 2015.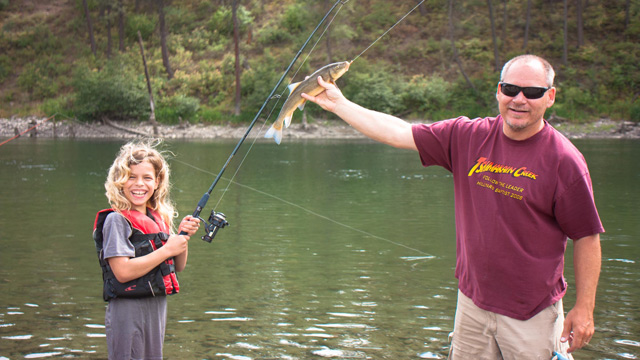 On one of our warmest days this summer, we rescheduled waterfront and fishing time to the late evening to take advantage of cooler temperatures. It was a delightful evening, with close to 15 campers spaced along a long stretch of riverfront, wading in the river up to their knees. Ministry team members and staff were kept busy assisting campers with casting, baiting hooks and detangling crossed lines. The sun had just dipped below the horizon, and the swallows and bats were executing dizzying turns overhead in pursuit of insects.
The water was calm, with very little current. The fish were biting, and every few minutes, we heard another camper yell, "I've got one!" Contagious, exciting, and exactly what camp is all about.
There are 3 weeks of camp left - still time to sponsor a child for a potentially life-changing week.
Want to read more about UGM Camp? Check out these blog posts: