"I can do all things through Christ who gives me strength." – Philippians 4:13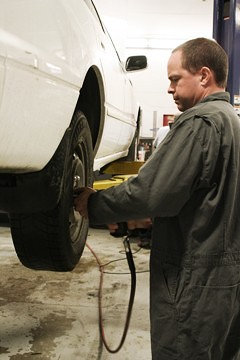 Dustin Eakle was averse to taking risks – just one of many big revelations he made about himself in the UGM Men's Recovery Program, Freedom Bound. Through counseling and classes, he realized his fear of trying new things had limited his life, so when it came time to look for a business practicum experience, he decided to step outside of his comfort zone and take a job at UGM Motors.
Dustin didn't know much about cars, but he chose to immerse himself in the automotive business for 20 hours a week over a 12-week period. During that time, he learned a lot about cars, but also about himself. He learned that he could overcome his fears, work hard and succeed, even at something completely unfamiliar.
Dustin worked as part of a team with a common goal: Turning donated cars into working vehicles both for sale – to raise money for the ministry – and to be given away to people in need. After being out of work for over a year, he was able to hone his job skills in a safe, supportive environment and work alongside mature Christian men and women.
Working at UGM Motors was a stepping stone of faith in the process of finding where Dustin belonged. Since then, Dustin has transitioned to a job at the UGM Thrift Store, where he is glad to be a contributing member of the community and an active father in his son's life.