Military service ran in Ben's family. Growing up, he planned to follow suit. But first, he wanted to let loose.
"I moved to Arizona and I started playing with some guys in a band. I was looking for crazy and I got it. It was partying every night, then dragging to work after three hours of sleep. It was fun in the beginning, but it just kinda got old."
Ben decided to try and get into the Marine Corps as a Crash Fire Rescue Specialist.
"I wanted to join the Marine Corps because I thought I really wanted a challenge and something that would straighten me out because I already had a drug and alcohol problem, even back then."
Initially, he was turned away because there were no Crash Fire Rescue openings. A month later, one opened up, and Ben jumped at the opportunity. However, when he got to training, he realized he'd been fooled. He had signed on as an open contract and was placed in NBC – Nuclear Biological Chemical defense.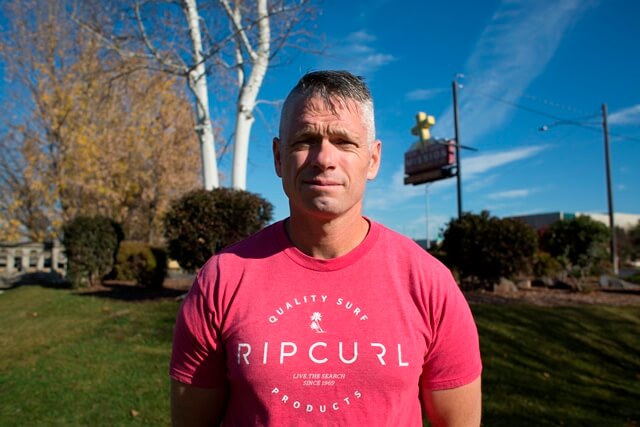 He went through NBC training and was placed on a fleet as one of the soldiers who are first to touch down in war zones.
Amidst it all, Ben kept drinking.
"It's kind of a drinking culture. Any time a guy comes into the unit or leaves the unit, everybody gets smashed... And I gravitated towards the guys that were heavy drinkers."
After four years, Ben got out. Then September 11th happened.
As a former Marine, Ben was obligated to return, and he took part in the initial push into Iraq.
Finally, Ben was able to come back to the States and work a civilian position as a Chemical Biological Radiological Nuclear Subject Matter Specialist. (How's that for a job title?)
"I did that for a long time. Everything started to come together, and it became kind of easy for me. I became complacent, again drinking and smoking marijuana…and the drinking got worse and worse and worse."
Eventually, after being discovered under the influence by the military police, Ben lost his job.
"When they let me go, I felt like I let the Marine Corps down big time, and so, I kind of spiraled."
Ben got a job and an apartment in Las Vegas near his sister. He was drinking out of control and isolating, and she noticed.
Ben's sister and mom heard about UGM, learning that it was so much more than a homeless shelter. They decided to take matters into their own hands:
"One day, I was laying in bed and I was miserable, and I was thinking, how am I gonna get out of this? I'm at my whit's end. I was too stubborn to ask for any help, and I remember praying to God to help me out. I'd say an hour later, my sister... which she never came over anymore. They were kind of avoiding me...And my sister and brother-in-law walked in the door, and they basically said, we can't watch you do this to yourself, so either you go to the Mission, or we just can't talk to you anymore… I just hugged them both, I knew it was time to come here."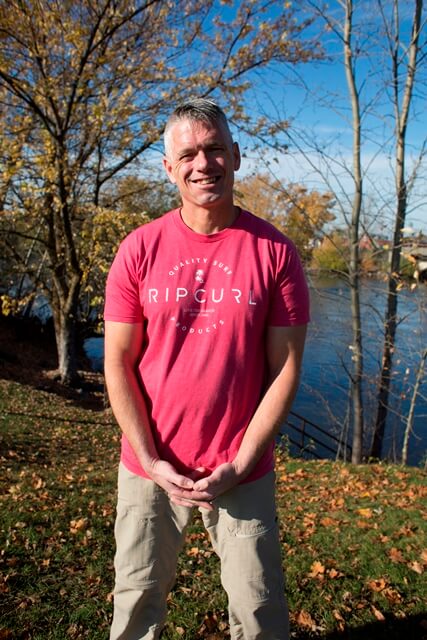 Ben came to UGM and recently entered recovery. He has almost five months clean and sober – his longest period of sobriety since he was 17.
Being at UGM has been humbling for Ben who has always worked and had a place to live. But it's a chance at recovery. And interestingly, he's treated being at the Mission similar to being in the Marines.
"My mom and sister put it in perspective. They said, basically you got to go through boot camp again…then eventually, you'll graduate boot camp and move up..."
This Veterans Day, Ben reflected on his time as a Marine and on the value of people's gratitude.
"What people don't realize, when you go over there, you don't get any days off. You don't wake up one day and say, 'It's Saturday.' Every day, the first thing I had to do was strap a gun on. You always have to watch.
"Just that they're willing to sacrifice and do something to keep people free around here…remember to thank them if you find out somebody is a veteran. Most of them are pretty humble about it, and it feels kind of weird… They'll probably kind of shove it off like it's no big deal, but it is."
Read more stories like Ben's in UGM's newsletter.