By Merrily Brast, Staff Writer
Sewing gave Glenda Gray confidence.
One year ago, Glenda was forming her own business sewing and selling tote bags. "I didn't know how to sew, so I started from the bottom."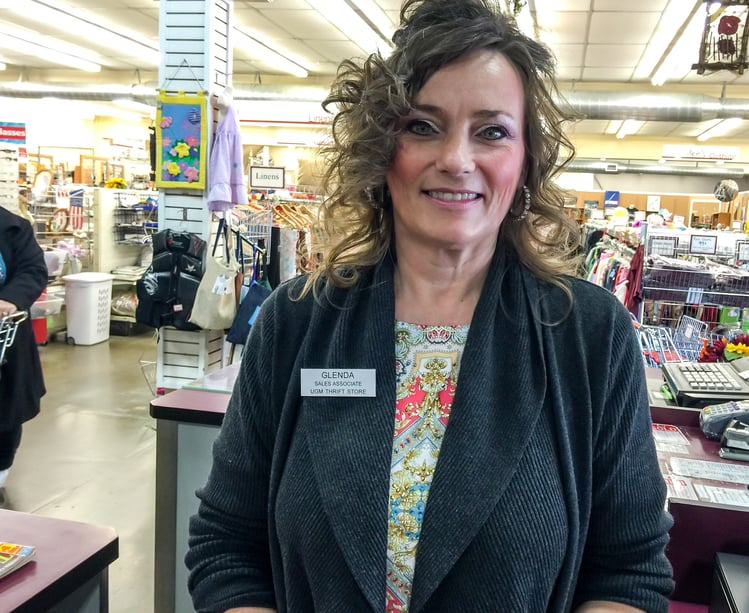 When Glenda came to the Crisis Shelter for Women and Children in October 2013, she had to work from the bottom up in many ways. Addicted to opiate drugs, Glenda lost everything—her marriage, her job, her belongings—but not her children. "My kids never turned their back on me."
"It was like God stepped in and said, 'Finally, I can raise you out of this mess.'"
Her children took her to detox where she overcame her withdrawals, allowing her to then come to the Crisis Shelter. "Once I surrendered, it was like God stepped in and said, 'Finally, I can raise you out of this mess.'"
Sober, Glenda began a new business program called Business Bound that not only taught her to sew, but provided exactly what she needed. "It kept me at the Crisis Shelter for six more months which allowed me to start thinking, and Rich (Crisis Shelter Director) doesn't realize what that did for me. That extra six months there was really what I needed…learning how to rethink."
Glenda's time in the program gave her confidence and the opportunity to get a job at the UGM Valley Thrift Store where she now holds a year-long training position.
But even with a good work ethic and her newly regained confidence, she found working at the Thrift Store difficult at first.
"When I started working here, memorizing what went where, I was like, Oh my gosh, my brain's not right. And I wondered, Do I have dementia? Doing drugs messes up your brain. And I was smart, I had always worked before.
Glenda is undoubtedly intelligent and hard-working, and with patience and encouragement from the Thrift Store team, she improved quickly.
"What better environment could I have been in to learn?"
"They believed in me to put me to work here, and they gave me a chance. I was so scared I was gonna make a mistake, but things started getting easier and easier cause they were patient and just loved me."
"To be in an environment like this, where the Lord is obviously present, and I get to sing Christian music—which I do all day—what better environment could I have been in to learn?"
Glenda's position lasts until June, and, asked about the future, she trusts God with what is next.
"Now I have the confidence. I'm like, I'm okay, God was right. I'm not even worried about what I'm gonna do in June. I know God will open up a door, and I know in His faithfulness, He's going to open up exactly where He wants me to be, and that is exactly what I'll do."
Glenda has poignantly tasted God's faithfulness over the last few years, and teary-eyed out of gratitude, she expresses, "If I know anything, I know God is faithful."
Shopping at the UGM Thrift Stores allows individuals, like Glenda, to gain employment training. Enter to win a gift card to the Thrift Stores for your next shopping trip.