In Part 2 of an interview with UGM Chaplain Ron Molina, he talks about lives that God has changed at UGM, why daily chapel services are important and what you can do to be a part of that.
Lynn: I think a lot of the answer is in what we've talked about already, but what's your response to the critics out there who say we shouldn't require chapel?
Ron: I say "boooooo." (smiles) It's required that the men go when they're staying here, but we don't even have to say that. I remind them, like I told them last night, "How was dinner?" I'd say 99.9% of the time it's like, "Off the hook, off the charts, off the dock, that was delicious." I remind them, "Guys, this is the time. We've been fed and taken care of and nourished, but remember the value of the food that doesn't perish that Jesus talked about, the spiritual food."
And you know what? I'm just always amazed at the attentiveness of the men, because when God's in the house and he's speaking, he gets our attention.
We require the men to go to chapel, but we're not pulling teeth to get them in there. They want to be there. That's kind of the approach. We don't give them the opportunity to not be there, but we don't have to stress.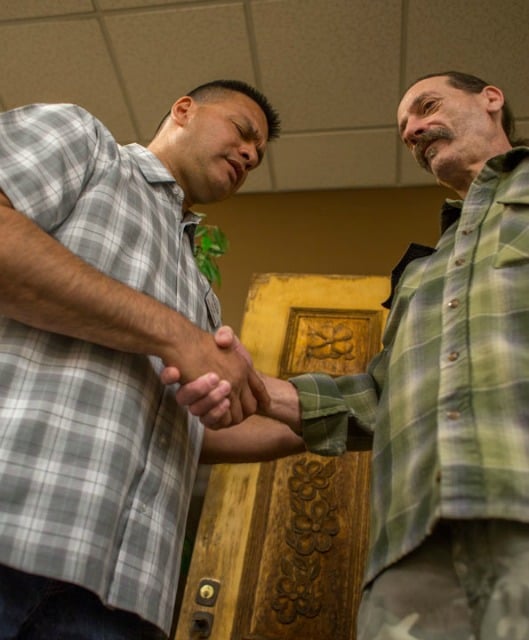 I'm not saying every single person in there is like, "Yeah, I'm here, I love it!" But they're respectful, they come, they understand that, "If I'm going to stay here, then I'm going to be open to this and I'm going to participate." I'm OK with that.
We don't want to just feed you, clothe you and house you. We want to give you what the gospel can offer you. We want you to at least dip your toe into that, so to speak, and so if you don't want to do any of these things, you're choosing not to stay here. It's really their choice. If you're going to stay here then you're choosing to participate in community, and part of community is chapel because it's the Union Gospel Mission. That's how we approach that. It works.
We've had to ask people to leave. I've had to do that when a guy gets up and says something inappropriate or chooses to be antagonistic or something like that.
Lynn: Can you think of any specific encounters you've had with guys where it's made a really big difference for them to be in chapel?
Ron: Yeah, absolutely. Bill has been a guest, in and out, in and out. He actually worked at the day desk, participated in what used to be the Good Worker program. But he was a pretty mean hombre. The last time he left, before he came back this time, he was in a lot of trouble. He had a pretty aggressive record of assault. It was bad. And so he came back and -- I was in the day room manager role at the time -- and I didn't know if he was going to make it. He was a borderline health/safety issue -- I mean, he was just mad. But he was able to stay here.
And so during his time here he was going to chapel, and he really plugged in at Monday night service with Randy, and he had an encounter with God. God gets a hold of him, and he decides to do the Employment Ready Program, and he gave his life to Christ in chapel.
It was like night and day with him. He had had this little cart with his bag on it, and his bag was huge. He knew he couldn't have that much stuff here, and it was like pulling teeth with him over that bag. It almost came to fisticuffs -- he was like, "don't tell me what I can't have in here, I've been here, I've been on the desk," and he had this whole spiel. I thought he was just going to bust me in the mouth and we were going to have to remove him.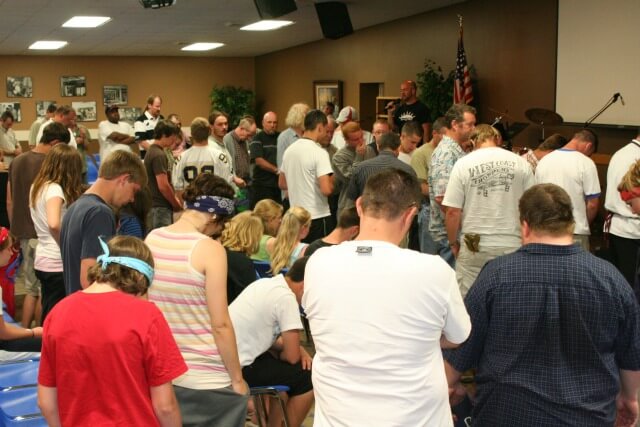 But anyway, he had an encounter with God in chapel and, fast forward about two months, he's in the bag room which is right next to my office, and he is running the bag room, and he is coming in and saying, "Mr. Molina, would you like a cup of coffee?" And he's reading his Bible, and he's praying, and he's singing, and saying, "I want to be that God-dependent, contributing member of society." And so he goes through the Employment Ready Program, he completes it, I think within the first week he has an interview. He becomes one of my best friends here, and he's still doing really well, he's still walking with the Lord. His son has come to Christ as a result of it, and his son actually goes to the same church that I go to now.
So that's one huge story of a man that was mean, nasty and broken and didn't think he would ever get his life on track, thought he would always have that label of "convict." He had an encounter with God in chapel, and God stirred something up in his life, and he had a hunger and thirst to read the Word and be God-dependent, got a job and is working and making huge advances in his work, where he's running machines, doing things that he really has fit skills to do.
That's just one. Every day I see a miracle here, every single day.
Lynn: Tell me another one.
Ron: Recently, there was a young man who came from Kentucky and moved out here when he was 13. He didn't finish high school, had some really traumatic adverse childhood experiences in his life. A lot of abuse. And he gets to the point of despair and decides to try to take his own life. He takes the knife, cuts his throat, stabs his hand and his arm, and just gives up. No background for church, no nothing. He just thinks, "These events in my life, I can't live. I don't know what I'm going to do. My mom, my dad, everything is a mess, I'm just going to end it."
He didn't. It was unsuccessful. They took him to the hospital; he was in there for 25 days. The day he gets out, they recommend him to come here.
So he checks in. And the second day that he's here, he runs into Shelley Altmeyer, and Shelley prays and talks and loves him the way only Shelley can do. And so she led him to Christ. He still has the marks all over him, and he said it was true that "I went from death to life, just like that."
I had him in here yesterday after chapel, I was talking with him. And he was ministering to me. He was telling me about the parable of the soils, he was telling me about how God has restored his life, how he is on track. He says, "I know that I have value, I have purpose, I have worth." And I was just listening to him. I was like, "Dude, that is like a miracle, the way God is encouraging you."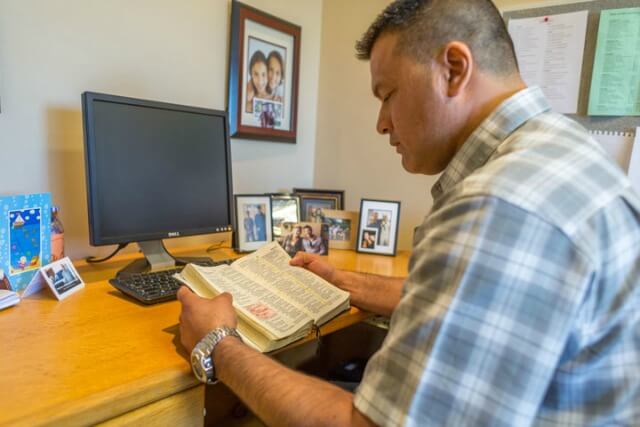 He's run into some other people that we've put him into contact with and he wants to possibly do the program. I was telling Dean yesterday, we're just going to wrap around him now, and we're going to encourage him. He's got his heart, he's been saved, he's been rescued. I was telling him, the enemy loves to kill, steal, rob and destroy. He says, "I know, that's what he tried to do, but I'm not doing that. I get it."
He said, "I didn't know what was going to happen here, I didn't know where I was going to go, I just know that here I am, I can't be with my family. I'm a young man, I don't know what I'm going to do." Then he runs into Shelley. And, more importantly, he runs into God.
Lynn: Are there any verses that you carry with you every day to do your work, like "this is why I do this"?
Ron: I do. It's a snapshot of my life, beauty for ashes. Isaiah 61:3, because of what God has done in my life, and again, there is nothing impossible. When we've experienced something, we want to share that with other people, right? So it says to "give them beauty for ashes, the oil of joy for mourning, the garment of praise for the spirit of heaviness, that they may be called trees of righteousness, the planting of the Lord, that He may be glorified." That's our life verse right now, in my own life and I also apply that to the men.
I tell guys, "God is taking the burnt, charred things of our life, and he's renewing it, doing everything new. It's a little charred, things are broken, things are messed up, but God is good and he's faithful, he restores."
Lynn: What would you say to our donors and supporters that you want them to know or they may not know?
Ron: I would say that God is doing amazing things. It's his amazing grace. So what I would say to our donors is pray for chapel. Pray for the whole scope of what happens, that men would come and have an encounter with God, be saved, be encouraged and regain hope. If I could have praying donors, that investment to pray, then that's what I want. I would covet the prayers.
The material stuff is great, and that's a story in itself of God's provision -- but spiritual care, too. Donate time, talk to me about maybe doing a chapel. I'd love to talk to anybody who's interested in volunteering to participate in chapel. I would totally love to have a conversation with anybody who'd love to do that. One of my privileges is to get to know and get acquainted with our groups. I want to know who they are.
I have the coolest job here.
As Ron explains, one night's shelter offers the homeless food, lodging, and so much more. Give a night's shelter to someone in need.