The relentless love started the first Sunday Charity's family came into Christ the Redeemer church: "You can't even walk out the door without 15 people connecting with you."
So it didn't take long for them to feel like they had a new family: "A whole family, the family I've always sought after, searched for, wanted. I found them. And they love me and they're really good to me. And it doesn't matter how often I try to push away, they seek me out. They'll be at my door knocking."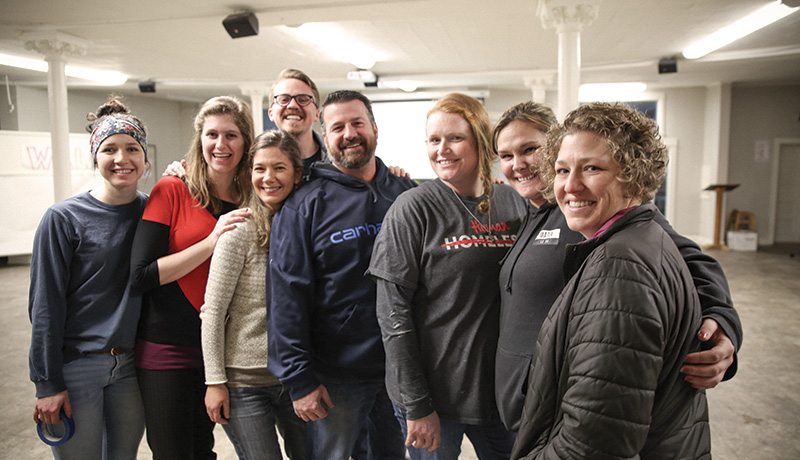 Church connections are vital for ongoing recovery when residents like Charity transition out of UGM. After having consistent accountability in a safe and uplifting environment for up to two years, the transition back into the "real world" is difficult, stressful and can lead to relapse. The Body of Christ is a crucial resource when the old challenges resurface.
In addition to making Christ the Redeemer her church home, Charity also found her mentors there.
"I found a couple that I admire, that I think are great parents. They run their household well. They're kind. They are very charitable. And that's the exact way I want to be." Asking Lisa and Russ Branham to mentor her was "the best decision I've ever made."
The Branhams, and many other families in the church, are foster parents. So Charity knew they would understand that aspect of her past.
Church friends helped Charity find a full-time job, and she's constantly learning from the women in the church, everything from parenting methods to cooking. Her teenage children, Briawnna and Maddox, help with child care at the church, and 5-year-old Aireal is also surrounded by love.
The pastors and other men in the church provide consistent examples of godly men for Charity's family. They answer her questions about the Bible, help her with money management, and connect the family with church activities such as youth camp and family camp.
All those brothers, sisters, moms and dads in Christ decided it for Charity's family: Even though they came from Missouri for UGM's program, they're staying in Spokane for good.
"That right there is my lifeline. God is my number one lifeline, but they're the ones I can feel, see and touch."
While UGM is one source of spiritual direction and support for people in crisis, it will never be a substitute for the local church! If you'd like more information for your church about welcoming UGM residents into your congregation, start by clicking here.