For nearly two years, the men and women in UGM recovery live in an uplifting community where there is constant access to support, and then, they must re-enter society. As Brenda mentioned in the cover story, "It's scary."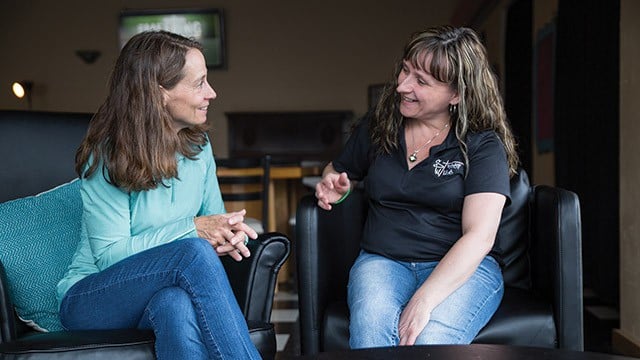 To help with the transition, residents are paired with mentors – mature men and women who are walking out their own faith journey in God-dependence.
Each mentor relationship is different, but Lola Ramey, Brenda's mentor, said it really boils down to being a friend.
"To be a mentor is to come alongside them as an encourager, maybe offering support and perspective for the next phase of their life, and really more than anything, becoming a friend. It really is about coming alongside another woman and just appreciating her for who she is."
Individual stories differ, but Lola believes mentoring gives an opportunity to communicate value and equality to mentees no matter their background.
"Everybody has a story and everybody has a life journey, and it isn't that somebody's is good, and somebody's is bad. It's just that it's your journey.
"We're all on the same level."
Mentoring requires mutual respect, and UGM strives to pair the men and women coming out of LIFE Recovery with a mentor who will provide authentic relationship and interdependence.
In Lola and Brenda's case, Lola says, "I feel really blessed by the friendship and feel like we're a good match.
"It's grown my heart, my compassion, in terms of how hard those women are working in that program. How much they, on a daily basis, rely on the Lord when sometimes I probably am very complacent."
If you want to find out more about entering into this type of relationship with an individual in recovery, contact Mike Doggett at 509.535.8510, ext. 165 or Mike.Doggett@uniongospelmission.org.