When I learned that this newsletter was to have a gospel focus and that the team wanted to use old hymns to help tell the story… well, I was happy. My staff will tell you, I love old hymns and have even been known to launch into one in the middle of a meeting.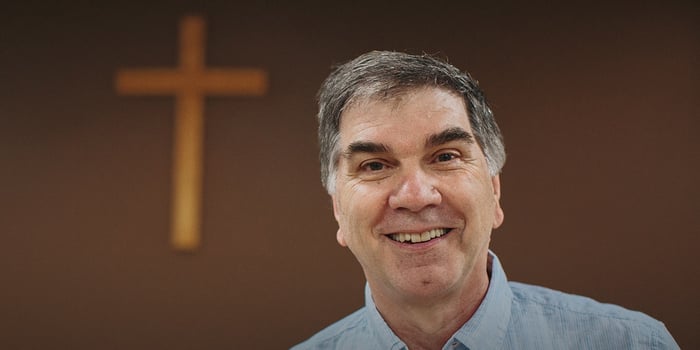 Years ago, at my father's funeral, I read the lyrics of Fanny Crosby's song, "Rescue the Perishing, Care for the Dying" because I thought it summed up his devotion in the final phase of his life:
Weep o'er the erring one, lift up the fallen,
Tell them of Jesus the mighty to save…
Down in the human heart, crushed by the tempter,
Feelings lie buried that grace can restore;
Touched by a loving heart, wakened by kindness
Chords that are broken will vibrate once more.
"Crushed by the tempter." We live in a world broken by sin, and it affects every aspect of our lives: our relationship to the world, our relationship with God and our relationship with ourselves. I hear stories almost every day from men and women who have been crushed by abuse, domestic violence, addiction and destructive choices from both within and without.
"Down in the human heart, feelings lie buried that grace can restore." Many times, people come through our doors unaware of just how broken they are. They think they just need a place to sleep, a meal, the chance to catch their breath and get a job. In reality, so much more awaits! Through your partnership, we seek to touch them with love and kindness, awakening the soul within. And sometimes, as the soul awakes, it experiences grave pain. No longer numb, people grieve the years lost, the pain they've caused others and the abuse done to them.
But we say, "Come, ye weary, heavy-laden, lost and ruined by the fall. If you tarry 'til you're better, you will never come at all."
Sin destroys, but Jesus restores. He forgives. He welcomes us into his arms where there is joy unspeakable. He removes our sin as far as the east is from the west. He invites us to live in His presence, to know the power of the Holy Spirit, and to live with Him forever.
By His death and endless life
Jesus saves, Jesus saves
Shout salvation full and free,
This our song of victory,
Jesus saves. Jesus saves.
Thank you for partnering with us to shout the joyful news!
If you're interested in hearing more from Phil Altmeyer, click below.