UGM's volunteer case managers stand on the frontlines of ministry, offering listening ears and wise counsel to men and women in crisis.
Christina Jarvie
Christina's life was already full when she decided to give a "tithe" of her time to women at the UGM Crisis Shelter. As a wife, a mom of three teens, a business owner, an author of Bible studies and a well-traveled international women's discipleship minister, Christina admits she had no lack of things to do. However, she felt drawn to the local shelter, wanting to invest in the lives of women in her own community.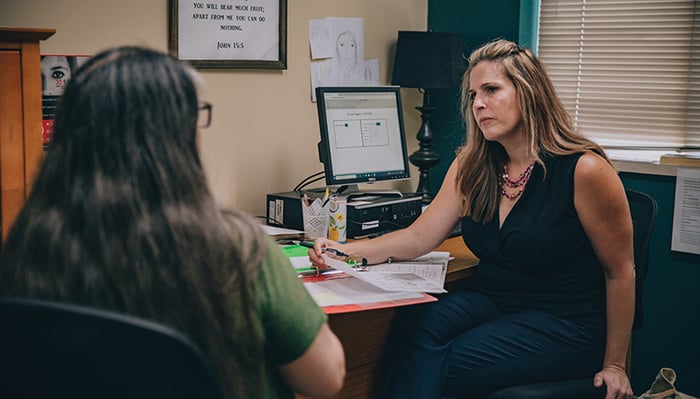 "The first couple weeks were really an education. I had this stereotypical idea of who comes to a crisis shelter. I think a lot of us go in expecting that these are going to be rough women who just want free food and want to be left alone. So, it was surprising to me that these women were really sad. They are just regular women who are in a circumstance they don't want to be in. The first time I've met with a woman, almost every time, she's cried. And they've all been super open about everything that's happened in their lives. It's been really eye opening to what a hurting world we live in."
Christina was intimidated by the job at first. "Initially, I thought of myself as more of a traffic director, offering connections to programs and services, filling out paperwork, etc." But as the weeks progressed, she realized her role was more of a cheerleader. "Our role as case managers is to help them set goals as to what they're going to do when they leave." Christina says she asks the women what their dreams are, and what they want to reach for in life, then helps them take steps in that direction.
"I think one of the biggest things I'm excited about is that UGM is not just a place where people come to get free meals and a bed and then leave and go back to the streets; it's a place where people come because they're ready to move on from that life. And I like being a part of that."
Howard Abbott
After retiring from a long, successful career in audio/visual services, Howard started looking for new ways to engage his community. He drove for ride-share apps for a year, which he enjoyed, and he continued his work as an on-call chaplain for a disaster-relief agency. However, it was when he read an ad in the Mission News that his retirement plans came together. The ad sought volunteers at the UGM Men's Shelter.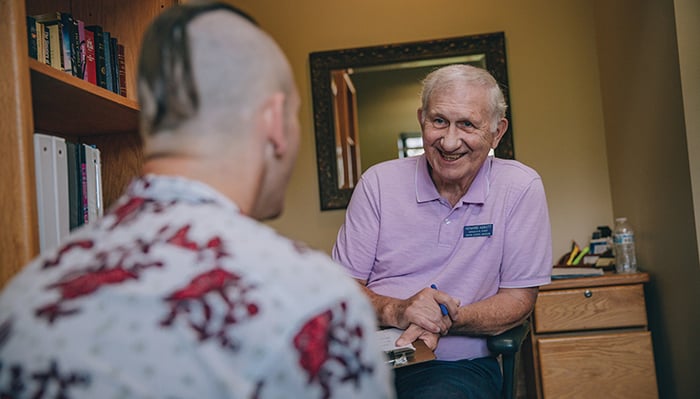 In no time at all, Howard was placed as a case manager. The training he'd received as a chaplain prepared him perfectly to work with men seeking a way out of homelessness. He was well-versed in trauma-informed care and effective listening. "You've got to listen to the hearts of the people. It's easy to see them on the streets and shun them in a way, but when you get to know them, it's a different story."
When a guest enters case management, Howard considers the man's past, any financial or legal obligations, medical or mental diagnoses, addictions and (the fun stuff) personality traits, work skills and interests, to help form a plan to create a more fulfilling future. Sharing the gospel, providing practical guidance, and listening well to men who've been torn up by the effects of abuse and addiction brings a renewed sense of purpose to his life.
Howard says he's grown in the five years he's been involved with UGM. "I've learned compassion in a way that I never had before. My whole perspective on homelessness has changed, just being able to talk to them face to face."
To find out how you can join the team of men and women offering hope to the homeless at UGM, click below.