As a kid, I sat on a stool countless times and watched my mom prepare dinner. She didn't love cooking and wasn't thrilled to have an idle audience, so sitting there placed me in prime position to be pressed into service: stirring, chopping, setting the table or getting a head start on the dishes.
Most of the time, I didn't even mind. When Mom was there, the kitchen was the heart of our home. We were unconsciously drawn there because she was there, it was warm, it smelled good, and there was the promise of a delicious meal coming our way.
The kitchen at the Union Gospel Mission Men's Shelter seems to have the same magnetic quality. Serving about 500 meals a day just at that location, it isn't the type of cozy, domestic place I enjoyed in my childhood, but it still attracts people to come closer, to enjoy the welcome, the warmth, the love, and – of course – the food!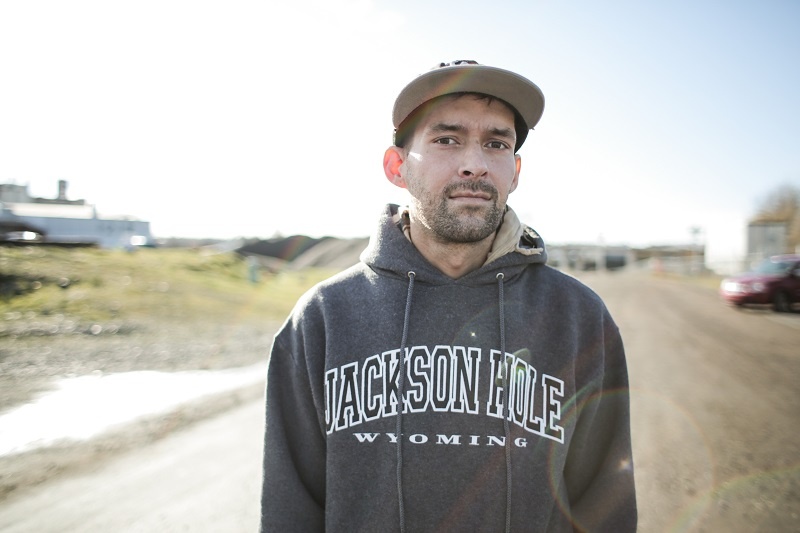 Ask Alex Duffy, who came to UGM last fall and is now in the recovery program. He had just lost everything he had and was living in his car when he came here. A warm, safe place to sleep and a decent meal was "a godsend." For his chore, Alex was assigned to work in the kitchen.
Grace in the kitchen
It was a good match. Alex had several years of experience working in commercial kitchens in Wisconsin and Southern Oregon. He immediately had a responsibility he could take pride in that made use of his skills. He was made salad bar supervisor, which he aptly describes as "a huge, multitasking ordeal."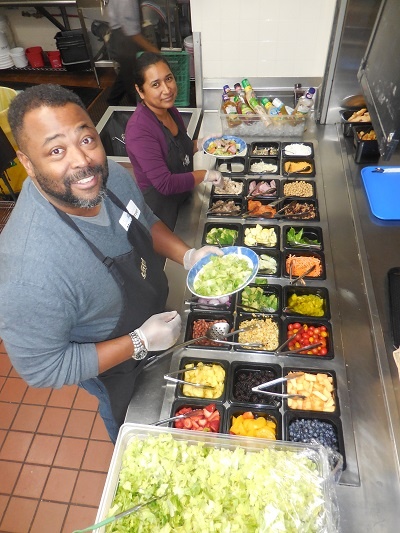 The salad bar provides a wide variety of options and is especially important for people who have special dietary needs and can't eat the main entrée. It also encourages healthy eating. The spread is planned carefully: On top of leafy greens, every day the salad bar offers 6 fruits, 12 vegetables, 4 meats, 2 non-meat proteins, eggs, cheese and at least 4 dressings. To round it all off, a different soup is also offered at each meal.
No wonder it takes six people five hours to choose, steam, wash, chop, dice, grate, toast, sauté and blend everything required for lunch!
Alex's job was to make sure the salad bar got filled from UGM's stores of donated food, with the help of a daily-changing kitchen crew of shelter residents.
"We get a lot of freshly broken people, so to speak, right off the street," Alex says. Sometimes, he had to take the chopping knife out of a man's hands as they shook uncontrollably from alcohol or drug withdrawals – to tell him it's OK and put him to work on something less risky. Alex isn't a touchy-feely guy, but he has compassion for the different ability levels residents bring. He points to Chef Derek Mobley, the kitchen supervisor, as an inspiration.
"Sometimes we get people who aren't physically or mentally capable to do as much. So he's there alongside them giving them grace. He's really got a boss mentality where he knows how to use people with what special qualities they have."
Volunteers also help in the kitchen, both with their skills and their testimonies. Alex says it's especially encouraging to see former residents come in to give back and pass along the love and encouragement they received in the UGM kitchen. "They have their own lives outside of here and they share their own experiences. It's really powerful." Working with Derek, who is a UGM recovery alumnus, and others who are bettering their lives is an encouraging example for Alex as well as those who are "freshly broken."
Ladling out encouragement
Of course, the goal of all that prep work in the kitchen is to serve a nutritious meal. Feeding the hungry is a cornerstone of UGM's mission – providing the most basic of needs, paving the way for the next step, showing broken people that there really is hope.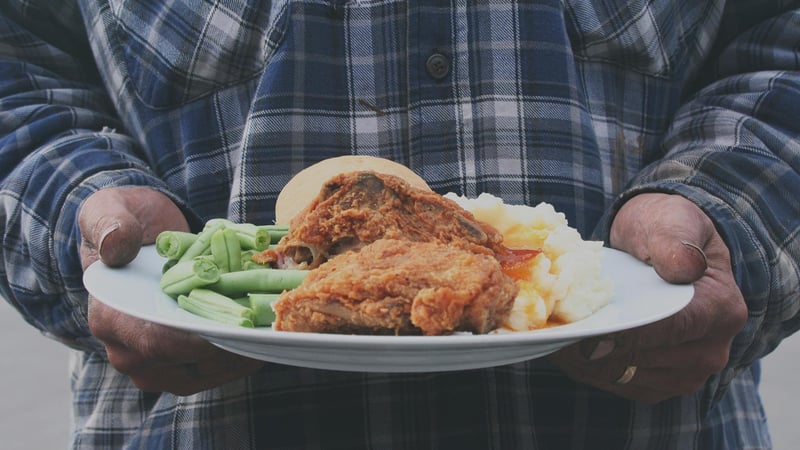 As guests file through the line to get their meals, they get a glimpse into the kitchen atmosphere.
"Their first meal builds a curiosity about what's going on back here," Alex says. "A lot of people come in just for a meal, and then they come in and they start spending more time here, and then they check in and then they'll start working. … To be accepted and find a home with other broken people who are trying to better themselves, it's alluring for people." For Alex, the fact that what we eat becomes a part of us is more than just physical. Serving a meal imparts a seed of the hope he has found to someone else who needs it.
"It's super basic, but when you give someone a warm meal in the wintertime or a fresh, healthy meal in the summer, it really makes an impact on their life and keeps them driving for another day. All the people who are working back there, including Derek, we were all broken people when we came in that east door too, so they see us, they see us driving and inspiring ourselves and the people around us, and it helps to motivate people in a certain way to better themselves."
a dollop of self-knowledge
Alex has progressed to Phase 3 of the recovery program and passed his salad bar supervisor job on to another resident. Though he enjoyed working in the kitchen, he also learned that type of daily physical and mental stress raises a red flag in his recovery.
"When I would be done working at the restaurant that I used to work at, I would go for a beer…. And then I would just continually drink myself into whatever slumber got me to bed every night. And I didn't realize how much of a trigger, how much impact that stress had on me until I was working in a safe and sober environment."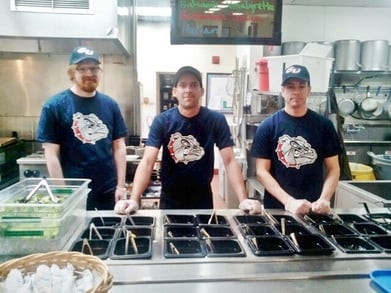 Identifying and coping with challenges like that is critical to Alex's recovery journey. For his own sake, he's ready to try something new and to let someone else have the chance he had to work in the kitchen. And he's learning to let go of his own way enough to appreciate someone else's way of doing things.
"That's also one of the things that I have to learn while I'm here, is to ask for help. And allow other people to put their abilities to work so that we can work together to get the job done."
You can give a hungry neighbor three square meals, a bed, and hope for just $12.94.