The Union Gospel Mission serves more than 900 meals a day at its four shelters, and if you've ever visited during meal time, you know we're not talking about 900 bowls of soup. The Men's Shelter is open to the public for lunch and dinner each day with hot choices such as cioppino, lamb stew, Jamaican jerk chicken, red beans with rice, and turkey with gravy over creamy mashed potatoes.

"Spokane is a generous city."
UGM is able to serve such quality meals at an average cost of just $1.84 per meal because of the large quantity of food donations we receive from businesses, churches and individuals.
Here is a sampling of the businesses who donate food to UGM on a regular basis: Yoke's Fresh Market, Darigold, Costco, Food Services of America, Sysco, Safeway, Olive Garden, Trader Joe's, Peirone Produce, Trading Co., Sweet Frostings, Craven's Coffee and 2nd Harvest.
Another great source of protein comes from hunters, the 4-H auction and the Big Game Recovery Committee. Volunteers contribute numerous hours butchering this meat to be served at UGM shelters. For two years in a row, Les Schwab Tire Centers have purchased hogs from the 4-H auction, and Mountain View Custom Meats has generously butchered the meat at no charge.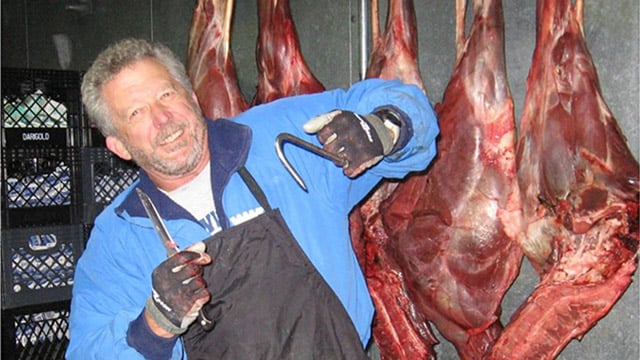 "Spokane is a generous city," UGM Social Services Manager Dean Whisler said in an interview with KHQ's Kalae Chock, and because of that generosity, a wide variety of resources are available to people in need.
In the same interview, one man, who goes by the name "Crazy" and spends much of his day downtown holding a sign that reads, "Smile - it's more fun," laughed when asked whether he was hungry. "Hungry in Spokane?" He seemed incredulous.
Indeed, meals are being served all over the city every day of the week. This spreadsheet gives an overview of free meals, days, times and locations.
Feeding the hungry 365 days a year
The Union Gospel Mission is the only dining room in Spokane providing free lunch and dinner to the public 7 days a week/365 days a year. A large number of people who are not living in our shelters come for a meal to stretch their monthly food budgets.
Dani and her children, Mena and Jareth, were having dinner at UGM toward the end of the month. "We're at that point in the month where we don't have any food in the house other than ramen and macaroni and cheese. Everybody is really nice," Dani said, "and the kids get to eat first."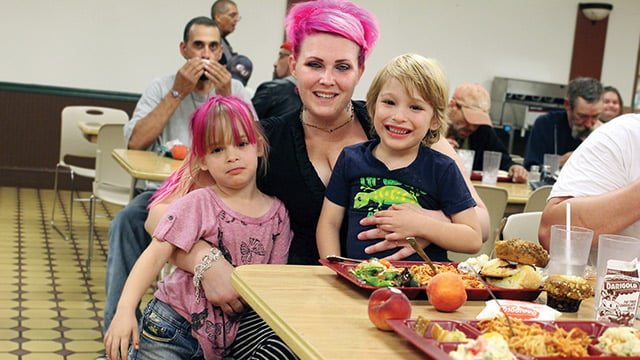 Ron, who was eating with his wife Nadine, said he was grateful for the chance to sit down and eat a good meal together. "In Okanagan, I used to go rummage in garbage cans. You can find some pretty good stuff, but the Mission has better food and better atmosphere."
Partnering with other organizations to feed the hungry
On top of the meals served at each of our four shelters, the Mission serves as a warehouse and distribution center for 29 other smaller ministries – rural food banks, church pantries and warming centers. Because we have the refrigeration and storage space, suppliers deliver large quantities of "stressed" food (food nearing its expiration date) to UGM where it is sorted, stored and distributed.
These organizations provide food for an additional 23,000 meals each month. If you need helping in feeding your family, please download this list of neighborhood food banks, their addresses and various hours of operation.
BASIC SKILLS
UGM's commercial kitchens also serve as a training ground for residents – teaching basic knife skills, portion control, presentation, safety and sanitation. Former residents have gone to work in food service for the Davenport, the Spokane Country Club, Centerplate, Riverview Retirement and Yellowstone.
Spokane Chef Frank Comito explained that the food service industry is one of the few career trades wide open to men and women with felony records and poor work histories. "We're a forgiving bunch. If you work hard and don't bring your baggage to work, we don't care about your past."
One of the most important things about food service training at UGM is the emphasis on a safe-and-healing environment. Dale Fruin, who works as a production cook in the kitchen at the Men's Shelter, values the relationships he builds with the men as much as the opportunity to create great meals. "I'm not a cook. I'm a steward. God has given me these sets of skills and abilities that he wants me to use to relate to the men here."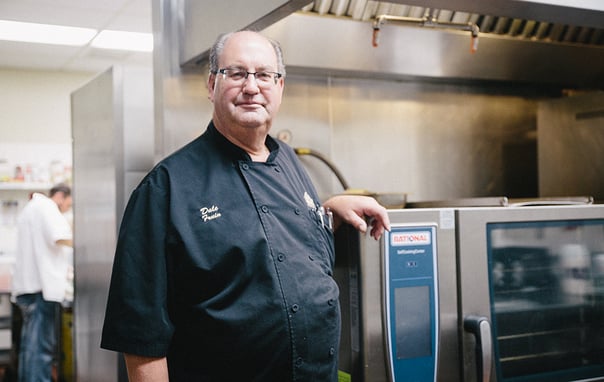 More than soup. Indeed.
One of the best ways you can help someone on the street holding a sign that reads "Hungry" is to direct them to the Union Gospel Mission for a warm, nutritious meal. Click here to get our free tip sheet on how to help a panhandler.
Editor's Note: This post was originally published on November 11, 2013 and has been thoroughly updated for accuracy and comprehensiveness.
A meal at UGM is so much more than a meal. It's a first step toward a whole new life. Provide 10 meals for less than $20.