"We can make our plans, but the Lord determines our steps." – Proverbs 16:9, NLT
Mary Beth Salisbury's upbringing could seem like it has a rose-colored glow: Christian farming family; good church and education; a strong testimony and love for Jesus. Looking back after 25 years of service at the Union Gospel Mission, it's clear that through those things God was preparing her for something bigger than herself, with eternal consequences.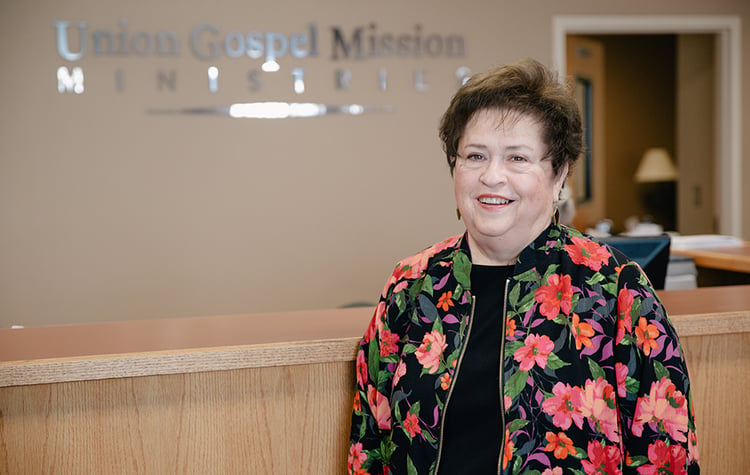 As assistant to Executive Director Phil Altmeyer, for many years Mary Beth has provided what Phil describes as an "extension of his brain" and a connector between the "planners" on UGM's board of directors and the "doers" that Phil oversees.
But her first job at UGM brought her face to face with the brokenness that is the reason UGM exists. As administrative assistant at Anna Ogden Hall, a farm girl from Moscow, Idaho, served domestic violence victims, drug addicts, mentally ill women, traumatized children, and many others who clearly and desperately needed Jesus.
Even though she doesn't interact with those clients on a daily basis anymore, Mary Beth is dedicated to her work so that those people can hear the gospel and receive healing in Christ.
A Bend in the Road
Mary Beth's path to UGM wasn't exactly direct. In the early 1990s, after she had taught high school English and worked in Christian organizations, she couldn't understand why her next plans – perfectly reasonable plans – weren't working out. She had good experience; she had good credentials; she had good contacts and references. But she couldn't seem to land the college teaching job she sought. "The Lord wasn't in it. He did not bless it for one moment."
As she continued to pray for guidance, Mary Beth got a call out of the blue from Phil Altmeyer, who had just taken the reins at the Union Gospel Mission. She didn't know him, but they had mutual friends. He asked if she was interested in an office job at UGM. She declined; not ready to leave her family and church in Moscow. But that call planted a seed, and she later contacted Phil about an opening at Anna Ogden Hall.
Phil asked, "Have you worked with homeless people?" No. "What do you know about addictive personalities?" Nothing.
"I said, 'I don't know that I could do it.' It was quite wildly different from my experiences."
But Phil invited her to try it out on a volunteer basis and see how it went. The more she thought about it, the more she remembered ministering to people facing similar issues.
"I had worked with women who were hurting themselves with razors, women who had been beaten by their boyfriends … These situations I had encountered in Moscow were mysterious to me, and I was curious. The Lord kept leading these women to me, and after a while, I realized, 'This is purposeful. He's leading one woman after another into my life and we're interacting, and they need God."
So she gave Anna Ogden Hall a chance, and it only took two days before she called Phil: "It's a go. This is what God is doing, and I see it now."
Watching for Miracles
At that time, Anna Ogden Hall was a short-term shelter serving women and children directly off the street, much like the Crisis Shelter does now. MaryBeth became the fourth staff member at the shelter, joining the director, assistant director, and a cook if they could hang onto one.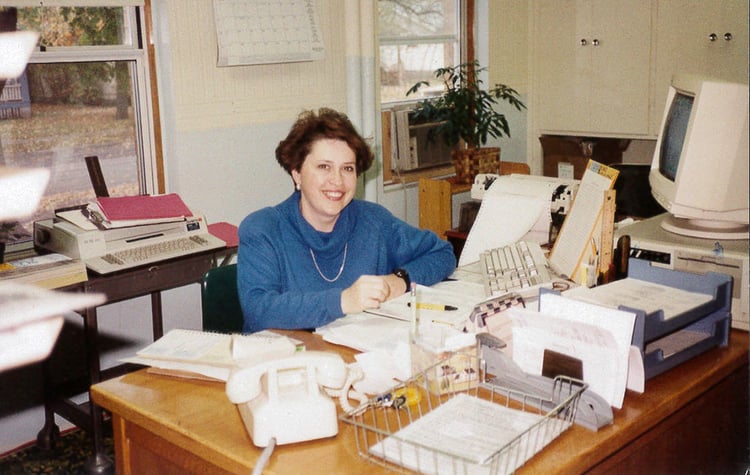 That meant multitasking – and a bit of chaos. She checked guests in and out, distributed diapers and other supplies, took donations, and answered the phone.
"The phone was an emotional rubber band, because you would get this one call and it was this sweet lady who wanted to give us cereal because they were having coupon sales, and then the next call would be an angry partner of a guest who wanted to march right in and jerk her out of there. And, [he might threaten], if we didn't let him, he was going to bomb the sidewalk."
One woman called from her bedroom as her boyfriend literally threw everything she owned out the window. "She wondered if she could come down because she didn't have anything left and she was sure he would beat her the minute he was done throwing the furniture."
The dire situations the women faced helped Mary Beth remember what they – and she – really needed. "What I longed to do with each one of these women was to sit down and pray with them. 'Let's connect with God, because God can handle this situation. It's too big for you, too big for me, but it's not too big for God. He can do miracles in your life.'"
She remembers many dramatic moments and a few heartbreaking disappointments while working at Anna Ogden Hall, but she's quick to point out that most of the work God does at UGM is quiet and long-term.
"What I think I've learned, more than the spectaculars, is that it's a long slog to real sobriety. And that the idealism that a person like me could walk in with, the idealism has to be jilted. It has to be set aside. Because while God does do things like that sometimes, more often he takes people through days and months and years of learning to stick by the discipline of the Christian life."
Seeing that was why she persevered even when the idealism was broken. She remembers going to a fundraiser where a meal was served. "One of the servers bent down and whispered to me, 'Ogden Hall was there for me when I had to have it. I needed it, and they were there for me. They provided me and my son shelter. Now that son is a minister. We left there and we joined a church and we began to grow."
That helped her realize UGM is "a seed-sowing place." She wouldn't always see the end results of God's work at Anna Ogden Hall, but it was worth it so that some could find a life-changing relationship with Christ.
Behind the Scenes
Mary Beth moved from Anna Ogden Hall to become Phil's assistant after about four years. Since then, she's gotten into a rhythm to help the big picture make its way down into the day-to-day of UGM ministries.
"Phil is a visionary guy. He has a lot of great ideas, but he needs help tracking down all the details , so that's what I began to do: the schedule, the dates, the follow-up, the emails, making sure things didn't fall through the cracks."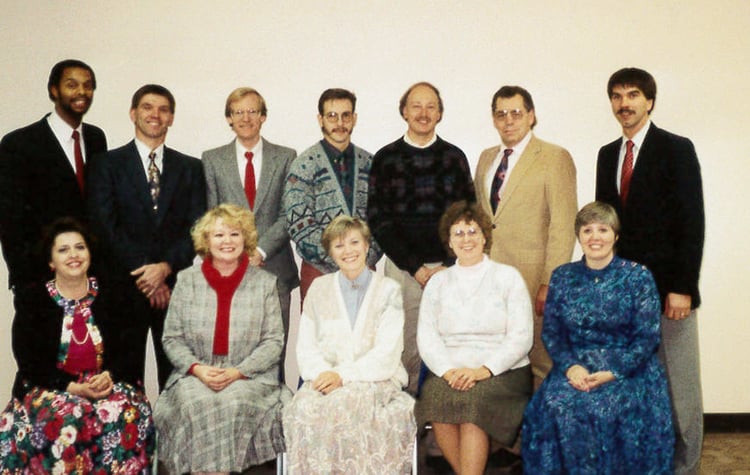 That's where her "brain extension" role kicks in. She collects reports from all the departments and turns them into a monthly report for the board. She also began attending all the board and committee meetings to take notes and help with follow-up on their discussions and plans.
In that capacity, Mary Beth has enjoyed getting to know the UGM board members. While their service is unpaid and isn't always visible to staff, donors and clients, she's impressed by "how committed they are, how loyal they are to this organization, and how much they give of time and energy and commitment to this organization. … They work hard. There are some committees that work really hard – for instance, the personnel committee that deals with salaries and insurance and benefits. They have to do hard things, especially in the employment environment that we are living in."
Even when paperwork piles up, Mary Beth remembers a talk she once heard by the mission association president in the 1990s. He shared that 400 people came to Christ every single day at a rescue mission somewhere around the world. "It's worth it to be at this organization. It may not be everything you imagined when you walked in the door … but 400 people being saved? It's worth it to be part of an organization where that happens."
Of course, Mary Beth's life isn't confined to UGM: She enjoys close relationships with family members in Moscow, the Tri-Cities and Western Washington; decorating her home and having friends in it; historical and biographical movies and books; and she's planning a trip to Israel this spring. She looks forward to retirement and the freedom to do a few things she's been putting off – but working at UGM has been a huge blessing in a number of ways.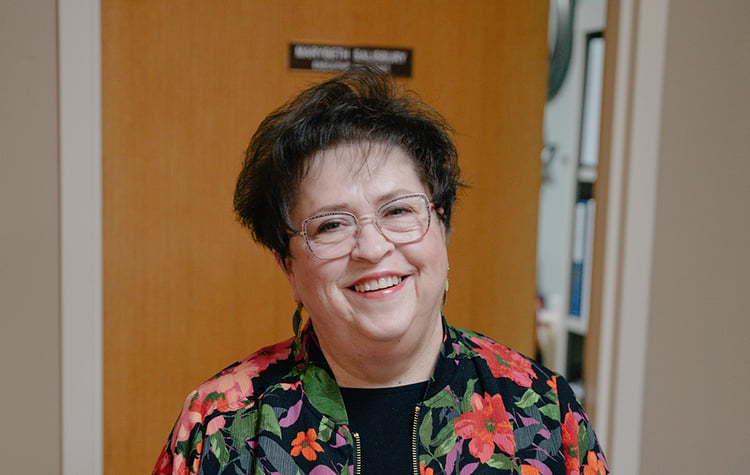 "UGM is a very rich environment. It's such a privilege to be able to work here, to know my fellow staff members, to live with them daily, and to have them be the surroundings of my life. If I were a married person, I would probably look at things a little differently, because a married person has a whole other set of priorities from this world. But in God's sovereignty, I'm not married, and so this place becomes very important to me. … This is my purpose, and it has been extremely enjoyable."
Many of the lessons shared by Phil in the free e-book below are ones Mary Beth has witnessed, as well.