"As good stewards of the manifold grace of God, each of you should use whatever gift he has received to serve one another." – I Peter 4:10
Dale Fruin is a production cook at the UGM Men's Shelter. Overseeing short-term shelter guests assigned to kitchen duty, Dale has a unique opportunity to work with men taking their first steps toward recovery. And even though he has decades of experience in the culinary arts, Dale knows this job is a ministry position.
"I'm not a cook. I'm a steward. God has given me these sets of skills and abilities that he wants me to use to relate to the men here."
Dale's experiences aren't what he would have chosen at the time. But God knew what He was doing.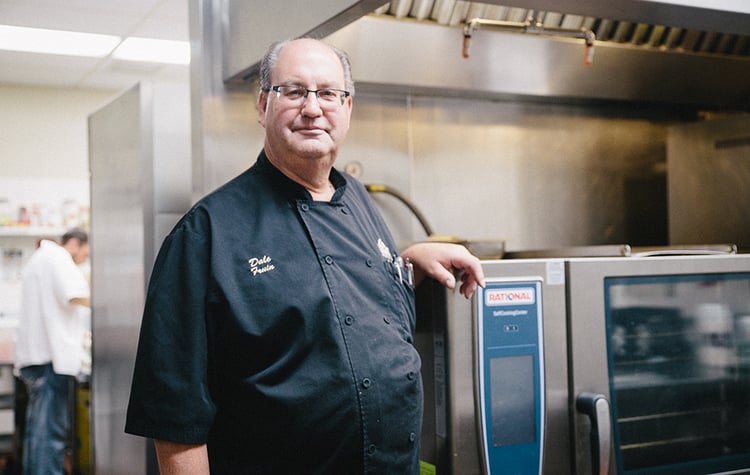 Falling hard and fast
When Dale's life began to unravel in 2014, it didn't take him long to slide down to the end of his rope. "I ended up falling really hard, really fast."
His demanding work as chef-owner of several restaurants had taxed his relationships with his family and his church until they snapped. At the same time, he started dating a woman who changed his life. Whitney "got me to drop the barriers, the masks, the facades, and just be me."
But Whitney's heroin addiction also brought Dale to places he'd never been before: "I'd been out on the streets. I'd been in the drug houses. I never sold drugs, but I bought her heroin. … When she was clean, she was the most amazing person I've ever met in my life, but when she got back around those people, she just went off."
Dale also dabbled in drugs during that time, but he was able to draw the line at a certain point. Still, he got to know the drug dealers, houses, and lingo.
As he watched addiction take its toll on Whitney and others in her circle, Dale longed to plug back into a church and reconnect with God. A casual conversation with a stranger eventually brought him through the doors of Jacob's Well. "It was absolutely incredible," he says.
That inspired him to try to lead Whitney to embrace the gospel and recovery. She responded well, got clean and was scheduled to enter rehab, but a few weeks later she reconnected with the wrong people and fatally overdosed in December 2015.
"I basically died with her," Dale says. He closed his restaurant two weeks later and withdrew deep into himself for several months. He only survived because one of Whitney's friends made him promise he wouldn't hurt himself.
Finally, Dale decided he had to keep living. He had vowed at Whitney's death bed to give the rest of his life to helping people in recovery, and he saw that happening at UGM. His friend Russell MacKenzie, then UGM's Director of Food Services, finally got Dale to take a job he had been offering for years.
"Random" ingredients
Cooking in a homeless shelter was a far cry from his past career, and an opportunity to face down his ego. For many years, Dale had achieved great things in the food world, but they'd come at a cost.
"I've been there, I've done that. All of the great things, the news articles about my restaurant, being on KXLY, winning Epicurean Delight, all that stuff is absolutely meaningless. It fed my ego. … Most of my adult life I've been a slave to a restaurant."
Dale talks about it like the Teacher in Ecclesiastes: "But then I looked at what I had done, and I thought about all the hard work. Suddenly I realized it was useless, like chasing the wind" (Ecclesiastes 2:11, NCV).
But God can use the useless.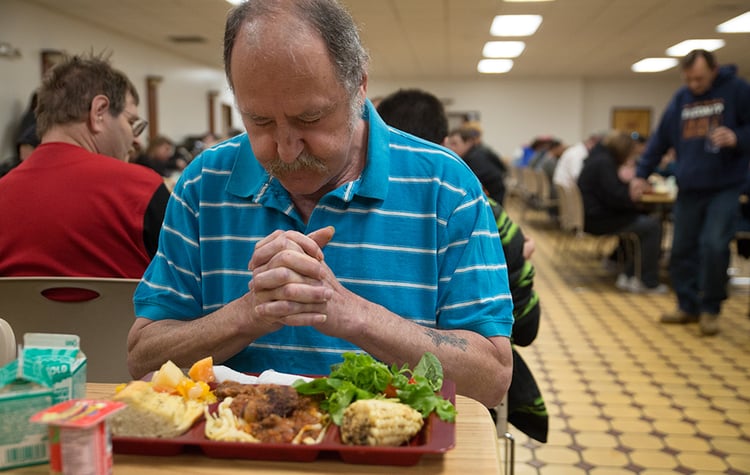 In contrast to the restaurant world, at UGM Dale works with an ever-shifting supply of donated food to create the best meals possible – a daily challenge that requires all Dale's culinary skill and experience to solve. In a way, combining a bunch of seemingly random ingredients into a delicious meal with unskilled help is what God is doing with the exciting, the chaotic, and the painful things in Dale's life: Making him into a useful servant to share His grace with people in need.
"A lot of times I have no [meal] ideas, so I'll just go stand in the cooler or the freezer and pray. Because God has given us this stuff. … I believe He had a plan for it when He gave it to us."
The satisfaction when a meal or a friendship comes together is beyond description.
"I have not found anything more rewarding than when a guy came up to me one day and said, 'Thank you for being part of my recovery.' "
Building one another up
Working in the kitchen with a staff of "chore people" gives Dale a chance to connect with the shelter guests both as a teacher and as a listener. And because of the rocky times in Dale's life, he can understand and build trust with them more easily. "I can talk to them in their vocabulary and their slang and I can get down on the street with them."
"I can kind of get down to where they're thinking, because I've been there. I'm not trained as a counselor, but God … I just sit back and let God speak. And I can relate to them and they can relate to me because I've been where they're at."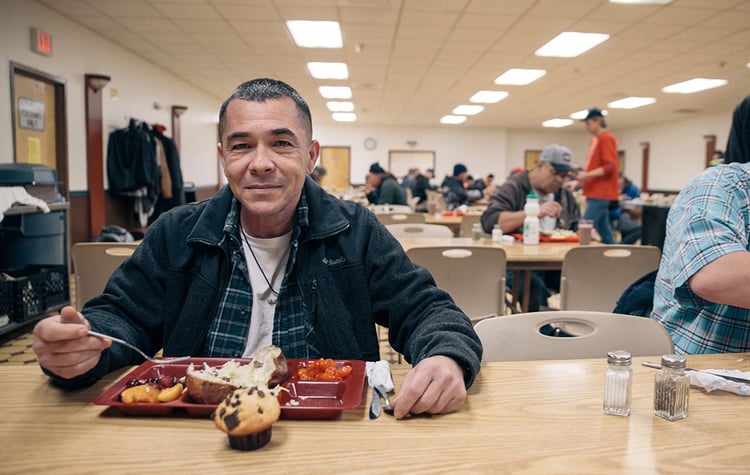 He encourages the men toward recovery and also provides a growth experience for those who are fresh off the streets and know nothing about working on a kitchen crew.
"I enjoy the teaching, because it builds them up. The cool thing is a lot of these guys have never been part of a team. They've never been part of a positive environment. They've never been part of something bigger than they are. All of a sudden, they get in there and they go, 'Wow, I really like this!' "
That's how Dale made a special connection with Robert Kollenborn, who he invited to his church. Dale has loved "watching him experience things for the first time in his life clean." Fishing together, campouts, serving at a fundraiser, and other church activities have all helped Robert have the satisfaction of being connected and valuable in the larger community, after decades of isolation and alcoholism.
As rewarding as it is, Dale's job is hard work. He can't invest spiritually in the men's lives – and put hundreds of meals on the dining hall tables every day – without constant dependence on God.
"I cannot physically and mentally do what I do on my own. It's not possible. I have to have God. And that's why I pray every day for God to give me wisdom and to give me the spiritual energy and the physical energy and the ability to discern and to deal with these guys, because I can't do it on my own."
Dale wouldn't have the ministry he has at UGM without everything that led up to it. While the memories are still painful, he is thankful they're being used for an eternal purpose.
"God has blessed me with this experience, and I've learned. It's kind of like He spoke to me one night, that stewardship is more than just resources and materials and stuff and time and everything, but it's our experiences. And He gave me those experiences."
Learn more about recovery at UGM by subscribing to the Mission News!