Courage was on display at Tuesday's phase promotion celebration for the Men's Recovery program. For one thing, it isn't easy for anyone to admit they need help. Many of these men have had successful careers and families in the past, but their addictions damaged or destroyed those things. It's hard and humbling to check into a homeless shelter for a recovery program when you once prided yourself on your self-reliance and accomplishments.
For another thing, these men are working hard to identify and heal the sometimes decades-old wounds that caused the pain they tried to numb with their addictions. Unearthing that stuff and dealing with it is emotional, painful work – it is not for the faint of heart. It's easier to cover it back up and do whatever it takes to numb the pain. But that isn't how healing or change happen.
The courage these men have shown to enter and persevere through LIFE Recovery is going to come in handy for their future. The men finishing Phase 4 are about to re-enter the "real" world to live out the biblical truth they've been learning and practicing with one another, in their business practicums and in rebuilding relationships with their families and friends. That, too, will take courage.
Rex - I finally asked for help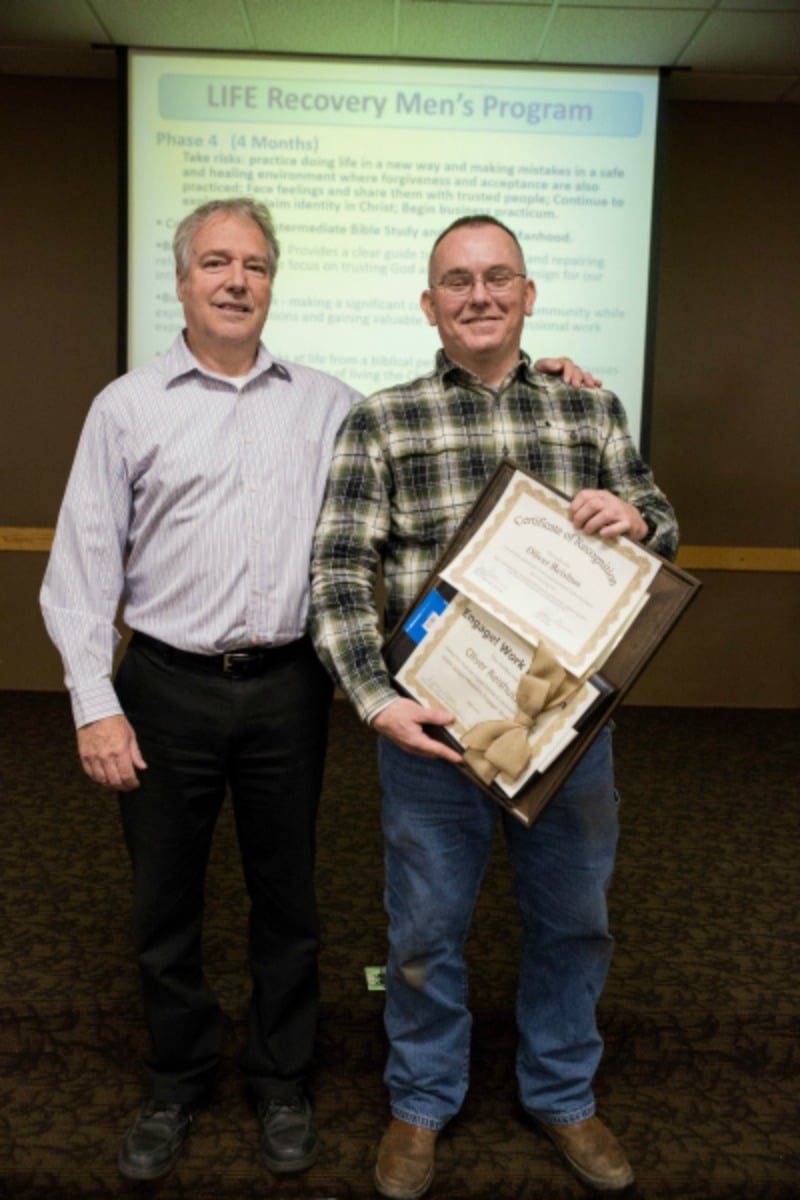 Rex was an established "lone wolf." He's always been a hard worker and has survived through tenacious self-reliance. But his drug and alcohol addiction had driven a pattern where by sheer willpower he would stay clean and sober for a few months or a year, relapse, run away and start over somewhere else. For Rex, building relationships of trust and care with the counselors and the other men in the program was a huge challenge. But he had the courage to reach out, and it was worth it.
"I am truly grateful; without these men and their ability to speak truth into my life with love and compassion I don't know where I'd be. To my brothers who've been a support, encouragement and sometimes a target in my continued emotional development, thank you one and all. You guys have challenged me in ways that can only make me a better person for knowing you. … To my brothers just starting this journey, my best advice is to just seek the truth and let that be your guide."
Will - People do care about me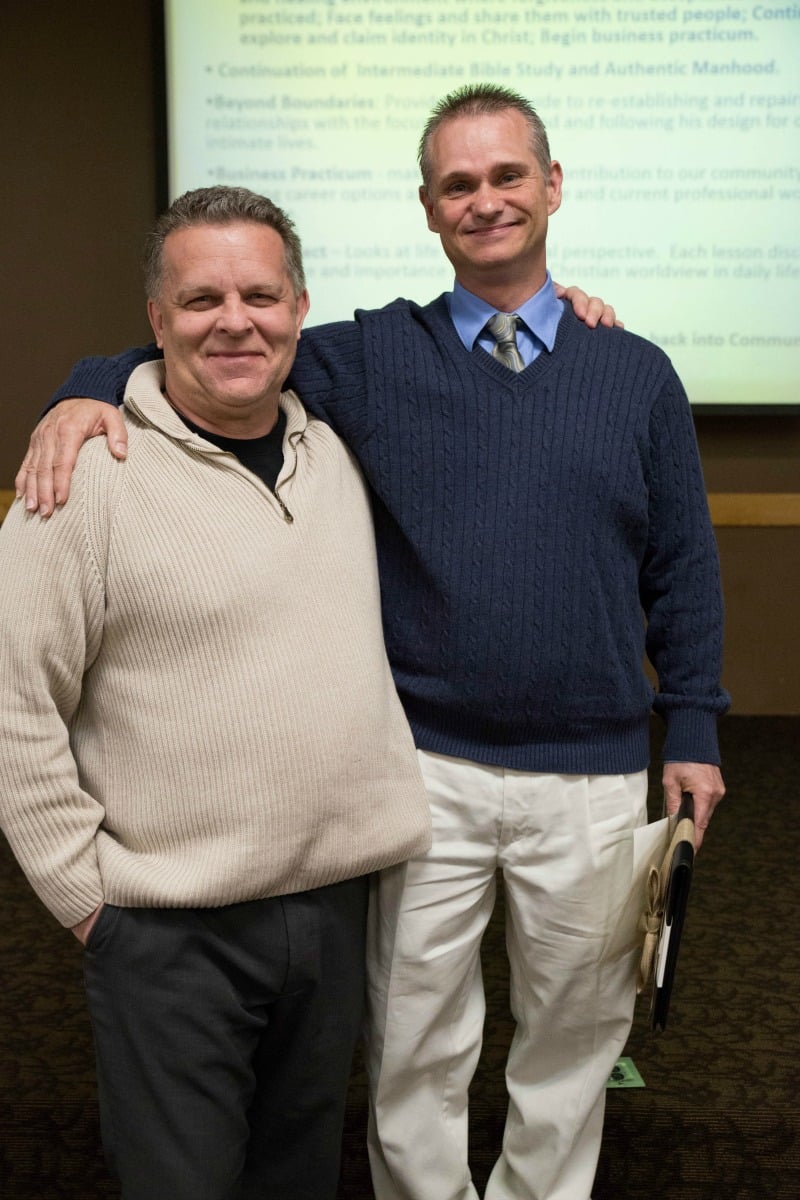 Will's addictions had almost cost him his marriage when he came to UGM: "not trusting others and leading life my way," he said. As he drew near the end of the recovery program, he realized he had unaddressed issues in his life that threatened his recovery. Instead of giving up or running away, he had the courage to open up to the counselors and request to repeat the last two phases in order to deal with those issues. Now he's rebuilding his marriage on a firmer footing in God's will, not Will's will.
"I think my biggest fear here was learning to trust others and seek out new friends who I can trust and love. I believe I have finished that part of my journey. What I have to keep working on is my relationship addiction. So for my brothers in the program, we have to learn to trust others as they trust us. Which I have learned to do … I had to do phases 3 and 4 over again to get the help I needed. I have mentors and people who can hold me accountable."
Kasey - living a life without drugs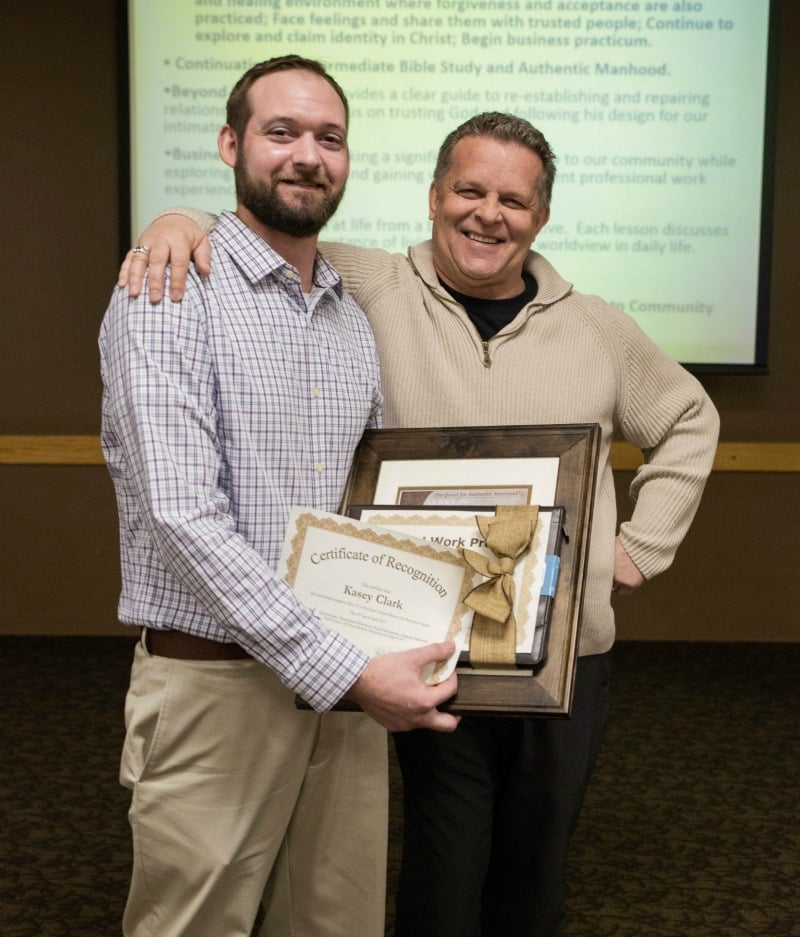 "When you first got here, you were kind of a scared little boy," Mike Scholz, Kasey's counselor, told him at the phase promotion. "As I've seen you progress, I have seen you grow, and I've enjoyed seeing you embrace that … and grow in your faith in God."
Part of Kasey's growth came in the courage to acknowledge wrongdoing and apologize. At the phase promotion, Kasey pointed out his mother in the audience and confessed that he'd caused her a lot of hurt in his addiction before coming to UGM. "She stuck with me through all of the bad prior to coming here, and there was a lot of it," he said.
"In the program, not only did I learn more about my addiction, they gave me the information I needed to help me live life without drugs once I leave these walls. … Thanks to Tiffany Riddle and Highwood Global I have a great job that I love doing. I plan on moving into transitional housing where I can continue to save money and get connected with a church so I can give back to my community. Finally, I would like to say that addiction is what brought me here, but there is so much more to the program than addiction. I have so many things to be thankful for."
Bill - my life is not about me anymore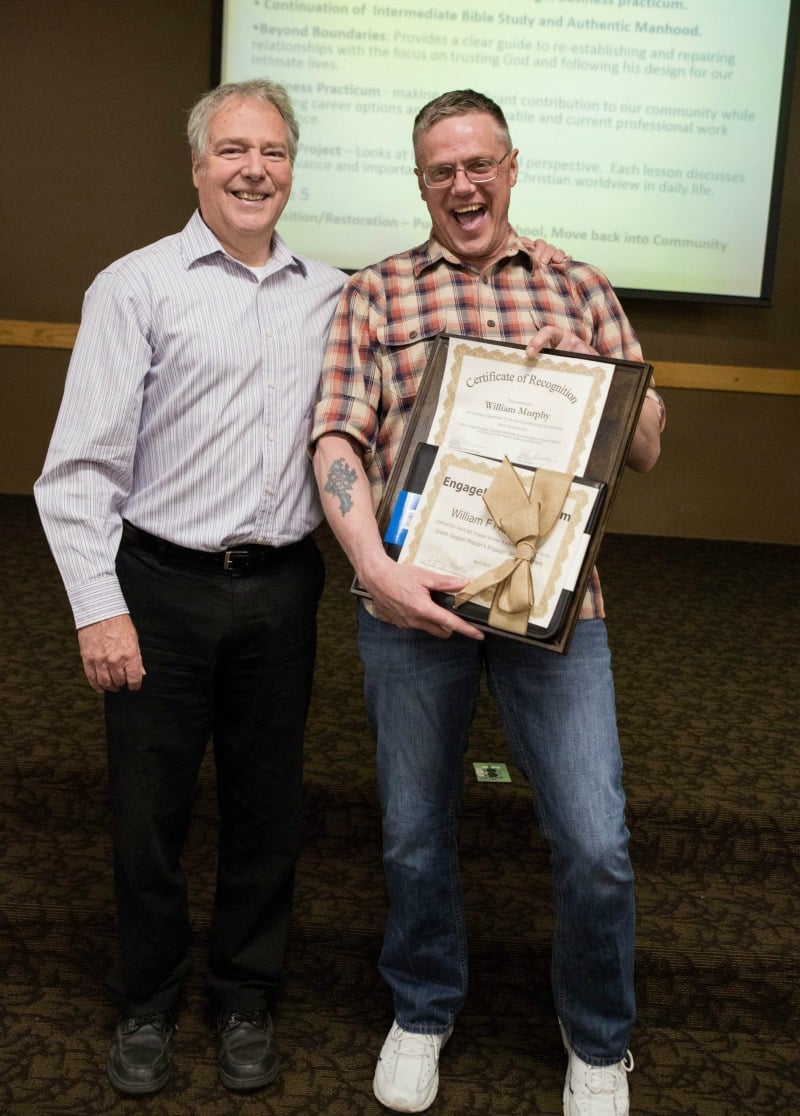 Bill is both a great builder and a people person. He worked at Habitat for Humanity in his Business Practicum and now has a job at Lowe's – helping people solve their building problems. Bill's counselor, John Dunne, said, "I see that combination – that you'll always be working with people in some capacity. God gave you that big heart that oftentimes got you in trouble in the past by trying to do too much too fast for other people and then getting overwhelmed. Now, I think there's that balance."
Balance takes courage – the ability to do self-examination and to say "no" when it's the right thing to say. Bill is learning about how to use his "people person" gifts to serve God and others.
"I have this emotional movement in my heart for others, a selfless awareness that my life is not about me anymore, learning about Jesus through this program and accepting what I've learned as the truth during studies from different classes. Understanding the Bible in a whole different way has changed my perception of what I knew as a child and was taught by others. I'm so grateful. … I was given the opportunity of a lifetime by God's divine intervention. …
"[Chef Derek] Mobley, the countless times you yell for me to 'get out of your kitchen' – thanks for the prayers and support along the way. Also the 40 pounds, [laugh] I feel great."
Kevin - a life-changing decision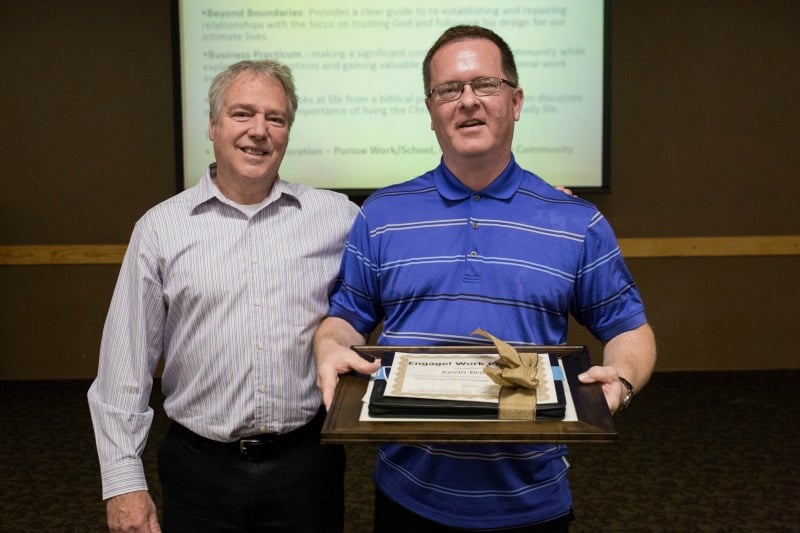 "It seems like just yesterday I was drinking myself to death in a motel with a so-called friend in Montana," Kevin said. "I knew in my heart I needed a change. My mom, who had been praying for me, found out about the UGM recovery program by making a few phone calls.
"But ultimately, I had to make what would be a life-changing decision to come here. I'm very grateful to God that I did, for I have seen this LIFE Recovery Program as a true gift from God, as I now have the tools to make it in life."
"Kevin's had jobs that make a heck of a lot more than I've ever earned," said his counselor, John Dunne. John is proud of Kevin for making recovery his priority, ahead of the high-earning jobs that might endanger it. Kevin is showing great courage to trust God to provide as he walks in God's path rather than the more lucrative one that led him into addiction.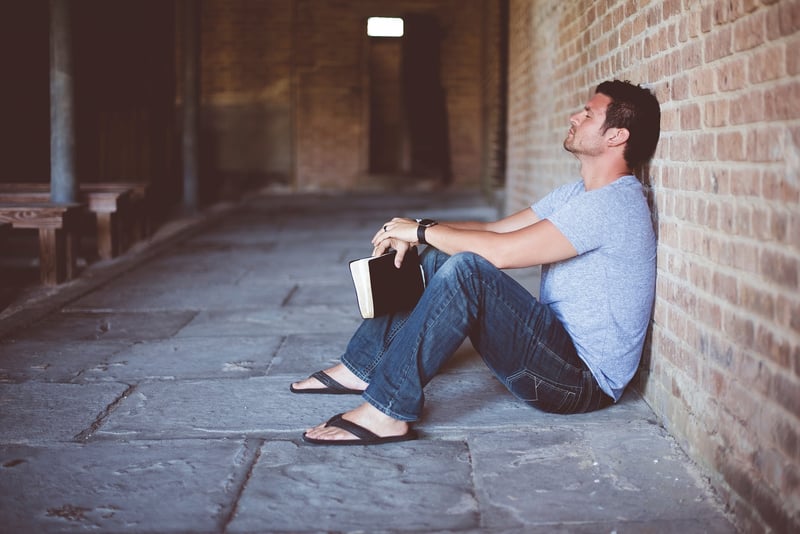 Courage can be hard to judge from outward appearances. These five men, and the ones coming up behind them in the program, have taken on some powerful, mostly unseen enemies. They're warriors at heart.
Pray for them as they continue to live out their recovery courageously in dependence on the Lord.
Interested in learning more about recovery? Click below to sign up for UGM's newsletter!