Hopefully, you're seeing new billboards going up around Spokane and Kootenai County similar to the ones we put up last fall.
Our "Lose the Label" campaign is an effort to transfer our attention from outward appearances to the individuals behind those labels.
"If only our eyes saw souls instead of bodies, what a different world it would be." - Anonymous
The concept may seem simple, but we're realizing it's not necessarily easy.
MISUNDERSTANDING HOMELESSNESS
When I came to UGM a couple years ago, I didn't know anything about homelessness. Except that it made me sort of uncomfortable. I, like many people, would see someone homeless and make assumptions – they're lazy, they're an addict, they've made poor choices.
While these may occasionally be true, the real reason I judged homeless people so harshly and felt uncomfortable with homelessness is because I didn't understand it.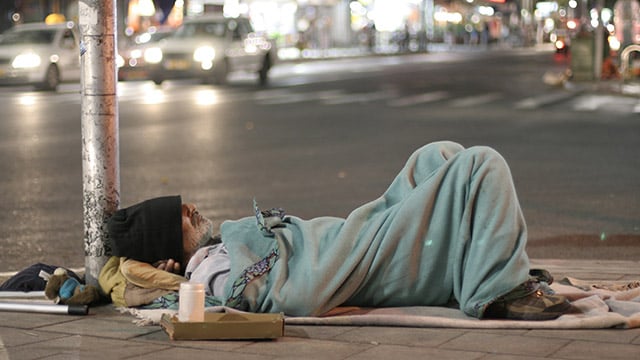 Being at UGM has shed light on my view.
I hear guests' stories and my heart breaks because no one should have to suffer the abuse, degradation, or trauma these men, women, and children have.
I've learned that homelessness and addiction are only symptoms of deep, underlying grief and pain.
Take Jeff, one of the individuals on our billboards.
As a kid, Jeff had no stability. He was separated from his family, abused, and felt disposable and alone. Drugs numbed him. He, in fact, labeled himself, the "tweaker of tweakers." And he became homeless.
But no matter Jeff's background, choices, or situation in life, he has always been a human.
LOSE THE LABEL, SEE THE HUMAN.
There's a gap in my understanding that makes it difficult for me – having never been homeless – to grasp homelessness. I have no experience or basis for comprehension.
But labels, labels I understand.
I think it's safe to say that everybody has felt labeled (or even put labels on themselves) at some point in life – workaholic, goody two-shoes, party girl, jock. We can all relate to feeling unseen or overlooked. We can all relate to wanting to be known and loved for who we truly are.
And, if we're honest, we can likely all admit that we have labeled others and judged them based on appearance. We see a man in a suit and conclude he's successful or a woman with a mini-van and assume she's a soccer mom.
It's not necessarily that labels are always inaccurate, but that, labels miss the person. Labels have more to do with how we act than who we are - with what we do or have done, rather than who we are.
Jeff described himself when he came to UGM: "I was a wreck. I was mean, I was screaming at counselors. I deserved to get kicked out of here, and all they did was show me love. They saw right through all that and saw all the hurt and pain that was in me. They gave me something I couldn't give myself."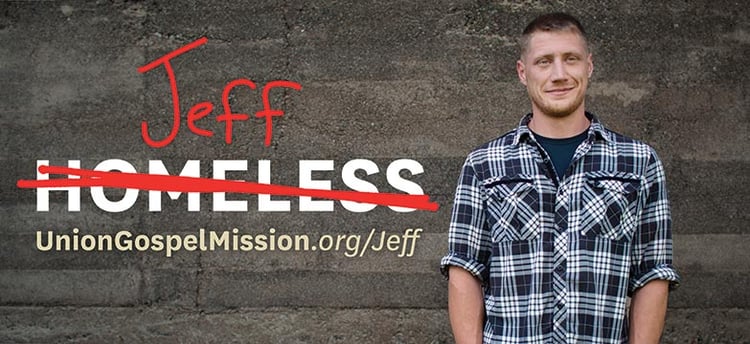 No matter their decisions, their actions, their past, UGM wants to treat guests as humans and reach them with God's love. We want to strip the labels and instead, see people.
I hope you'll join us in this campaign to lose the label.
Use these bookmarks as encouragement of your true identity and a reminder to pray for the individuals coming to UGM.