By Merrily Brast, Former Staff Writer
Making ambitious resolutions is a New Year's tradition for many of us. And while the end of January marks the end of those resolutions for many of us, UGM resident Tim O'Brien has chosen to stick to his on a daily, weekly, and monthly basis.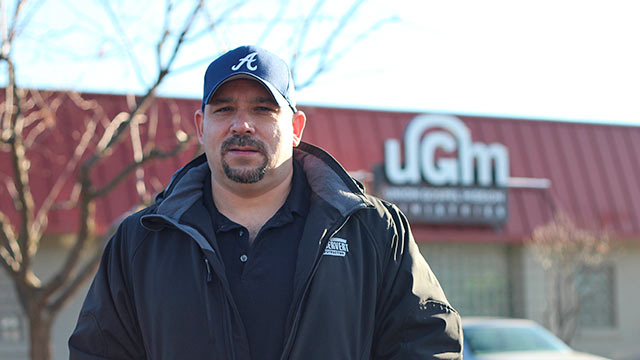 Recently, Tim finished Phase Four of the Men's Recovery Program. But when Tim arrived at the Men's Shelter, he was hopeless and depressed.
"When I walked in the front door, I was as torn down as you can be. I had no hope. I had no self-worth. I mean, the week before I wanted to die. I didn't have anything. I didn't feel anything."
Beginning Transformation
Tim began the Men's Recovery Program shortly after arriving at the shelter, and he was determined not to leave until he transformed his life.
"I resolved to finish. I resolved to change the person I was into the person I always felt I could be. I wanted to be able to like myself. I knew that in order to succeed I had to stay here and finish this program."
This change began with turning his life toward God and experiencing the Lord's grace in his life.
"I got baptized a month after I got here. I'm not too sure chapel or being baptized had anything to do with it. God spoke to my heart… that He loved me and that He has plans for me and He wants me to understand who He is."
"I have never ever thought about leaving this place. I've been angry. I've been sad… but I've never once thought about leaving. I think that God gave me that grace."
The Power of Grace
Tim also believes God gave him the grace to end his addiction. God changed his desires, and as his desires changed, so did Tim's view of himself.
"I've been able to stay clean long enough to start to understand myself and not to have to run back to that. And that's where God came in with the smoking and the drugs. He's taken that wanting of the drug away, the thirst for it, He's eased that, and that's a big help."
"I mean it shows up in other areas of my life…the frustration, the sadness… but the cravings were taken away long enough for me to be able to see who I am."
Both the people at the Mission and those who support it have played a significant role in Tim's life. They not only encouraged him in his recovery, but Tim feels they also enabled him to hear and feel God speaking to his heart.
"The kindness and grace that are here, that's how I was able to understand Him…to see people who just did things because they wanted to was a big help. People that cared about you and not just for how big your bag of dope was. That made a big difference."
Tim's life has changed. He arrived hopeless, but is now hopeful.
And during this month of resolutions, Tim has his own resolutions for the coming year—and the coming years.
"I'm resolving to stick to letting God drive the car. I resolve to go to school. I try to press in with people instead of avoiding people. Just to stay connected with people and not crawl back into myself. I resolve to face what I need to face."
Tim's life was greatly impacted when the Lord helped him break his addictions. Learn more about addiction from one of our recovery counselors in the video below.