Nursing Students Ruth and Madison came to UGM to give. They set up a medical station and provided free care and advice to guests at the Men's Shelter. But when their service was over, they wrote to let us know that not only did they give, but they received.
∴
Madison and I just wanted to say thank you for including us in your classes.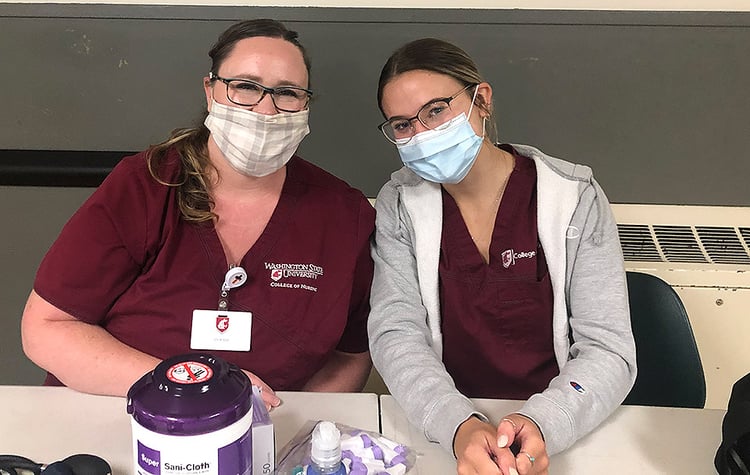 We came here to learn how nurses can contribute to the community, but we are both shocked at how much more we learned and how we have grown individually and professionally. First of all, thank you for your vulnerability. When you shared your stories, we related—every—single—time. We weren't bold enough to say it at the time, but to everyone who did a self-evaluation, yes, we can relate. It inspired us to do a lot of self-reflection as well. You have motivated us to make changes in our lives personally and professionally.
In nursing school, we talk a lot about the effects of Adverse Childhood Events, some of them you also shared as parts of your stories. We've examined research, learned diagrams, and memorized lists. And though that information is critical to understanding how to provide care as a nurse, you brought it to life. We recognized the long-lasting impact these events have on many of you. And we also see evidence of the healing that can occur. You are that evidence. This helps us bring hope to our patients, and to see them with hopeful lenses.
You have helped us further understand the barriers our future patients face to gaining optimal physical and mental health. You have taught us more about how to respectfully ask difficult and insightful questions. The level of respect for each other we observed in your self-evaluations was remarkable. We desire to give our patients that same level of respect. We have been taught to help patients maintain dignity regardless of the situation, and we have learned from you how to create a safe space to share, or how to respect boundaries if an invitation to share is unwelcome.
You broke down our biases that we may have come into this with. We thought we were working with people who were homeless, but in so many ways, this place is more of a home than many ever get to participate in. UGM appears more like a family than many families we encounter. You all are not what we thought you might be, and I am embarrassed of the pre-judgments I had coming into this. Whatever you guys are doing here, keep going, you are amazing men.
Most importantly, you taught us two things we will take into our career. 1).Everyone has a story. 2). How to listen and engage in someone's story. Most of what we did here was listen, and we grew in this skill tremendously. We have all of you and the others we interacted with to thank for this valuable skill we can bring to nursing. So thank you for impacting us and our future patients, you have helped us become better nurses.
Thanks,
Ruth Adams and Madison Horner
If you want to learn more about homelessness, we recommend the free e-book below: