We had a sod party last month to prepare for the opening of the new Center for Women and Children in Idaho. Lots of people showed up, and as they say, many hands made . . . well, lighter work. What would have been an overwhelming job for one or two people – laying 9,000 square feet of sod – went faster and was a whole lot more fun with a crowd.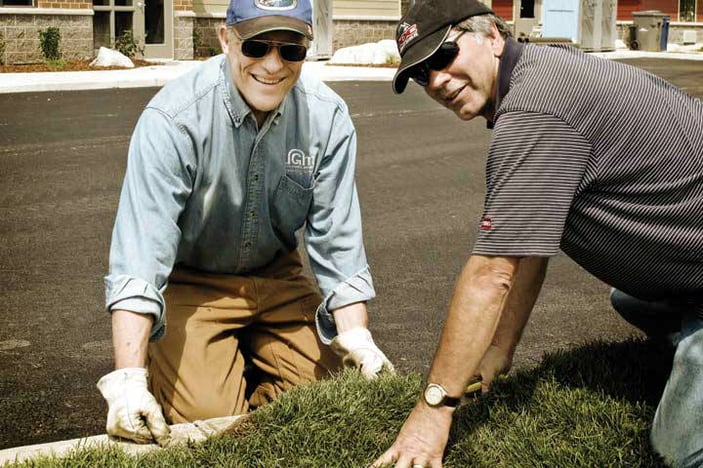 So much of life is like that. This ministry is like that. The burden of homelessness is much too big for one person, but when we come together as a community, each of us doing our part, the collective result is over 97,000 nights of shelter and 303,000 meals served last year alone; more than 5,400 individuals given clothing, and 1,500 patients seen in our medical and eye clinics. The Mission didn't do that; you did that. Volunteer doctors and nurses serving one afternoon a month did that. People cleaning out their closets did that. People giving $5, $10, $100, $1,000 did that. Youth groups coming down to a serve meal did that. It's a community-wide effort. Partnering together, we reach the poor with the abundant love of Christ.
The Thrift Stores may be the clearest example of small gifts being multiplied exponentially. Donated pots, pants, blenders, couches, sweatshirts and dishes come together to become so much more than just a pile of stuff. They provide the basis for a business where men and women with poor work histories, criminal records and little or no job experience can get a fresh start.
Occasionally, I hear people say, "I don't want my donation to go to the thrift store. I want it to go directly to help the poor." I get that, but here's the thing: When your donation goes to one of the UGM Thrift Stores, it does help the poor. It provides jobs and work experience to people who might otherwise be unemployable. It enables parents like Zachariah and Irene to provide for their children. The profit from sales goes directly into providing services to the homeless. Men and women in our recovery programs receive credit to spend at the stores and when they move out of our shelters, they are able to furnish their own places with furniture from the stores.
Over the years, I have seen countless men and women flourish within the family-like environment of the UGM Thrift Stores. Their confidence is restored. Many of them go back to school or launch out in new directions. All of this happens because people like you go through your closets and cabinets, simplify, scale back, and donate the extra bits and pieces of your lives.
So when you're trying to decide what to do with those clothes you no longer wear or that second coffee maker, think of Zachariah, Marilyn, Linda and Irene. Little things can make a big difference.