UGM is more than a shelter.
Deep at the root of everything we do—from creating a warm welcome to helping people heal, thrive and get back to work—lies the belief that every man, woman and child is created in the image of God with inherent dignity, beauty and worth. We believe each person is created with a unique purpose and that our job is to help them rediscover it.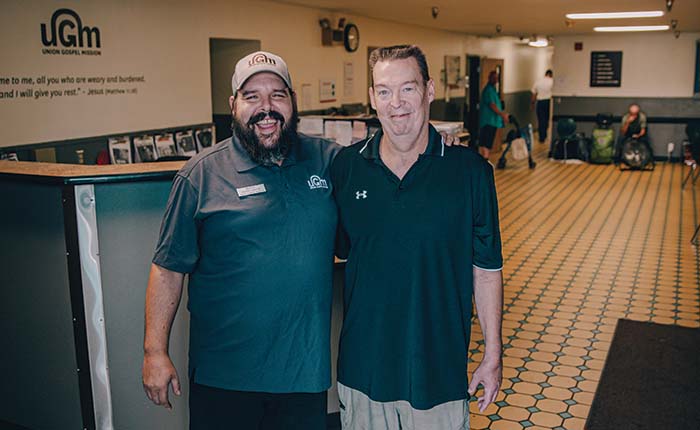 Over our 70-year history, we have seen that true, long-lasting life change does not happen until there is safety, security and a willingness to do the work.
All UGM shelters offer individualized care to every guest, ensuring that each person has everything they need to experience God's love, find their purpose and start to rebuild their life.
WARM & WELCOMING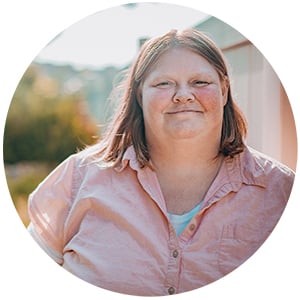 It all starts with a warm welcome. Johanna had been living on the streets and in trap houses for four years after losing her job and falling deeper into a heroin addiction. She was exhausted, sick and ready to give up on life when she heard about the UGM Crisis Shelter for Women and Children. She came with nothing but the clothes on her back.
"I didn't know what to expect. I was hurt, totally embarrassed, I smelled, I had three layers of clothing on–I was not taking care of myself well. I walked in, and there was no impatience and no judgment from the staff. It wasn't like they were just checking boxes with me; they wanted me to know that I was safe. I realized while I was talking with them that I could do this. I felt hope." Johanna, Women's Recovery alum, Center for Women and Children
Every guest, no matter their circumstance or past mistakes, is treated with gentleness and respect. A warm shower, a home-cooked meal, a clean bed and quiet room. Such comforts make the difference between living in survival and making plans for a better future.
"I can't tell you how good that first shower feels and the clean pair of snuggly jammies we have given to us. Thank you, UGM, for my amazing start into Recovery." Teri, Women's Recovery at Anna Ogden Hall
CLEAN & SOBER
UGM's clean-and-sober policy is foundational to the cultivation of a safe, healing environment. Tristan came to the UGM Men's Shelter for help getting his life back on track. He was very young and felt that his alcohol and marijuana addictions were prohibiting him from maintaining a job.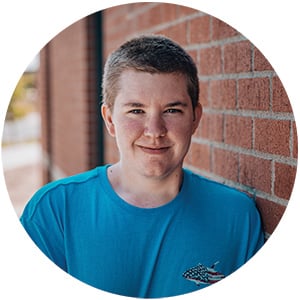 "The clean-and-sober aspect is very important to me. Being out of the environment where that is the norm, I haven't really had any temptations." Tristan, First Steps, Men's Shelter
Whether guests come with or without active addictions, the clean-and-sober requirement helps create peace instead of pressure, calm instead of chaos.
"There is zero tolerance here for drug use and alcohol. I enjoy that fact. It's huge. It's because of that fact that we don't have a lot of safety issues here. The theft is kept down, the violence is kept down. There isn't another place in Spokane like this." Allen, First Steps, Men's Shelter
FAITH-BASED
Drugs, alcohol and other addictions serve to cover or replace natural emotions. Often, they are a superficial fix for deep pain. Because of this, we cannot separate our belief in the healing love of God from our love for our brothers and sisters in addiction. UGM facilities operate from a faith-based perspective and provide biblical teaching, mandatory chapel services and opportunities for every guest to develop a life-changing relationship with God. It's not about force-feeding Bible verses, but providing an introduction to our Best Friend.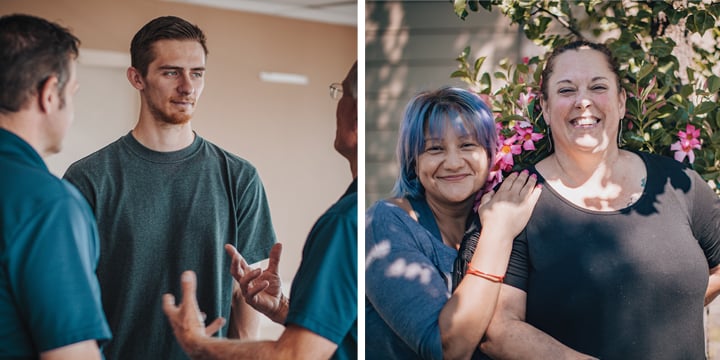 "I didn't feel worthy to have or enjoy a good life. I saw God as a bully, so coming to UGM and spending time in Program and seeing the heart pieces behind my behaviors and my problems showed me that God is really just this gracious Creator who loves me and put me here for a purpose." Aslan, Women's Recovery alum, Center for Women and Children
Johanna attended Chapel on her first day at the Crisis Shelter purely out of adherence to the policy. She had totally rejected God, blaming Him for the pain she'd endured. Within minutes, she was seeing God through a new lens: no longer as the perpetrator of her suffering, but as her rescuer.
"I knew that God was saying, 'Come, you're safe, you're loved, you're seen.' It was all uphill from there." Johanna, Women's Recovery alum, Center for Women and Children
RECOVERY-FOCUSED
Just as UGM facilities cultivate a physically safe environment, we also create a spiritually and emotionally safe environment in which honesty and openness are encouraged, shame and judgment are resisted, and recovery is a lifestyle practiced in community.
"I've been praying for God to get rid of the hardness of my heart. I used to be very closed off, very stoic, never reacting to anything. Now I'm able to be more honest with people, I'm able to show emotions." Tristan, First Steps, Men's Shelter
With healing comes change, the potential for joy and meaning. Misty was stuck, believing lies about herself and trying to silence them with drugs and alcohol. She reached out to UGM, afraid she would never be able to change.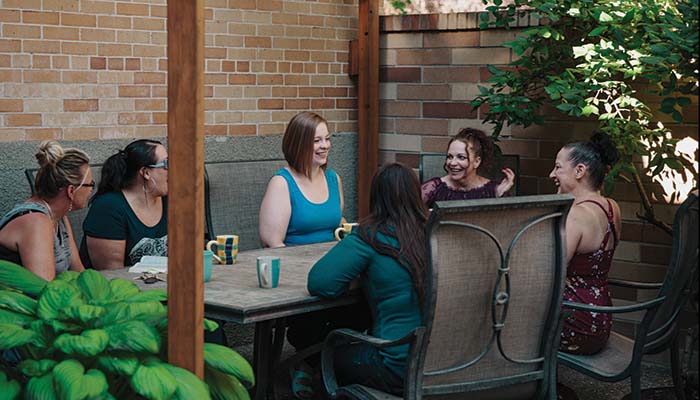 "In Recovery, I worked through feeling stupid, like I can't get anything right, like I don't deserve anything, that I was trash. Today, I'm finishing my practicum, I got my driver's license back, I got my son back, I've got my dignity back, and I have an outlook on the future that anything is possible." Misty, Women's Recovery alum, Anna Ogden Hall
Providing a safe, healing environment for life transformation is what you do when you partner with Union Gospel Mission. For 70 years, the extended UGM family has been reaching our neighbors in crisis with the healing power of the gospel. Lives are being renewed, hope is being restored, one valuable person at a time. Real change is possible.
Real change is happening all across the Inland Northwest. Watch these short videos and see for yourself.