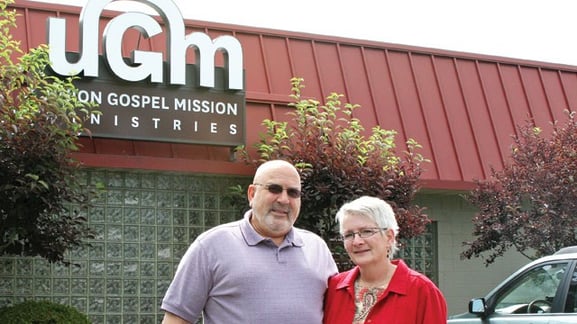 Bill and Jan Traynor were mentors before UGM had a mentor program. Several years ago they and other members from their church were preparing and eating dinner with the residents at Anna Ogden Hall once a month. They got to know Jennifer and her children and invited them to church. The relationship blossomed, and when Jennifer moved out, they stayed connected. Bill helped Jennifer create a budget and develop a resume. Jan encouraged her to cook healthy meals and shop for bargains. "She had a lot of inner strength," Jan said. "It was the other things she didn't have – the daily life skills you learn growing up."

When UGM started the Aftercare program in 2010, Bill and Jan helped train new mentors. In time, they took over management of the entire department. Not what they expected their retirement to look like perhaps, but they are passionate about what they do. Having someone walk alongside UGM graduates and encourage them to walk God's path "is critical to the whole recovery process," Bill said.
Interested in being a mentor? Contact Bill or Jan for more information at aftercare@uniongospelmission.org.