For over 20 years, Nancy Helldorfer's relationship with her son, Steven, brought more heartache than joy. "From the time he was ten until he was 35," Nancy said, "my relationship with Steven was such a roller coaster that I finally made a place in my heart, put him in it and closed the door so that I would be able to live."
Steven started acting out at school and drinking when he was ten. From there, he progressed to running away, using drugs and fighting. Nancy remembers getting calls from the police to come and get her son at two in the morning. Finally, Steven ended up in prison. After five years, he got out, angrier than ever.
"My heartache finally reached its limit the day I asked Steven to leave and go back to Spokane to be with his children…I told him to call when he got there but not to call again until he had something positive to tell me about his life." Nancy didn't hear from him for over a year. "Not knowing whether your child is alive or dead is one unbelievably hard thing to face."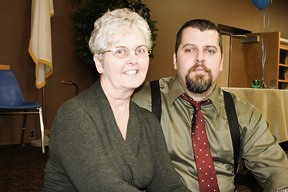 When Steven finally did call, he was living at the Union Gospel Mission. "I had many doubts and concerns," Nancy said, "but since it was a positive step, I wanted to encourage him as much as I was able." When she came for Steven's graduation from the Men's Recovery Program in June 2008, she was still skeptical. "Steven had depended on drugs for his happiness and to chase away all the bad things in his life for so long…I was unable to accept the fact that this was long-term or that it would continue to grow and become a positive all-consuming impact on his life."
It wasn't until last December when Steven turned 40 that Nancy became convinced that her son was a different man. She came for a visit and spent several days following Steven through his everyday life. "I finally realized that he really had changed. Meeting his friends and listening to him when he was with his children made me feel that the hell I had been through all these years had finally come to an end.
"As a father, he was kind, understanding, strong and loving. As a friend, he showed much patience and love. As a son, I could not have asked for a more perfect change. Steven had always been a loving person, but the drugs had taken that away.
"All I have done since returning home is talk about the wonderful people he is working with and the respect he has. I have nothing but praise for the Union Gospel Mission for being there for my son when I was unable. You are giving my grandchildren back their father. You have given me peace of mind knowing that the child I carried for nine months is able to care for himself and has such an influence on others around him. About the biggest change I have seen is that Steven is happy. He had been angry for so long I didn't think he knew how to be happy, but he is! When I was in Spokane, Steven was smiling all the time, and his demeanor showed such an inner peace. He not only spoke about his Christianity, he lived it and continues to live it."
Steven – the one who gave you birth is indeed full of joy!