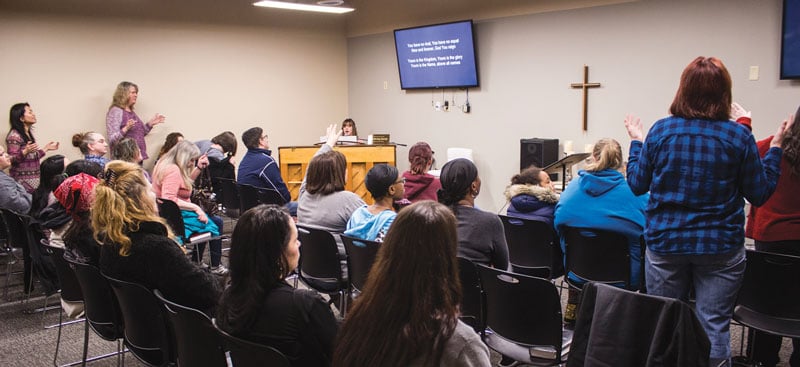 The chapel in the new Crisis Shelter for Women and Children is pretty humble. No organ or pews. No windows, stained-glass or otherwise. No elaborate altar or pulpit.
But chapel providers Margene and Jerome Nobles don't mind the simplicity; they see an opportunity to heal broken hearts by sharing Jesus.
| | |
| --- | --- |
| | "If you're called to go on overseas missions, great," Margene says. "But you can do it right here in Spokane, too." |
Once a month, the couple brings a group of 6-10 volunteers from their church, Spokane Faith Center. They are among about 15 different groups and individuals who come in to conduct services at the Crisis Shelter.
Before each service, the Faith Center group bathes the room and the service in extensive prayer, asking the Holy Spirit to speak to individuals through the message they bring. They make sure to begin and end the hour-long service promptly out of respect for the residents.
But Margene and Jerome will stay as late as needed to talk to the women who stick around afterward. "We really like at the end to have good ministry time, time to answer their questions and pray for them," she says. "And build relationships, which is huge."
Sometimes, "You really don't think a lot of things are sinking in, and then at the end of it, we have such a tremendous response from the ladies," Jerome says.
In her other role as a volunteer case manager, Margene gets a chance to witness the seeds they've planted sprouting and growing.
"They feel so alone, but when they get that God is for them, you can see it… They're excited about their life and they've got confidence because they get that part…that Christ is for them."
Each of UGM's shelters and recovery programs depends on mature believers who volunteer regularly to provide spiritual care. If you or your church are interested in providing chapel services, Bible studies or prayer ministry, please call Men's Chaplain Ron Molina at 509.536.3787, or call 208.665.4673 to serve at the Center for Women and Children in Coeur d'Alene.