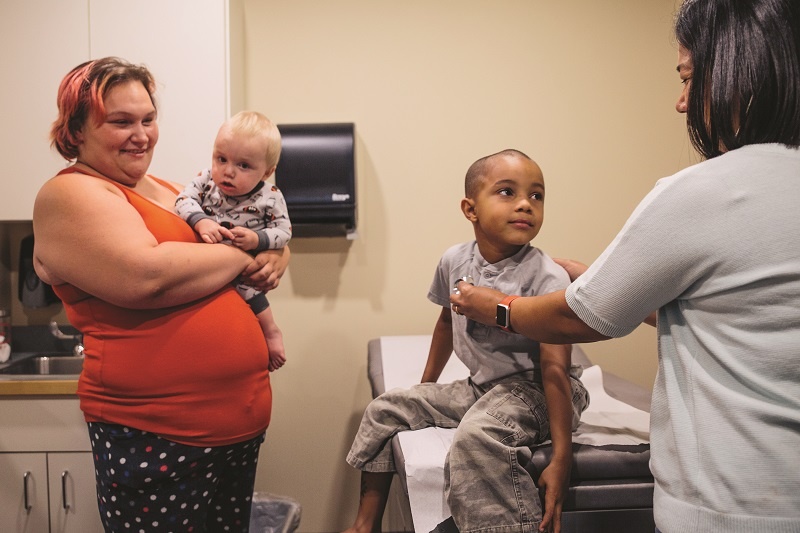 UGM makes it a priority to maintain a safe and healing environment throughout the ministry. The newest UGM medical clinic, which opened early in 2017 to serve the women and children at the new Crisis Shelter facility, is a place of safety and healing in every sense.
"You get somebody that comes in that is just at the bottom, and just to have somebody treat them like they matter is a big deal," says Pam Ubaldo, a registered nurse who volunteers in the clinic, which is open nearly every Tuesday and Thursday afternoon.
Many of their patients "have been treated like dirt by a provider" in the past, Pam says, so it's important to show them that they're safe and important. Just listening, believing their story and validating their experiences may be something they've never had at a medical office.
Pam finds praying with patients a joy and a privilege after her former job at Juvenile Detention, where she was restricted from freely sharing her faith. For women who come to UGM for refuge from horrific situations, having someone take time and pray with them can be as important as the treatment they receive.
Women fleeing domestic violence or other emergency situations often arrive at the shelter with virtually nothing. Diabetics, for instance, have arrived with "no money, no meds and no way of monitoring their blood sugar." In many such cases, having the clinic on site helps stabilize their condition quickly and prevent long-term damage.
A "promise box" of laminated magnets with Bible verses sits at the clinic door. As patients leave the clinic, Pam pulls out the box and lets them choose a tangible keepsake to remind them of God's love and tender care for them. Former patients regularly come back, even though they don't need a medical appointment, just to say thank you for the compassionate care they received.
While providers enjoy building relationships with the residents, "The goal is to get them established with primary care somewhere," Pam says. They make use of their experience and professional connections to point women and families to the resources they need for the long term.
But Pam is thankful to be there for anyone and everyone who needs help right away. "I like variety, and I never know what's going to come through the door."
Take action: COld Care Cups
You can help stock our clinic with kits to care for cold and flu patients this winter: Tea, honey, lozenges, vitamins, etc. Get a list of needed ingredients here and have a cup-assembly party!