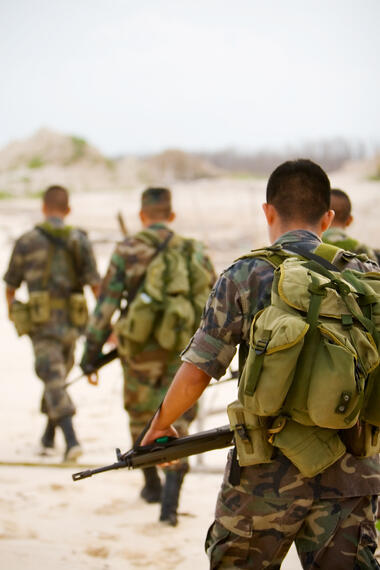 11% of the adult homeless population are veterans.
20% of the male homeless population are veterans.
About 1.4 million other veterans, meanwhile, are considered at risk of homelessness due to poverty, lack of support networks, and dismal living conditions in overcrowded or substandard housing.
(National Coalition for Homeless Veterans)
No one wants to see these men and women who have served our country living on the streets, holding cardboard signs and begging for food.
But what can we do to help?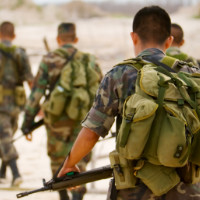 The Union Gospel Mission cares for the basic needs of homeless veterans while also connecting them to the resources they need to get their lives back on track – counseling, addiction therapy, education and job training. We collaborate with the Veterans Administration as well as Goodwill NW and other agencies to connect residents to the services they need.
MEET ED - a veteran of Desert Shield and Desert Storm
Ed, a 43-year-old veteran, came to the Union Gospel Mission Men's Shelter in June. Two years earlier, Ed had "checked out" – quit his job and gone to live in the woods as a virtual hermit. Now, Ed's ready to get his life back on track, but the obstacles are considerable.
Ed is a big man with close-cropped gray hair and a gray beard. One eye wanders - a combat injury. "I don't want to talk about it," he says. In fact, one of the conditions of being interviewed was that Ed didn't want to talk about any of the trauma he experienced in combat.
Ed joined the army as a 17-year-old high school student. After graduation and basic training, he went to Honduras as part of President George H.W. Bush's war on drugs. Later, he was part of the invasion of Panama and the removal from power of Manuel Noriega. Finally, he served in both Desert Shield and Desert Storm as part of the team directing smart bombs to their designated targets.
"I spent my 21st birthday in a sand storm in Iraq," he said. Altogether, Ed spent 8 years in the Army.
When he got out, he lived the American dream for a while. He got married, had two children, held a steady job, and kept a tight lid on everything he had experienced during war time. Slowly, however, cracks started to appear in the dreamy life he had created. His wife asked for a divorce, and his mom – the one constant in his life – died. Ed found himself increasingly angry. Going to the mall, loud noises, crowds set him on edge - common symptoms of Post-Traumatic Stress Disorder or PTSD.
"One day I looked at my boss, and I said, 'I gotta quit. I can't deal with people right now,' and I just went in the woods. By myself. And I was there for two and half years."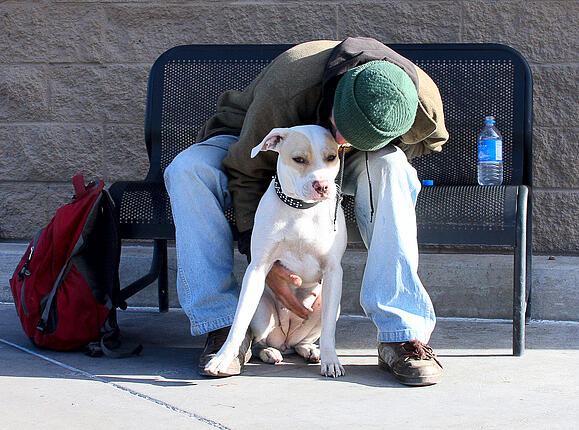 9% OF UGM'S MALE RESIDENTS ARE VETERANS
According to the 2015 Annual Homeless Assessment Report, more than one in every ten adults experiencing homelessness was a veteran.
During the last Snapshot Survey conducted at the Union Gospel Mission in February 2019, 9% of the male guests staying at the UGM Men's Shelter were veterans, the largest number having served in the Iraq or Afghanistan War. On the day of that snapshot count, none of the females staying at UGM were veterans. (In 2013, 18% of the residents at the UGM Men's Shelter were veterans.)
"There were around 20.4 million U.S. veterans in 2016, according to data from the Department of Veterans Affairs, representing less than 10% of the total U.S. adult population" (Pew Research Center).
51% of individual homeless veterans have disabilities
50% have serious mental illness
70% have substance abuse problems
(National Coalition for Veteran Affairs)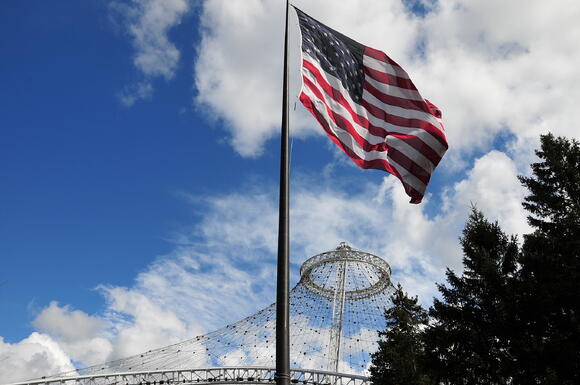 SUPPORT SERVICES FOR HOMELESS VETERANS
Ed, motivated to re-enter society as a contributing member, came to the Union Gospel Mission where he found food, shelter and a supportive community. Still, considerable hurdles remain; dealing with his PTSD and getting a job top the list.
With regard to work, Ed said, "That's kind of hard because I don't have a work history for two and a half years…Nothing I did in the military translates into a civilian job unless I got like on maybe a police force team, like S.W.A.T. – Special Weapons and Tactics - might use some of my training. We went in behind enemy lines and raised havoc. That's what our job was meant to do."
On top of giving him "a place to stay and three squares," Ed said, UGM is "helping me learn how to get back in the groove of things and interact with people again." He appreciates the responsibility he has been given, the opportunity to do meaningful work and contribute to the running of the shelter. Ed works the graveyard shift on the day desk - greeting guests when they arrive and getting them checked in. "Obviously, they see something in me. I try not to let them down. I try to do my job as best as I can."
Ed's PTSD, however, isn't going away any time soon.
"It creeps out all the time. There's no control over it, but I'm able to deal with it and understand it a lot more because I've had some experience with it for almost 20 years now. I was hard headed, so I didn't know I could get this help, but the VA is opening their doors, opening their arms and saying, 'Hey, we can help you with this.' So that's one thing I am doing."
Ed realizes there are no quick fixes, but he is grateful for the time UGM is giving him to figure things out, and he feels like he is making progress.
"It's amazing how many people care...It's given me hope for humanity and the attitude that there are better things out there, and I can actually do things."
ACTION STEP
Ed would like to see more veterans volunteering at the Mission, spending time with the veterans who are staying here. "Kind of a buddy system...They can talk to them one-on-one because they've been through it. They know what's going on."
Note: This blog post was originally published in 2013, but the statistics and facts were updated to reflect current trends on 5.23.19.
Are you a veteran interested in helping other veterans? Take the next step. Click on the link below and find out about volunteering at UGM.