Mike is moving into the role of Director of Men's Recovery as Jerry Reese retires.
Meet Mike Sholtz, UGM Men's Recovery counselor for seven plus years, former long-term youth pastor, life-long leader.
"I am very relational and I love people and I love talking and my door is always open."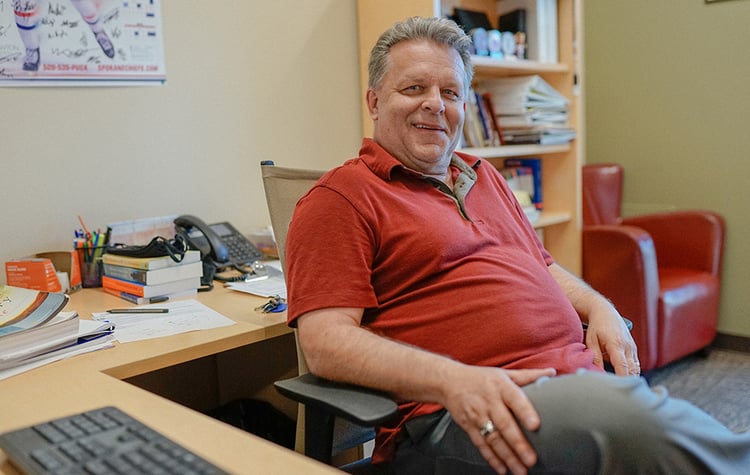 We sat down with Mike to see how he's feeling about the big transition.
How does it feel to step into Jerry's shoes?
I just was thinking about it the other day and I go, "You know what? God, you've been preparing me for this particular step for a long, long time." And so my anxiety about the job went down knowing that God has been preparing me for this my whole life. So, I'm just resting in the fact that God has been doing this.
What would you say is the heart of Men's Recovery?
Safety. Developing trust. We have created a safe and healing environment. Jerry has worked really hard over his years as director to create that, and I will continue to carry that on.
What makes a person feel safe?
Just being consistent. Being the same person every single day when I show up here. Being the same person when we're out if we go to a hockey game with the group, if we go rafting with the group like we did just last Friday, if we're out in public, if I take a guy out for coffee. Even after they've done the program and they come back and we sit down, I'm still exactly the same person that they experienced in program. That, to me, is huge. Because our guys didn't have that, especially with their parents or those who were in authority over them. There was so much inconsistency in their lives that they didn't know what to expect, sometimes from moment to moment in their homes. So when they see that in us, it allows them to begin to trust us a little bit more when they see the same Mike and the same Steve and the same Jerry every single day when they show up here. That's hugely important.
And what is the biggest need you see in the men who come into your care?
Healing from the trauma they've experienced. One hundred percent of them have severe childhood trauma in their lives. And that's the healing they need, because without that they won't make it. Ultimately, they'll end up going back to the addiction that they came in here with. So being able to help them walk through that trauma - being able to be a facilitator that God works through to provide some of that healing that they need - that's really big.
How exactly is that healing facilitated?
In a lot of ways, but one really effective method is something we use called psychodrama. The idea behind it is that in order for our limbic system to receive healing, we actually have to re-experience what caused the damage. For instance, if I had a rough relationship with my dad, resulting in a deep father wound, one of the ways I can experience healing for that is to actually interact with my dad. So someone would stand in for my dad for me, and I would be able to engage that person in conversation. And I would be able to say things to my dad that I was never able to say to him, especially as a child. What it does is it gives me control of the situation. As children, we didn't have any control in traumatic and dysfunctional homes.
What results do you see from this method?
We see guys that have come out of their shells emotionally - because a lot of guys really had to elevate their emotions or shut down completely when they would talk to somebody who was toxic in their lives. But if they can kind of talk to that person, adult to adult, through psychodrama, the healing that they experience is amazing because they can actually express themselves and say, "This is what I wanted to say to you since I was eight years old."
Tell us your favorite part of being in this ministry.
When we see a guy that leaves and God still allows circumstances to come into his life where he realizes how powerless he is and then ends up coming back and ends up surrendering. That's the key, you know. We have to surrender and realize that we're powerless over our sin, over our addiction in particular. If I can generalize, just watching guys, I can literally sit here and watch them be transformed. That's a huge encouragement to me to literally sit here and watch guys grow up before our eyes.
Mike's promotion to program director leaves his position as counselor currently vacant. We asked what the team looks for in a recovery counselor applicant.
Somebody that's very relational. To me that's hugely important. Somebody that knows their stuff. Somebody that's got at least a little bit of recovery in their past, whether it's that they had an alcoholic parent or they themselves have struggled with some type of addiction. Because there's something about sitting across from a guy you can relate to. It makes a huge difference. And credentials. We prefer they have a master's degree but it's not required.
I know for me, when I was hired, I looked at the posting and I said, "I'm so under qualified." But God kept pushing me and saying, "Hey, you need to do this, do this, do this." And here I am.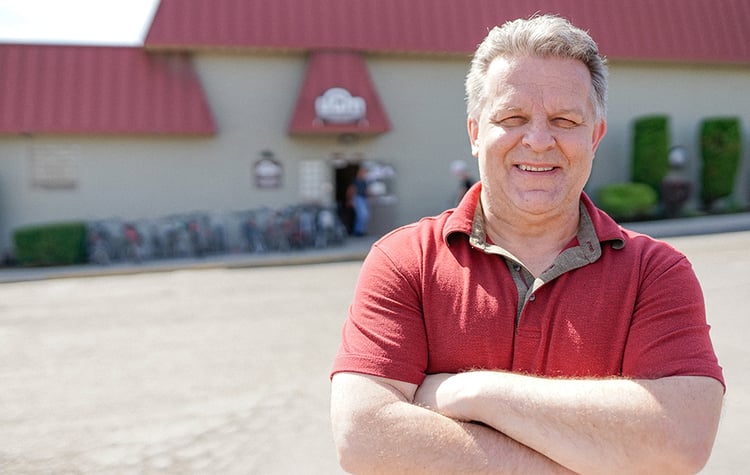 UGM's purpose statement says we aim to help individuals become "God-dependent, contributing members of society", and Mike has spent his years as a counselor demonstrating to the men that dependence on God. Now he has accepted the call to demonstrate to our entire ministry how to live that exemplary life – dependent entirely on the direction of God as this ministry continues to grow.
"Now may the God of peace who brought again from the dead our Lord Jesus, the great shepherd of the sheep, by the blood of the eternal covenant, equip you with everything good that you may do his will, working in us that which is pleasing in his sight, through Jesus Christ, to whom be glory forever and ever. Amen. (Hebrews 13:20-21)