Most residents know him as "The Bike Guy".
In the summer of 2018, UGM Volunteer John Battista started a bicycle club. With just 8 bikes and basic knowledge of bicycle repair, he offered to lead weekly outings for anyone residing at UGM's Men's Shelter. The idea took off.
Today, there are over 20 bikes in the men's "Bike Library," and there's another large collection lodged in a stable on the grounds of the Women's Recovery Center at Anna Ogden Hall. "The women are so into it," John says. "Even more than the men! They are awestruck by the beauty of their surroundings."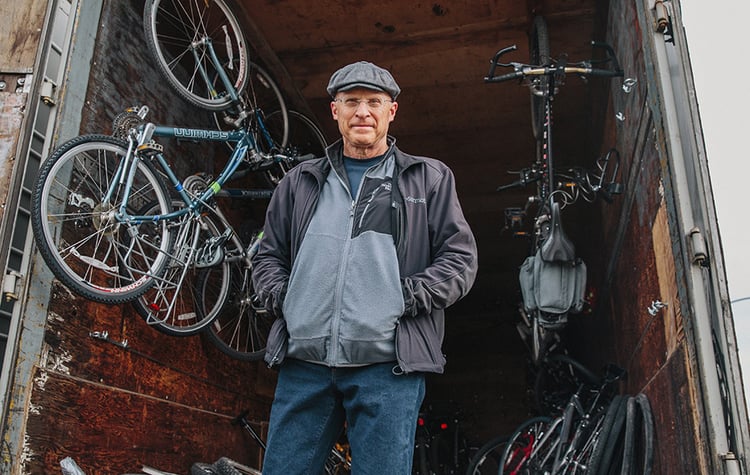 Not only do residents enjoy regular outings, but they are welcome to take the bikes out on errands, to appointments, or on recreational outings of their own.
Besides offering a transportation option, John sees himself as offering "family" and friendship to a portion of the population that very often do not have a history of healthy relational bonds.
He says that even though conversations don't always happen on the bike rides, the men in particular tend to open up after a few rides together and often they will all stop at the end and keep on talking about their lives, their families, and things they're learning.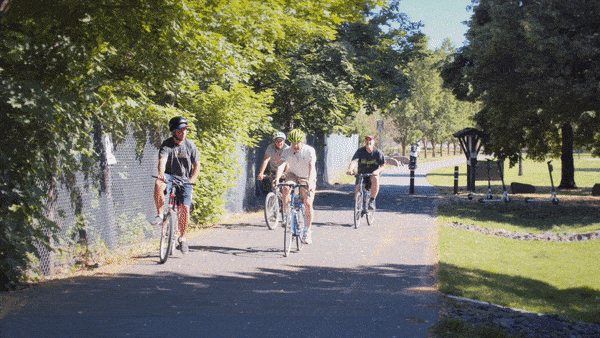 Something we face every day at UGM is that many people want a healthy future but don't have a foundation to build upon. Often a father figure was missing in childhood, or worse, there was abuse at a young age. The critical tools needed for adulthood are missing.
John enjoys his part in building or restoring these missing pieces. Over the course of two-plus years running the bike program, he says he has seen trust grow, relationships deepen, and general life and relational skills develop.
As if running the bike program wasn't enough, John wanted to do more.
"I felt moved to find out what else I could do. I'm retired and I'm not good at sitting." Just so happened that the guy who had done financial case management for Men's Recovery had retired from the role. John was excited. "It's getting their debts in order and learning to budget and that sort of thing. And I have a real interest in financial health."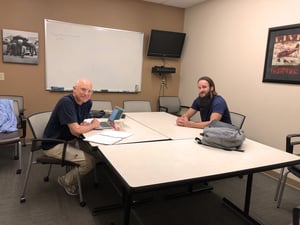 Every participant in UGM Recovery programs gets one-on-one financial counseling over the course of the 16-month program.
"At first I create for them a UGM interim budget," John says. "Because they don't have regular income, there's no way for them to tackle their debts yet. So, it's 'whatever income you have, let's start the behaviors now. Any dollar you get, it needs to be assigned to three categories: your savings for when you get out, your spending, and starting to develop an emergency fund.' We have a year and a half to start building that behavior.
"Ultimately, we create an exit budget. 'What are you going to need when you get out of here? First and last month's rent, damage deposit, food, setting up a kitchen. You're going to need $2,500 to get out of here. How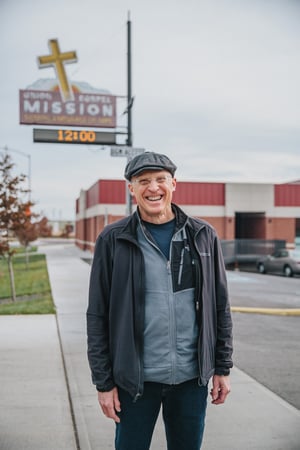 are you going to get it?'"
Offering such practical tools has been so rewarding for John that he recently accepted the offer to teach the Financial Peace University course at UGM.
When we teased him about being "awfully busy in retirement" he responded, "Nah, this is nothing. Just a couple days a week."
Maintaining a fleet of bikes.
Connecting with residents on bike rides.
One-on-one financial case management.
Teaching a course.
This man's impact, not only on people today, but on their future and their families, is enormous. His care for them, paired with his unique interests, has laid key foundational stones in the reconstruction of their lives, and that is not something that we take lightly.
If you would like to donate a bike to the program, please deliver it to the donations garage at 1224 E. Trent Ave and reference John or the "bike program."
If you would like to volunteer, sign up for a volunteer orientation below.