Every day, we get glimpses into people's stories, and often we get to walk alongside men and women for a season... but only occasionally do we get the opportunity to reconnect with long-lost acquaintances like Anita Williams.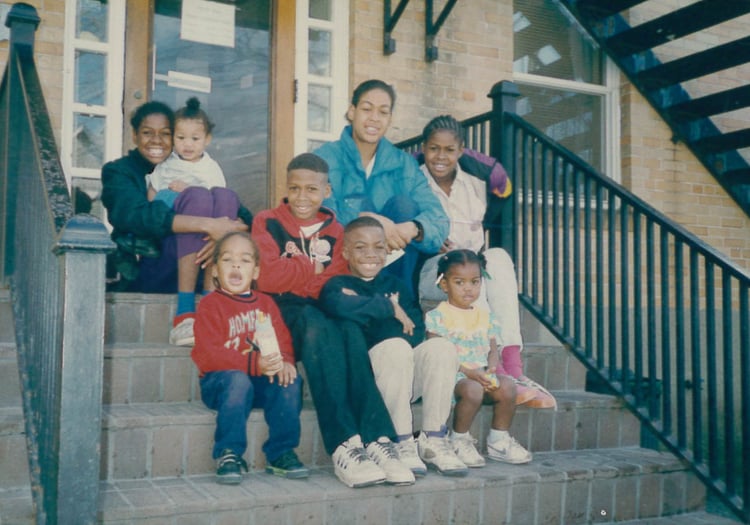 In 1993, Anita arrived at UGM's Anna Ogden Hall with seven children and another on the way.
Having lived in the Projects in South Central L.A. and experienced the devastating Rodney King riots first hand, she and her husband at the time decided to make a better life for themselves and their children in Spokane. It was a bold move, as they didn't have housing or jobs lined up, but they connected with Anita's father who knew about UGM. So, for one month, Anita and the children stayed at Anna Ogden Hall and Anita's husband stayed at the Men's Shelter, working a humble job and saving money.
For twenty-eight years, that was all we knew about Anita and her family. They got a car, moved out and like many others, we never heard from them again. Until the summer of 2021.
Always on the lookout for enriching educational opportunities for the women and children in her care, Anna Ogden Hall Director Esther Sellers was intrigued by an idea presented by the Washington State University nutrition department. They were interested in facilitating an 8-week nutrition class at the Hall, starting in July. What she didn't know was that the lead Nutrition Educator was former resident Anita Williams.
When Esther welcomed the team to the Hall, Anita revealed the connection.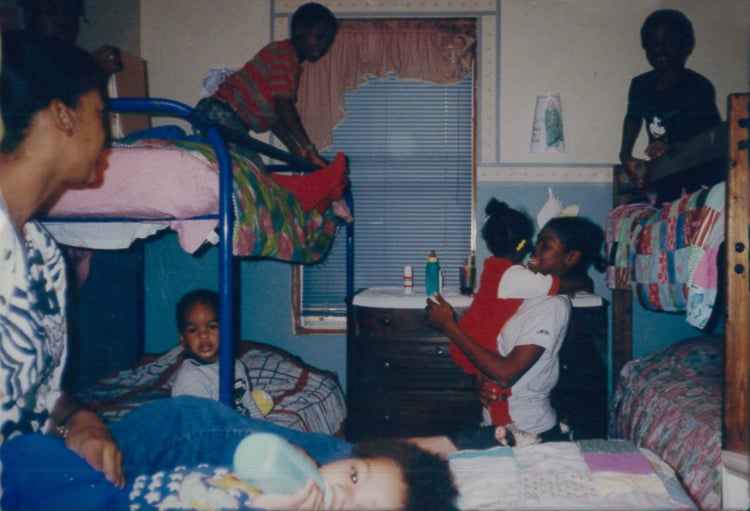 "They showed me the new addition to the Hall and asked if I knew where my old room was and I led them straight to it. It's just a small room with a couple bunks, but all eight of us had crammed in that one room and made it our home. Those were good days," Anita says, "I spent that time setting my goals, getting the kids in school and taking care of them."
"I spent that time setting my goals,
getting the kids in school and taking care of them."
All summer this year, Anita came once a week to cook, eat and exercise with the residents. Staff got to know her story, which is one of courage and hard work in the face of outstanding difficulty.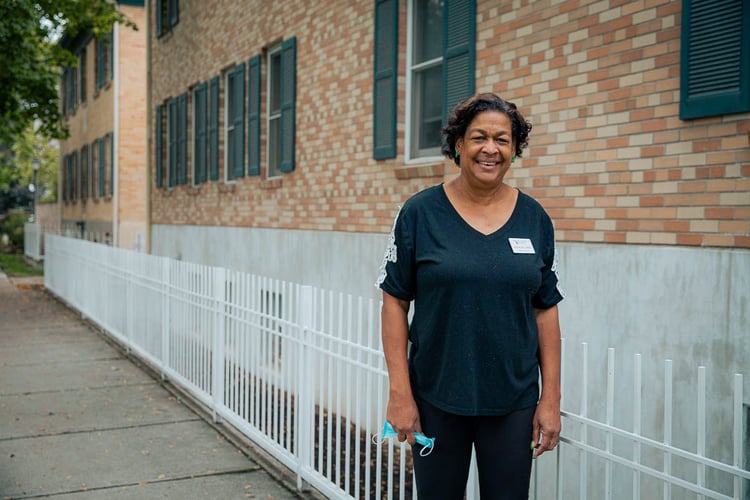 The man Anita moved to Spokane with wound up abusing her as the children grew older. One night—the night before she was supposed to graduate from Spokane Valley Partners' Welfare to Work program, he attacked her, sending her to the hospital with a broken jaw.
"But that didn't stop me," Anita says. "They [the women at Welfare to Work] said, 'You're still graduating, Anita!'" They made a way for her to complete the final exam and she officially graduated the program with her jaw wired shut.
"It's about setting goals and sticking with them." Anita says this philosophy is something she shares with the families she teaches. "These women, I don't know what they're going through, or what their pasts are, but things will get in your way to hold you back. Don't let it stop you. It's got to make you more determined. Set a goal and go after it." This applies to her nutrition courses as well.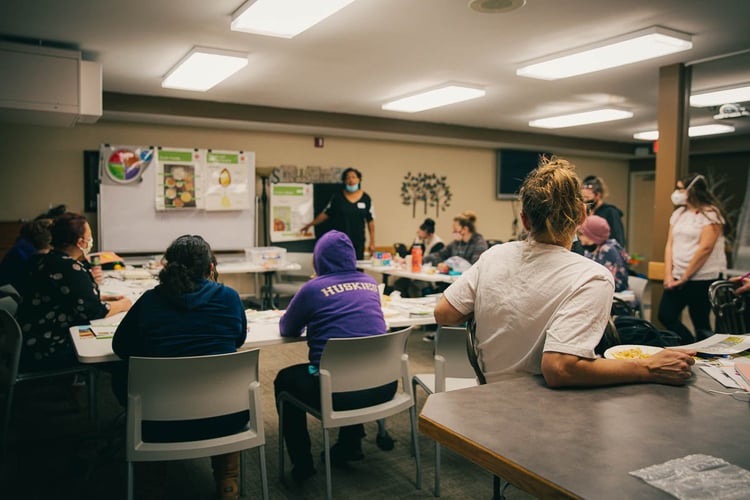 Anita and the team teach low-income families all across the greater Spokane area how to start making healthy decisions in the kitchen. "We are teaching from My Healthy Plate, a USDA-approved curriculum. We teach them to plan, shop, save; we teach food safety; we did a lesson on grains and 'go lean with protein'; we talk about couponing, pricing, buying what's in season, and label-reading to know what's in your food. All our recipes are for low-income families, too. You'll see a beautiful recipe and it's not expensive. I tell women all the time, 'You can do this.'"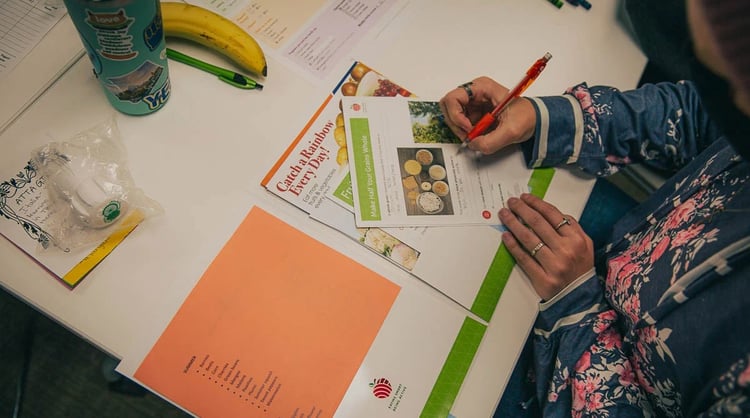 "I tell women all the time,
'You can do this.'"
So, how did Anita get into nutrition education? Through one good decision at a time. Back in the '90s, she had a social worker who suggested the Welfare to Work program. On completion of the program, she became the receptionist at Spokane Valley Partners—a job she enjoyed for ten years. Anita says she is always evaluating her skills and reevaluating her goals, and at one point, she had taken a class in nutrition and found that she enjoyed the subject. "A little while later, I saw they were looking for someone at WSU, in nutrition." Anita noticed the position but says she didn't even consider it until a friend of hers suggested she apply. "But I needed to know more [about nutrition] so I looked up more information and tried to learn everything I could."
Bravely, she finally applied. "But still I was driving myself crazy." At the interview, she was asked to present on calcium. She did her best, but still didn't feel qualified. "They said they'd call me in two weeks. I just went about my life, tried not to think about it. Then one day I got a call. Me and my daughter were in the car and they said, 'Anita, we'd like to offer you the position.' I put the phone down and told my daughter, and I started crying. She started crying. I was like, 'Uh-uh' you know? I couldn't believe it. You get that kind of call maybe once in your lifetime. They said they'd give me time to consider, but I said, 'It's yes. Yes!' And I've been a nutrition educator ever since." Anita took the chance and discovered a career in which she thrives—a career that allows her opportunities to give back to the community.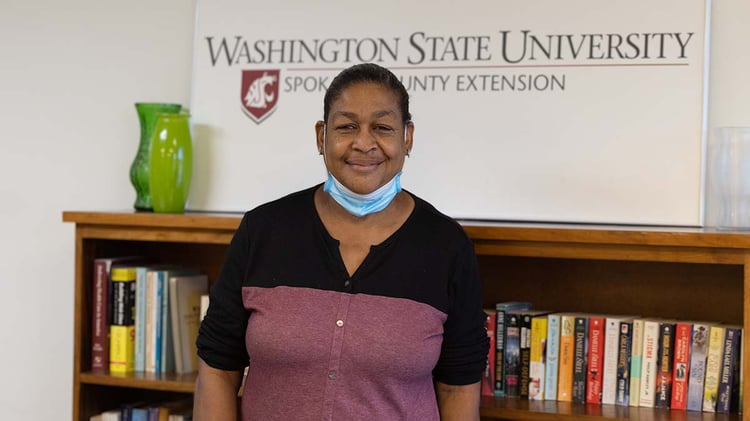 "You get that kind of call maybe once in your lifetime. They said they'd give me time to consider, but I said, 'It's yes. Yes!' And I've been a nutrition educator ever since."
She and the team are always recruiting families and programs to partner with, to spread awareness of how easy it can be to make the switch to a more wholesome lifestyle.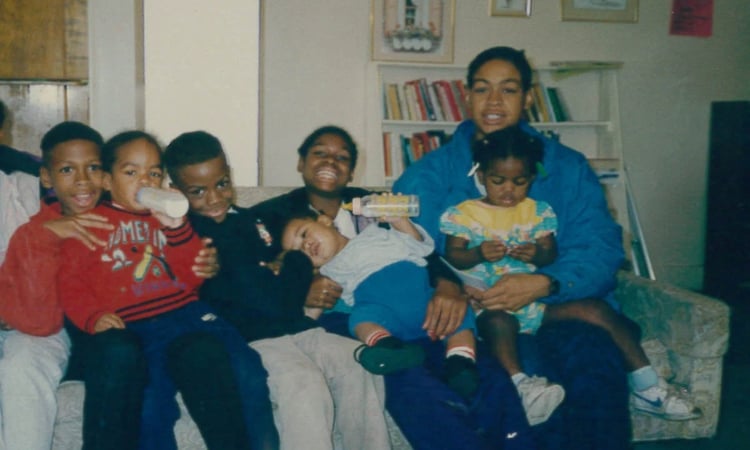 Of course, her own "switch" from a battered young mom surviving on welfare, to a thriving, self-sufficient young grandmother was anything but easy. "The man who broke my jaw, he went to jail for 18 months, and I felt sorry for him and let him back into my home, but he started talking violently and I finally said, 'Nope, you got to go.' It's like an addiction. They make you think it's your fault. Some women stay in that and believe it's their fault, but if you can get out, get out."
Today, Anita has been married to a man who loves her for twenty years and she has twenty-seven grandchildren. Most of her eight grown children live in or near Spokane, and she enjoys having large family gatherings and plenty of one-on-on time with each of her grandchildren, all of whom love to cook… and eat!
When UGM provides food, shelter or resources to an individual, it is often impossible to know the extent of the potential impact on that person's life. Sometimes a man or woman will complete a UGM Program and stay in touch, being outspoken about the impact on his or her life, but equally often, the people we serve move on and hopefully thrive but we don't know where they wind up. Anita only had one month at UGM, and we dare not take credit for the excellent choices she's made throughout her career and life, but Anna Ogden Hall was a safe haven when she needed it. Our faithful community of partners and supporters keep our doors open so people like Anita can take the steps necessary to change their lives.
You can provide the opportunity for a changed life by offering a warm meal today.