Recovery from addiction takes healing the whole person. Joel Brown works in Vocational Advancement helping men heal both mentally and emotionally. He recently answered some questions about his life and work. (This blog post was first published in 2015 but has recently been updated.)
Who is "Joel Brown" outside of his job?
First, I am a child of God on the recovery journey just like each of the men that walk through my door each day. I love to spend time with my wife and three children (13, 9, 7) and do anything associated with soccer. I have been coaching soccer for 4 years and currently coach premier soccer for Eastern Washington Surf SC and am in the process of obtaining my National Coaching Diploma. Most of all, I strive to be the best husband and father I can be.
How do you like to spend your free time?
Much of my time outside of work is spent on the soccer field. I love coaching my kids' teams when I have the chance and helping the girls on my high school team get closer to their dreams of becoming college players. Whenever I have some extra time for relaxing, I am reading a good book or hanging out with the family.
How did you end up at UGM?
My journey to UGM took 5 years of faith and patience and maybe a little bit of whining, too. After finishing graduate school in 2009, I began to seek out positions at non-profits with an emphasis on helping the poor. Time after time I found my hands tied by the inability to share the gospel or bring the transformative power of Jesus into work. I worked for a number of amazing organizations that do great work in the homeless community, yet, I found that counseling and case management could only go so far without bring Jesus into the fold.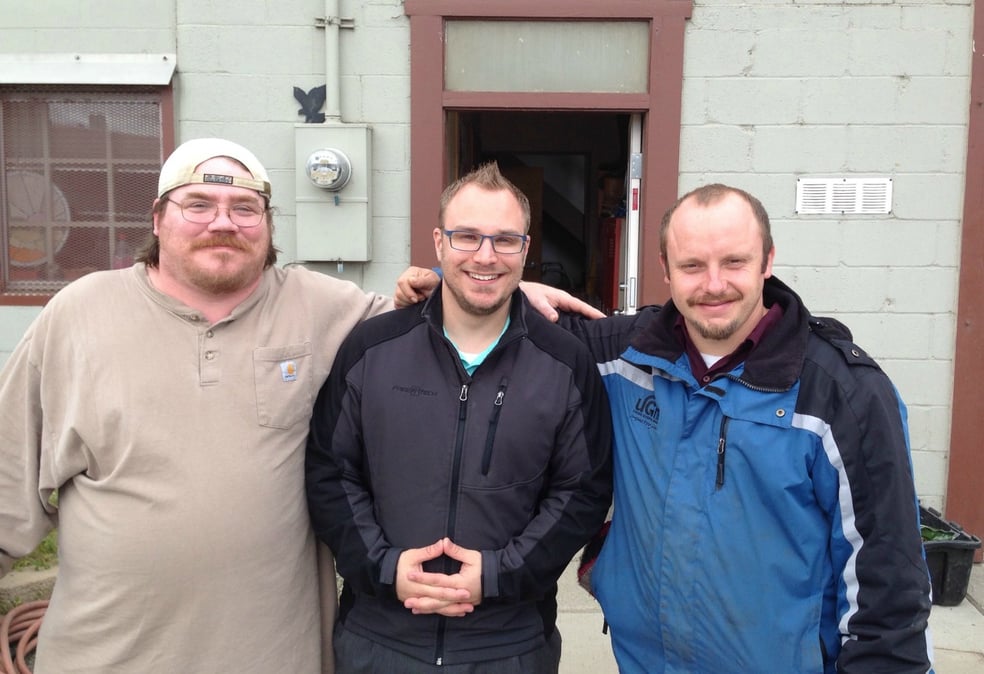 In the fall of 2013, I stumbled upon a job posting for the Vocational Education Coordinator position at UGM. The Union Gospel Mission's reputation for helping the poor and spreading the gospel was well known to me. I knew immediately that this was an ideal job for me. It combined my passion for teaching with my calling to help the poor. After 2 ½ months of interviews, God provided me the amazing opportunity to work at the UGM. It has been a blessing to have the opportunity to serve and learn from each person that walks through my door.
What does a "typical" workday look like?
My workday is a combination of teaching, counseling, and developing relationships with Vocational Advancement Business Partners. Much of my time is spent building relationships with businesses around the Inland Northwest, sharing with them about the recovery process and Vocational Advancement program while preparing them to participate in the UGM Business Practicum, a 240-hour, unpaid internship that each of the men and women in the LIFE Recovery program complete at the end of their program. I also teach WorkNet, a career education curriculum, to individuals participating in the Employment Readiness Program and the men participating in the LIFE Recovery Program and oversee the Job Coaching and PADMAN Evaluation process. As busy as I may be, I always try to make time for some fun, as well. A little putt-putt golf in the hallway upstairs or a pick-up game of soccer is a great way to create relationship with the men and de-stress when needed.
What do you want people to know about what you do?
The Vocational Education center is as much a place for heart work as it is for academic work. Many of the men and women that enter a Vocational Education center have deep wounds surrounding school and work. At each of our locations, we work to not only help the residents become career ready, but also, understand their wounds and find healing, so they can be God dependent, contributing members of society. I find that much of my time is spent talking, listening, and encouraging the residents to continue to press into their recovery program and/or employment goals.
What role does Vocational Advancement play in helping the homeless and addicted?
We provide a place for individuals to rediscover their God given talents and passions, a safe place to make mistakes and learn that it is ok to not have all the answers. Most of all, we provide a place for individuals to discover they do have what it takes to learn, to work, and to succeed in life. The Vocational Education Center is a place for individuals to brush up on academic skills, earn a GED, learn how to create a resume and cover letter, and prepare for job interviews. We confront each individuals fears and barriers that may be keeping him from gaining employment or keeping employment and walk with him as they discover their God-given worthiness.
What needs do you see among the individuals at UGM, and how are you and the rest of the Vocational Advancement team addressing those needs?
One of the biggest needs that I see come through my door is the need for each individual to understand that they have what it takes, that they are loved by God and others, and that they can overcome their past and lead a fulfilling, godly life.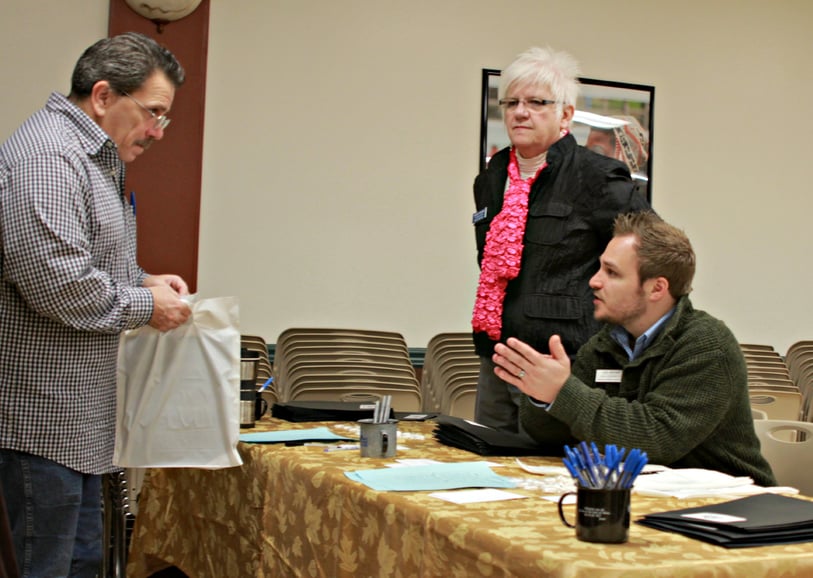 What parts of your personality come in handy in your job?
I have a knack for administrative work and love organization. As a teacher, organization is a must. I also have a huge heart for listening and helping those I can. These two aspects of my personality come out every day and help me be aware of when guys need to talk and process, as well as, when they need to buckle down and work on the academic side of things.
I also love to help people develop into the best version of themselves. Each day I have the opportunity to provide support and coaching to an amazing team of co-workers and residents.
Tell us about one of your most moving experiences at UGM.
The Phase Celebrations are the most enjoyable time each year. Every time I see an individual advance to the next phase of their program or go through the yearly commencement ceremony, I see the changes that have occurred in them. Each individual walks through the door of the Mission broken and ashamed. When they step up on the stage, after 18 months of difficult heart work, they are a new creation in God. It is an amazing representation of the power of Christ and His healing work.
I also get to see the transformation that has occurred in the businesses that have participated in the Business Practicum process. Each year approximately 45 businesses provide the opportunity for an individual to step back into the community and become a contributing member of society. What begins for many businesses as a way to give back to the community, becomes a shared experience of the power of God and what can happen when we provide the opportunity for an individual with a storied past to prove themselves. Through the Business Practicum process, the stigma of addiction, recovery and homelessness is broken down one business at a time and the business owners come out of the experience with a greater understanding of what it means to be in recovery.
Want to know more about partnering with UGM to help people get back to work? Click below.