The December Mission News focused on one of the happiest by-products of recovery: children being reunited with their moms, and not merely being reunited, but women being the moms their children need, the moms they've always wanted to be. We're pretty sure you won't tire of these stories any time soon, so here's another...
Katie had a 3-year-old son, 8-month-old twins, and a two-decade addiction. She knew something had to change. Her children had suffered from the instability her addiction had caused. She was even enabled in her drug use because she knew they were safe when she left them with their father, Jeremiah. But little Elijah and his baby brothers, Henry and Thor, had no sense of the peace that comes from Christ's presence in a home.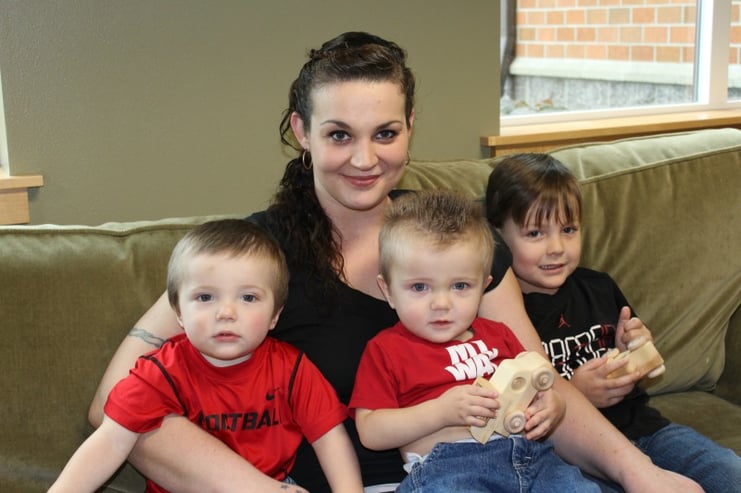 "The Lord was nowhere to be found in our family. … I feel like it affected them greatly. We had no Lord to help us, to save us, because we weren't willing to reach out for that."
She had heard about the recovery program at the Center for Women and Children and knew she needed what it offered. "This was going to save my life for sure."
As generally happens in real life, her path didn't suddenly run smooth. After her first orientation at the Center, she relapsed, and a few months later she returned in tears. She spent a few weeks in the Crisis Shelter in Spokane to stay clean and sober and show she would take the program seriously.
Unexpectedly, Katie was able to bring her children with her to the Center. Jeremiah had kept them while she went through the admission process, but his access to daycare was ending, and thankfully the Center had slots available for children.
Healing her relationship with them, especially with Elijah, hasn't been instantaneous either. But now Katie has faith in the long-term recovery process and trusts she can bond with them through good times and bad.
"It feels like we're going in the right direction. … I can share the joy with them and I can share hurts with them and I can understand them now. I'm not caught in an addiction where I'm just numb to everything and I miss out on my children growing and being a part of that."
Even when she's busy in classes and can't be with the boys, she's confident that they're being nurtured by the staff and volunteers at the Center.
"Being here, I think that it's given them that stability and that comfort to be surrounded by people who just love them. And I think that it's affected them tremendously."
Day by day, step by step, Katie knows she is doing the work it will take to build her up to handle life after the Center.
"This is the point in program where I'm learning to trust in the Lord and know that he has plans for me, he has plans for me not to hurt me or to harm me and I absolutely trust that. … I'm just going to let him guide me into where I'm supposed to be."
Katie gets it. It's a journey. Even a long-term recovery program doesn't have an "arrival point" – just a jumping-off place for people choosing to live transformed lives by God's grace.
"This program is going to be the concrete foundation, I think, just for myself to be the mom and the woman God wants me to be."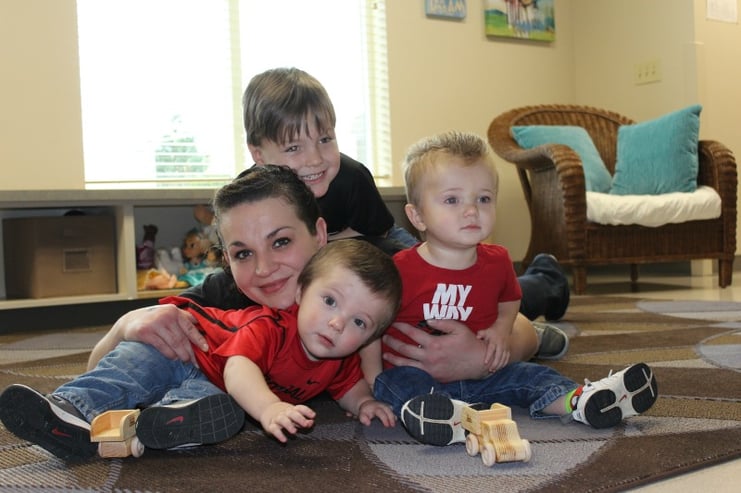 This month on the Impact Blog, we're celebrating moms whose recovery has allowed them to have a restored relationship with their children. You can read "Reunited" here, about Jessie here and about Elizabeth here. Click below to subscribe to our newsletter to read more stories every month!