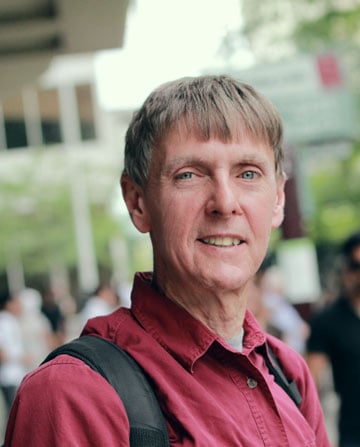 Paul Stankiewicz is a smart man. He earned his PhD in biochemistry from Penn State University in 1980, taught high school and college and did post-doctoral research in biochemistry and radiology labs.
> Paul has a strong work ethic and is careful with his money. He does not struggle with an addiction to drugs or alcohol.
> Paul isn't homeless. He has a studio apartment and covers his rent by doing cleaning and maintenance for the building.
> Paul isn't poor. At least, not financially. His first contact with the Union Gospel Mission was as a major donor.
> Paul shatters every stereotype you may have heard about the men who live at the Mission, and yet, the past six months paint a clear picture of God drawing Paul to this place.
A loner for the majority of his adult life, Paul spiraled downward into agoraphobia last fall. "Just going out to get groceries or to wash my clothes at the laundromat was the most I ever did. That was a struggle for me. The rest of the day I spent in my apartment lying down in bed or walking around the floor."
At the same time, his thinking became increasingly negative and full of self-condemnation. Paul had become a Christian in graduate school but had never been part of a church. An intellectual, he lived a great deal of his life in his head – reading, studying, but not interacting – and his understanding of the Christian walk was based on works, performance. Reflecting back over his life, he concluded he did not measure up.
"I felt that I had lost my salvation. I went through fear that God wasn't there for me because I wasn't going to church and I wasn't giving and I wasn't participating in family life. I didn't have any social life at all. I was a complete loner. I thought I wasted most of my life."
Bottom line, Paul believed it was too late for him. The following tape played on continual repeat in his head: God gave you a chance, but you messed up. You didn't give. You didn't live for love. You have no rewards coming to you. You wasted your life, and you're out of here!
The isolation and false beliefs resulted in a debilitating depression. "Something happened to my mind – a real, serious breakdown." Physical pain, weakness and exhaustion accompanied the depression. "My spirit was deeply, deeply shaken up."
At his lowest, Paul believed he was dying and sought to make restitution for his overwhelming guilt by giving to charity. He asked another man in his apartment complex for a worthy organization, and the man told him about the Union Gospel Mission.
"I sent a donation because I thought I was going to die the next day, and at least, I wouldn't be condemned for hoarding that much money." Wil Wilhelm, UGM Director of Development, called to thank Paul, and through the course of conversation, a life-restoring connection began.
Concerned about Paul's welfare, Wil suggested that Executive Director Phil Altmeyer might want to visit and pray for him. Phil did just that, recognized that Paul was severely depressed, and invited him to come back to the Mission to stay for a while. Amazingly, Paul accepted. He checked into the Mission on March 30th, and the healing began.
Initially, Paul was extremely uncomfortable living in community. "I just wanted to stay in bed 24/7." But gradually, people sought him out – staff, volunteers, chapel providers, fellow residents, "literally dozens of people." They prayed for him and spoke truth into his life. They quoted Romans 8:1: "There is therefore now no condemnation for those who are in Christ Jesus." They reassured him: "We see God working in you."
And Paul himself prayed earnestly: I need you. I want you. "I knew how badly I needed God. I had a very powerful desire to keep seeking Him."
Simultaneously, Paul began to move into the community and to work around the Mission. His mind cleared. The physical pain diminished. He stopped believing the lie that it was too late for him and accepted the truth of God's forgiveness, mercy and grace.
As harrowing as his breakdown was, Paul sees it as part of God's plan. "My troubles forced me to turn to God and ask for His grace. I can only say it worked for the best."
The healing continues. "Love was not my strong suit. I was a scientist. I had to start from the bottom. It was God first, but I knew it had to develop into a love for other people. It's working."
Please pray for Paul as he transitions out of the Mission and seeks to develop quality relationships back home.