"When God first got a hold of my life, it was in California in the Bay area in the '60s."
AT NINETEEN, Greg Beumer was going to college, selling drugs, and playing in a rock band. "The greatest thing in the world to me was peace, but I didn't have a lot of it. I stopped doing drugs that year, because they weren't working." One evening, he and his friends were sitting around, talking about things they'd tried, and one friend suggested they try reading the Bible.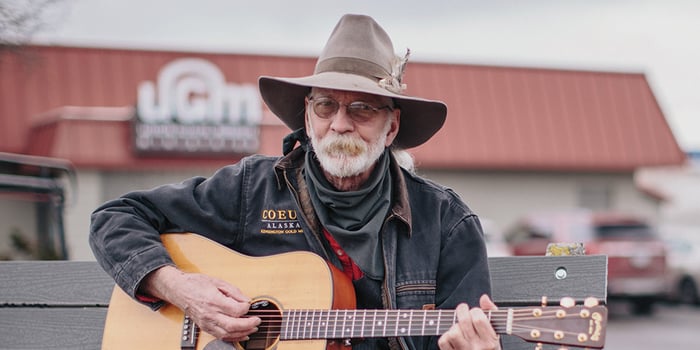 "The whole thing drips the hand of God," says Beumer. The group found the Bible confusing, and invited a Christian woman they knew from high school to come and explain it. The first night she came, five men gave their lives to Christ, and the next day Greg did too. From then on, Greg says he was a "Jesus person." "I didn't call myself that, but apparently that's what folks wound up calling us. We would travel around, give our testimonies in churches, and talk to people. It was always just, 'Do you know Jesus?' I couldn't not do it."
In the '70s, Beumer's journey led him to Spokane, and in 1981, a friend at church invited him to play songs at UGM Chapel. "I wasn't raised in a church, and I can't read music, but I love hymnals. I'll just sit and read through them – the stories are incredible." So, when Greg Beumer plays a hymn, he typically sets it to his own tune. When asked about his favorite songs, he says, "I love the song What a Friend We Have in Jesus, but I changed it to What a Friend I Have in Jesus because he is my friend."
As of 2021, Greg has been singing and preaching at UGM chapel meetings twice a week for forty years.
"It's a blessing and I can't say no. Can you say no to something God wants to bless you with?"
If you're interested in partnering with us through volunteer service, click below.