Editor's Note: This is the fourth post in our series on being Ambassadors for Christ.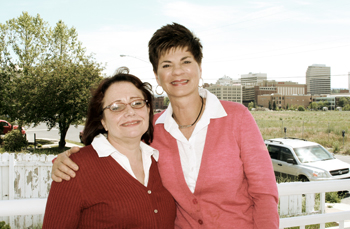 Gigi, featured in the July 2012 newsletter, has graduated from the UGM Women's Recovery Program at Anna Ogden Hall but maintains an ongoing relationship with her Aftercare mentor, Autumn. Autumn is helping Gigi make wise choices in large and small matters, from shopping for a dress for her daughter's wedding to moving into a new apartment with a better environment for recovery. With Autumn encouraging her and holding her accountable, Gigi is building a healthy lifestyle that will prevent a relapse into the destructive habits she used to practice.
This kind of day-to-day friendship is how Jesus trained his disciples, building a relationship of trust with them. He invested lots of time teaching, guiding, instructing and encouraging them. Plus, he told them to pass it along to others who received the gospel, "teaching them to obey everything I have commanded you" (Matthew 28:18).
Like Autumn, all of the mentors in UGM's Aftercare program are serious about carrying out this commission, reaching out in Christ's name to those who need companions and guides for difficult life journeys.
Neither Gigi nor anybody else in this world can live free of temptation, but it makes a huge difference to face these temptations with someone at your side encouraging you to do the right thing. Gigi isn't alone because Autumn is with her as Christ's representative here on earth.