"I'm sold on it. I tell you I'm sold."
Mitchell Long, Chief Executive Officer at Northwest Ob-Gyn, took time out of his busy schedule to sit down with UGM Staff and effuse about the effectiveness of UGM's Business Practicum program.
In 2019, Sarah Johnson completed the fourth phase of UGM Women's Recovery and was placed at Northwest Ob-Gyn for her 240-hour business practicum. She had shown an interest in reception/clerical duties and therefore was first trained in answering phones, redirecting calls, and ultimately scheduling appointments.
Apparently, it took no time at all for the staff to fall in love with her. At the end of her practicum, she was offered full-time employment in the company's billing department.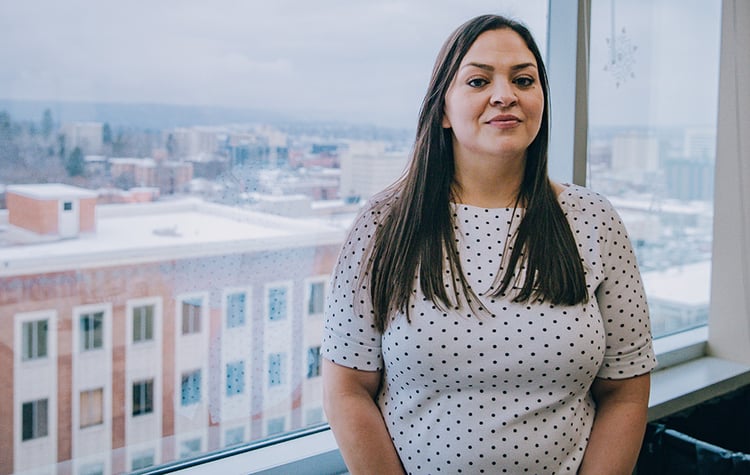 Long is impressed. "I've never seen a success story like we've seen with Sarah, here. She is amazing. Her willingness and her grit to achieve and excel. I've never seen her without a smile. When she first came to work here—and it could be from my lack of knowledge of what people go through in situations like hers—but I would leave here at the end of the day and she would have put in a whole day's work, and I'd feel so bad because I'd see her standing at the bus station, waiting for the bus. I just admired her for her grit and determination. And then she got her car... and an apartment."
Nurse Manager Davitia Robbins agreed. "I'll be honest, when we had our first placement, I wondered if I would have to really watch this person... but that wound up not being a concern. I just didn't know how much hard work they've already done at this point. I mean, by the time they get to their practicum, UGM has already helped them do so much work.
I've never been able to look at Sarah and see that person on the street. She came to us like any other worker.
"If that knowledge [Sarah's history of addiction and homelessness] wasn't given to me, and we just hired this person, I wouldn't say—. I've just never been able to visualize her on the streets. She's just a worker and a really hard worker."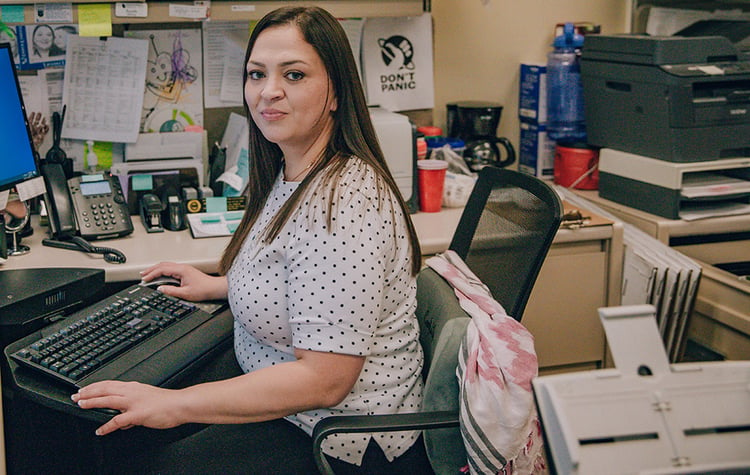 What Long and Robbins see in Sarah is indeed the product of hard-won recovery. What we wanted them to know, however, is that without their support, all of her hard work to build a new life could have been lost.
For most UGM Recovery alumni, business partners are one of the final elements that hold together all the puzzle pieces of a new life. When a resident moves into his or her practicum and gets a place to live outside of the Recovery Program community, they can face a jarring reality: opportunities abound for relapse. What helps the most is to be immersed in a healthy work environment, involved in a church family, and invested in the long-term friendships formed in Program. In other words, community.
Northwest Ob-Gyn has gone above and beyond to be more than a place of employment for the two women they have served through their business partnership. "Tiffany, our very first one who started years ago, she had an interest in more the clinical side and we have a position that's called Lab Tech or Chaperone, and we started her in that role several years ago, and with such an impressive individual, we are able to register someone as a medical assistant which means their license is tied to a medical facility. So, we ended up registering her."
CEO Mitchell Long said, "Here at Northwest Ob-Gyn, we honestly take an interest in our employees, not just as workers. It does our heart good to see someone become successful. We work to try to meet the needs as best we can, for our staff. It just does something for us inside.
"It's in our leadership to help and serve others."
Robbins emphasized how rewarding it is. "We're not doing their work for them, but we get to watch them succeed. The employee is doing the hard work, but to see the way the staff rally around that— When Tiffany first got her apartment, she wanted for nothing. The staff provided everything, down to everything in the kitchen... everything."
Robbins added that she thinks the program is as beneficial for the company as the employee. "It's a morale booster for the company to take this on. I think of people who are struggling to get workers and I can't imagine why they wouldn't reach out and use this program. I mean, it's free help, it's a working interview if nothing else. At least what we've experienced, they've all been dedicated. It's not an employee that you have to micromanage, during that externship. They want to get better. They've put in the work to do this, I don't think they'd risk not graduating. This is their home stretch.
"I think that any business that is looking to clean up Spokane, they could do their part by doing this. This program is successful. This kind of program should be adopted by the city, the state. I mean if that is someone's goal, to help people on the street."
Northwest Ob-Gyn is determined to stay partners with UGM. Long says, "I commend you for the work you did, that we've seen with Sarah. Amazing. I would always be up for a placement, to have someone train here. There are just no reservations to take someone again. I'm sold on it. I tell you I'm sold."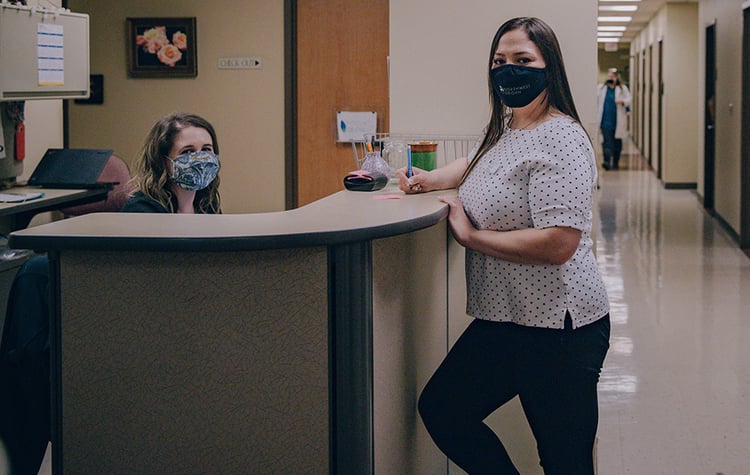 He said that only a couple hours before we sat down with him, Sarah had received a huge compliment. "One of our physicians who's been with us thirty years came in and asked if Sarah could help him because this coding thing is over his head. It was about thirty minutes later that he came into my office and said, 'I gotta tell you that she's an amazing individual.' She just put him at ease, and she would help him get through it and be there for him. He said, 'What a breath of fresh air.'"
It takes an immense amount of work for UGM Recovery participants to get back on their feet...and to stay on their feet. A good job within a supportive work environment is truly an invaluable gift. We are grateful that many businesses have chosen to come alongside our residents at this crucial stage of their journey.
If you're interested in learning more, or joining us in this impactful way, follow the link below.