Executive Director Phil Altmeyer frequently tells our partners that only in eternity will they know the extent of their influence in people's lives. Recently, we caught a glimpse of one man's impact.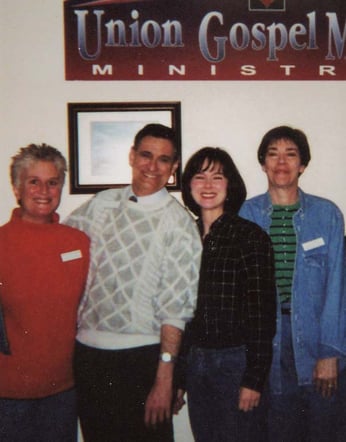 Ken Richter served faithfully as the Men's Shelter Food Services Manager from 1996 to 2004.
The Gibson family shared their experience serving with Ken.
Jeff and Lynn Gibson started volunteering with their children in the Men's Shelter kitchen in 1999 when their children were 5, 8 and 11. "We made the decision as a couple that we wanted our children to have an experience weekly where they could serve others.
"We volunteered alongside Ken for a good seven or eight years." Lynn Gibson told us. "Our kids watched him, how he would just love people and serve without ever seeking the spotlight. He just loved the men and had no question that they would get through the program and be changed. He loved Jesus and he emanated joy. He was just a lovely, lovely man. And he loved making food. He loved to cook."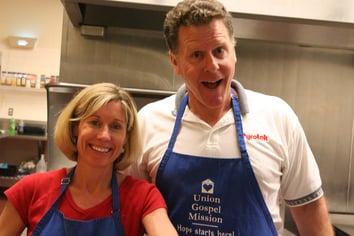 During his tenure at Union Gospel Mission, Ken pursued and completed his master's degree in nutrition. The Gibsons attended his graduation. "He was a dietitian. He was fascinated by nutrition, getting rid of a lot of the sugar in the meals. He really transformed it into healthy food. The quality was excellent."
Anna, the Gibsons' eldest child, now in her twenties, said at his memorial service, "He was a magician, making delicious, filling, healthy dinners for the men at the Mission night after night, with whatever random mixture of donated foods they happened to get that day. Brussel sprouts, cans of tuna, and stale bread? He could turn it into a feast fit for kings. He taught us how to make much out of little."
"He was a magician, making delicious, filling, healthy dinners for the men at the Mission night after night, with whatever random mixture of donated foods they happened to get that day."
The Gibsons' middle child, Peter, said, "Ken's devotion to creating a high quality and warm dining experience for the homeless community truly embodied the mission that UGM was built on of reaching the poor with the love and power of the gospel."
In the mid-nineties, Ken entered the Mission in Clinkerdagger's Non-profit Agency Culinary Cook-Off. The goal was to win a cash prize of $1000 for the agency with the best recipe. Ken prepared his popular Tangy Top Salmon Loaf which the men loved. Although he did not win the first-place prize, he garnered good attention for the Mission, helping make a name for UGM as a fun-loving and creative non-profit existing to serve real people in a way that was meaningful and relational.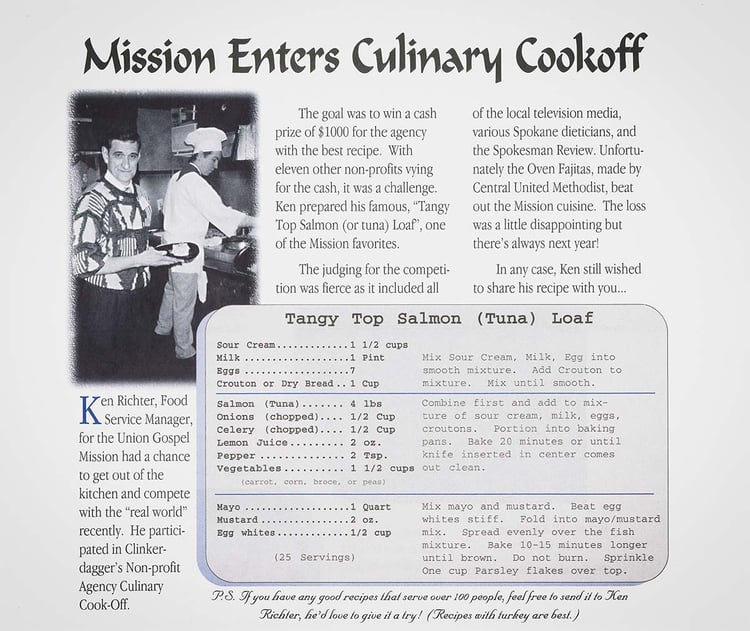 One year, he surprised the Gibsons by scheduling the Gonzaga basketball team who came to serve at the Mission once a year, on a Tuesday when Lynn, Jeff and their eldest, Anna, would be serving. "We were all in our stations, ready to serve and in walks the three or four top Zags at the time and Coach Few. My jaw dropped and Anna (14) couldn't believe it. We got to serve the whole time next to these statuesque men. That was so much fun. And Ken arranged the whole thing. He knew how much we loved Gonzaga basketball."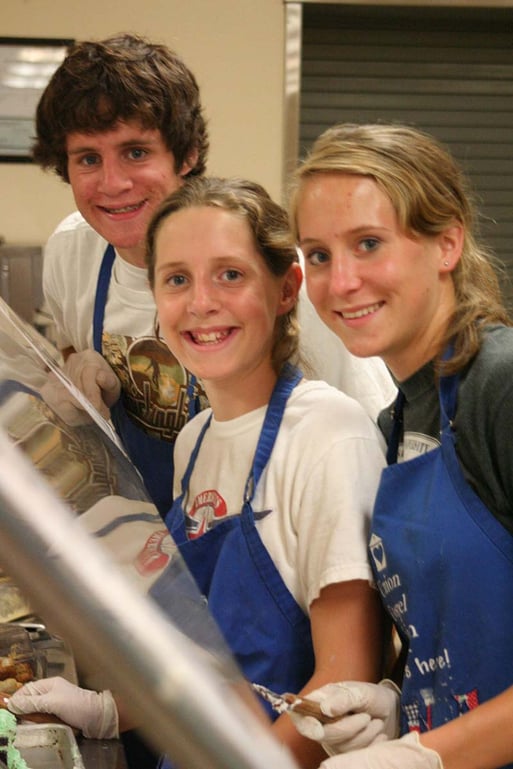 Beyond the fun ways he engaged his volunteers, Ken was known for his relentless pursuit of authentic relationships. Lynn said, "Serving with Ken, I learned right away that people want to be known by their names. We all made a point of really getting to know the men by name.
"Ken loved people to the very end of his life. He was loyal to a fault. He was loyal beyond what any of us deserved. He loved Jesus, and he believed in redemption."
Kate added, "Homeless shelters bring a variety of characters, many of whom are dealing with anger or trauma in their life. Ken was a disarming and comforting presence to these men. I'm convinced that Ken didn't live a single day of his life for himself. He was outward-facing, constantly concerned for the needs and desires of others."
Anna, the family's youngest child, said at the service, "Ken modeled, more than almost anyone in my entire life, what sacrificial, servant-hearted love looked like. Whether it was his time, his money or his energy, he gave until he had no more to give…then he gave more. He is one of the foremost men who I point to, to say, 'There is a life well lived.'"
"He is one of the foremost men who I point to, to say, 'There is a life well lived.'"
Lynn and Jeff agree that signing up to volunteer in the Men's Shelter kitchen was one of the best decisions they could have made. What they learned about loving the homeless, welcoming the stranger and sharing life with a wide variety of neighbors changed their lives forever; it shaped their family and led all three children to pursue even larger service opportunities in Seattle and San Francisco as adults. "Ken and the men we got to know had a tremendous impact on all three of our kids. The experience gave us eyes to see people as individuals. We all grew in compassion and humility. It turned out to be one of the best decisions we ever made for our family."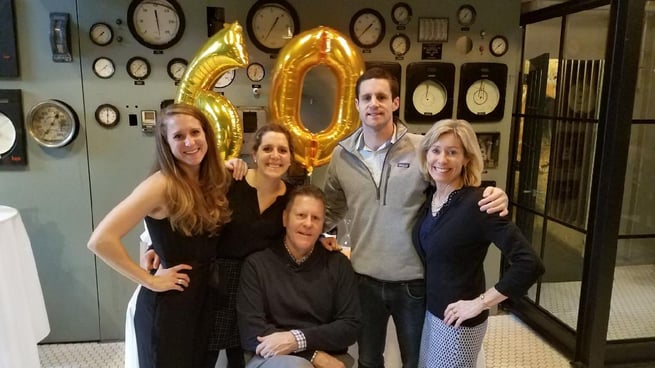 Ken didn't live for accolades; he lived to further the gospel one relationship at a time. We love to see how his faithful efforts inspired the Gibson family and many others to live how he lived and to love how he loved. We praise God for His good work in our friend Ken Richter.
"It was a privilege to know and be known by Ken." – Peter Gibson
Jesus changes lives. Take time this holiday season to reflect on the One who came to change hearts, set captives free, and make a way for us to enjoy Eternity forever. Download our free devotional today.