Roberta, Kathi, and Ginger - lovingly referred to by the Center staff as the "faithful team" - earned their nickname because of their dedication to volunteering in the kitchen at the Center for Women and Children every Wednesday.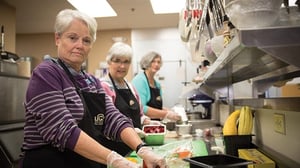 "I just felt that I needed to do something to help somebody and this was a good opportunity," said Kathi.
These three women not only prepare meals for residents, they build relationships.
Ginger expressed, "Just seeing them grow as people from the love of God while they're here - a lot of them have never had real love before in their lives." She continued, saying that women and children may come into the kitchen with their heads down, unwilling to give eye-contact, but "as they feel more comfortable of giving of themselves, their personalities start to come out, and that's glorious."
This team believes that food and learning skills pertaining to meal prep and clean up play a role in helping residents grow and heal. Roberta explained, "I think they learn a lot about nutrition, how that affects addiction and their body image, what the think of how they look."
Altogether, Roberta, Kathi, and Ginger may prepare delicious, nutritious meals for guests, but they are also helping women feel valued, gain confidence, and grow. We're so grateful for them and their faithful service at the Center.