Dirty. Drug addicted. Soup kitchen.
Those were descriptors Scott McCall had in mind about homeless shelters before his uncle helped persuade him to try volunteering in one.
By God's grace, that uncle was Ron Hauenstein, and that shelter was the Union Gospel Mission. Ron is a legend at the Crisis Shelter for Women and Children, a longtime prayer warrior and practical servant to the physical and spiritual needs of homeless families.
But when it came to a shelter, Scott had to see to believe. An army veteran turned farmer and construction worker, he decided to check it out for himself. "I really got to see how the Lord is working here and what's actually going on here."
Scott was drawn to the idea of bringing people off the streets into safe shelter. Still, he started volunteering with some fear and trembling, working in the evenings helping Men's Shelter guests check in at the "day desk." It took time to develop trust with residents who also worked at the desk, but they quickly came around and told leaders that Scott should be hired as staff.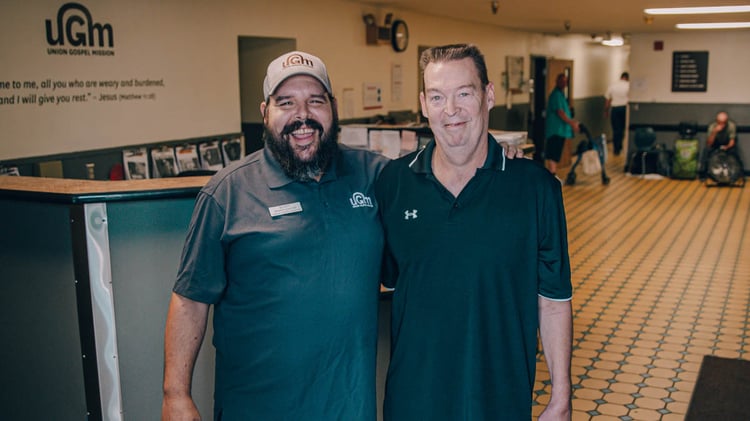 Within six months, Scott was hired as a resident assistant. Two years later, he still loves what he does working directly with men experiencing homelessness. He plays a crucial role in providing a safe, healing environment in which life-changing relationships can be built.
"I try to connect with whoever comes through the door, just to see what kind of mental state they're in and make that connection of friendship right away. That gives me a safer house overall, if they can meet someone and get called by name."
An umbrella of safety
The morning of our interview, Scott had sat in his office with a young man who had just arrived. The guest expressed despair and suicidal thoughts.
"His world was crashing down, so I just let him know this is a great refuge. We have an umbrella here, and things can crash down around you but you're safe here. There's no fighting or name calling."
Scott's words to the young man sum up why UGM exists: "You can't change the past, so remember the good things that you have done, and remember you're worthy and loved and wanted. Be proud of who you are and who you are in Christ. Hold your head up high. Let's go change your life."
"You can't change the past, so remember the good things that you have done, and remember you're worthy and loved and wanted. Be proud of who you are and who you are in Christ. Hold your head up high. Let's go change your life."
Scott arranged for the man to get a shower, clean clothes, and a meal, since he hadn't eaten in a couple days. Scott has seen how these simple things make a big difference: "Hopefully this afternoon he feels like a new man," ready to deal with life one step at a time.
Scott reflects that his uncle Ron saved his life before he was even born, persuading his teenage mom not to get an abortion. Even with a supportive Christian family, Scott didn't always follow the straight and narrow, having struggled with alcoholism. He relates to the guests at the shelter, but he has hope to share. "The Lord chose me, he saved me. I have stuff to do. I have purpose."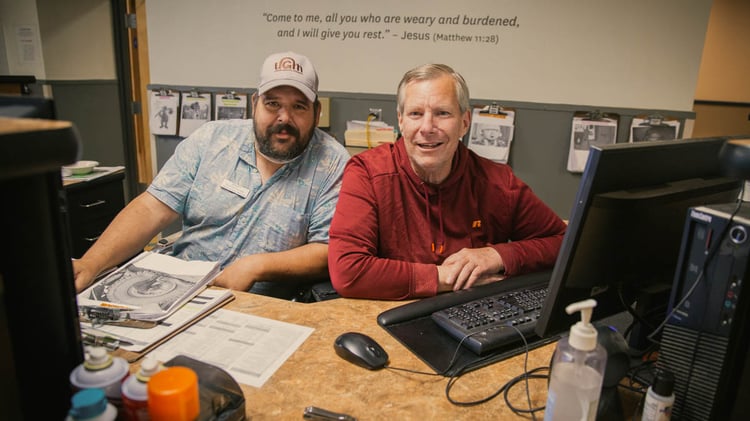 He takes seriously his role helping men in crisis take their very first step to change. "Before you hear about any success story, before you get case managed, before you get counseled, before you get accepted into any of the programs, before you do anything here, you come in under my umbrella. That's important to me. I love being able to do that."
Life in the day room
Scott's team of "desk men" oversees the day room, where short-term guests have a clean place to rest and through which all residents pass multiple times a day for classes, chores, and meals. Most desk men are residents in UGM programs, while Scott oversees their training and handles special circumstances. Mostly, "These guys can run the show by themselves," Scott said.
But Scott's calm authority helps keep the place running smoothly. He's "very proactive, which we really appreciate," said Jim, a desk man who usually works the graveyard shift.
For instance, Scott was busy serving meals to quarantined guests when a man blew into the door and straight to the restroom. The man was moving remarkably fast, considering he was seated in one wheelchair and pulling another. A few minutes later, a crash rang out in the restroom. A desk man ran in to investigate and came out with shattered pieces of the glass pipe the man had dropped on the tile floor.
Drug use on UGM premises can't be tolerated, and another staffer instructed the desk men to give the visitor a sack lunch and send him on his way. The desk men recognized the man, who had recently been a checked-in guest and knew well the clean-and-sober standard.
"I feel bad," desk man Andrew said. "My heart goes out to them, but we've got to think of the safety. Can't be doing drugs when there are people in recovery here."
Scott returned after the desk men had gently brought the man outside the door with a sack lunch. Seeing him still sitting a few yards from the door, Scott went out to talk with him, stooping to engage him eye to eye. He knew the drug use, while serious, was only a symptom of the man's underlying troubles.
Scott returned inside several times to fetch bottled water and toiletries to give to the man, talking with him for several minutes each time—but mostly listening. When the man left, Scott came in and made a note not to require anything beyond a clean drug test to check him in if he comes back in the future.
"It's not my favorite part of the job" to enforce the policy, he confessed afterward.
Scott knows that man's story is far from over, but he also has to consider the impact on a hundred others in the shelter. "The safety of the community comes first."
Enforcer, listener, brother
While the overwhelming majority of UGM residents are peaceful, comply with behavior standards, and willingly care for their temporary home, Scott is ready to deal with the occasional problem. His sense of humor is clear from the two glass-domed trophies displayed on his office window sill: Rocks that were thrown at him and other staff while enforcing shelter security.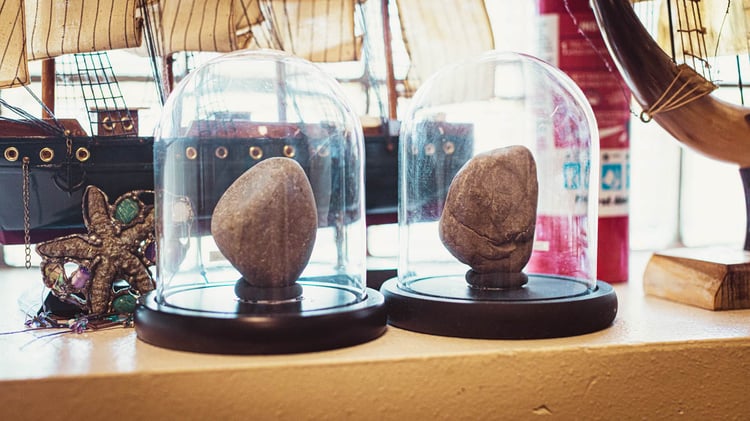 It's a sign that a "safe house" is a priority for Scott. He's protecting a refuge that's clean-and-sober, free from violence and fear. And the reason is simple: He loves the Lord and the men in the shelter. As Jesus says in Matthew 25:40, "whatever you did for one of the least of these brothers and sisters of mine, you did for me."
"Whatever you did for one of the least of these brothers and sisters of mine, you did for me." (Matthew 25:40)
"It becomes a brotherhood," Scott says. "We all pitch in to help each other, pick each other up when we're down. This is one job that I look forward to coming in every day. I love doing what I do."
For a deeper look inside UGM Shelters, read our September Mission News