Food service partners provide the bulk of the ingredients for the meals served at the Union Gospel Mission, which added up to more than 310,000 in 2017. But those meals are still only a part of how UGM helps feed the hungry thanks to those partnerships.
UGM's refrigerated truck driver goes out five days a week to pick up food donations from grocery stores, restaurants and distributors. Those foods end up in UGM's six kitchens (four shelters, Student Impact Center and UGM Camp) as well as in partnering churches, food pantries and other organizations that work to feed the hungry in our region.
To get a first-hand view of the scale of this network, I did a "ride along" – actually more of a "drive behind," since the truck's second seat was needed for a resident to help move and sort the cargo. But I still asked the driver so many questions I wondered if he'd try to lose me before the end of the day.
But Larry Rowe, of course, would never do that. He's a Mission man through and through. He loves his job, and he doesn't mind talking about it. I learned a lot from him.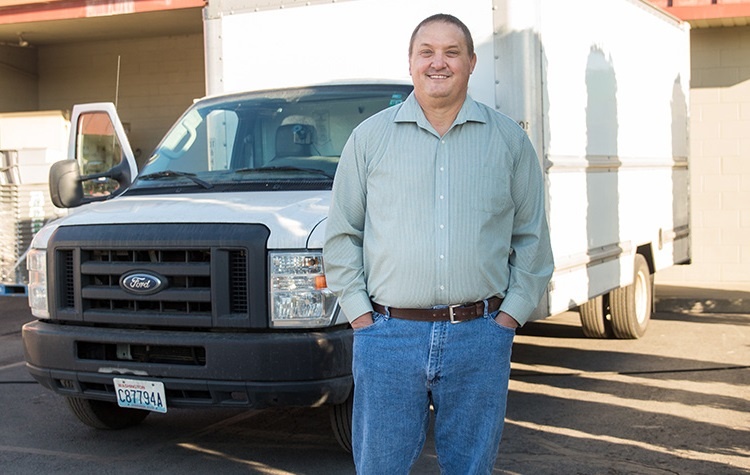 My overall impression from the experience was a wonderful sense of UGM's mutually beneficial relationship with our food partners. Takeaways:
1. Wow. We get a LOT of donations! OK, maybe this is a no-brainer. You can't serve 310,000 meals without a lot of ingredients to start with. But we brought back two and a half truckloads in one day, no measly amount of food. Multiply that by 5 days a week, and you're talking about literally tons of food coming in from our donors every day, without a huge amount of storage space. What a welcome challenge for our culinary department.
2. Sharing is a blessing for everyone. I already knew that UGM distributes a lot of these donations to food banks, other shelters, and ministries that don't have a truck, warehouse, or refrigeration to deal with large-scale donations. But seeing the types and amounts of the donations we collected, I saw that they're doing us a favor too! There was no way just UGM shelters and feeding programs would use, for instance, all the cake we brought back that day. It's like when you have guests for dinner and serve cake. After everybody eats a slice, you're begging them to take some home because you know that even if you could, you shouldn't eat the rest of it on your own.
3. We all need each other. While UGM wouldn't be able to feed people the way it does without such generous donations, we are also serving the stores, restaurants and distributors by putting what they can no longer use to good use. Nobody likes throwing away what they know could still be useful to someone. As a ministry, it's exciting for UGM to be part of a win-win system that minimizes waste and helps each person involved: distributors, stores, our ministries, our partners, and our neighbors who struggle with hunger.
There were also a bunch of other cool tidbits I gathered by shadowing Larry. Here's how the day went down.
7:29 a.m. – Rick, a resident of the Men's Shelter who rides along with Larry every day, arrives for his work assignment right on time. He tells me we're headed toward the Darigold dairy co-op for our first stop. The British expression, "catching the milk train" – i.e., making an early start – makes a little more sense to me now.
Rick says he loves this job – he likes to be busy and useful. But he does draw the line somewhere: "I'd do this 7 days a week if they paid me."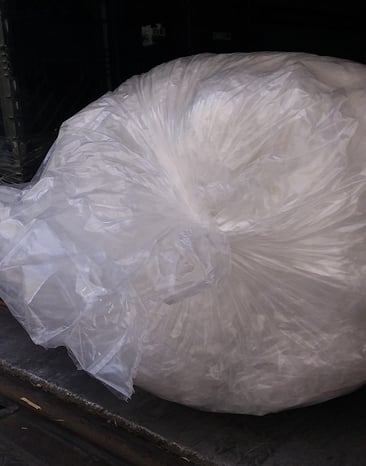 7:44 – We pull up to the side of the Darigold facility on West Francis, where Larry receives five or six big bags full of – bags. Darigold doesn't just donate milk products; they share large, heavy-duty bags – in which they receive bulk amounts of some ingredient or packing material – which work really well when repurposed as trash bags at UGM.
The guys tell me Darigold also gives us reusable cardboard boxes, by the hundreds, which happen to be the perfect size for packing and moving donations we receive from elsewhere.
Rick produces two boxes of cookies – some of the best from our recent bakery donations – and I follow him up some stairs to the Darigold break room. "Watch, you'll just see their eyes light up when I bring in cookies," he says. Unfortunately, no one is in the break room at the moment, so Rick leaves the cookies on the table. Imagination serves to picture how happy Darigold employees would be to get a cookie or two with all that milk around.
The workers here ask Larry, "How much do you need?"
Darigold donations vary a lot, and sometimes they offer Larry a lot more than he knows UGM can store and use. Today, though, he's happy to get two pallets – about two tons – of milk in individual-size cartons, nonfat and 2%. For Rick and Larry, slinging more than 100 milk crates onto their own pallets only takes 10 minutes or so.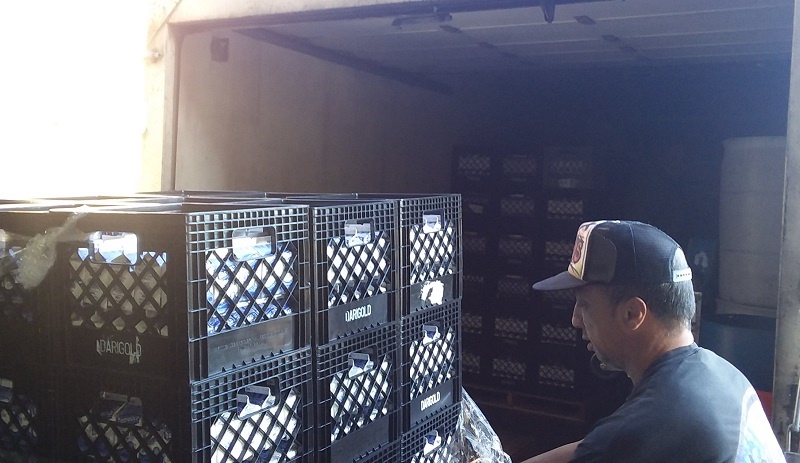 8:20 – We arrive early at Olive Garden on the Newport Highway – one of the only places we need to arrive at a precise time to pick up donations. At 8:30, managers arrive and let us in. Again, Rick drops off cookies for the employees. We bring in a large barrel to collect frozen take-out meals, pasta, and especially soup! Olive Garden soup is a well known and loved staple at UGM.
Larry notes that this is the Olive Garden restaurant where Crisis Shelter resident Staci recently got a job. He knew her because she was part of the Crisis Shelter kitchen crew that would pick up food from the warehouse for their meals. Now she's working for one of our food partners!
8:50 – Quick stop at Jersey Mike's on North Division, where they bring out several bags of sandwich bread.
9:00 – At the Safeway on Northwest Boulevard, Larry and Rick usually split up to work faster, but today they have to stick together because there is a LOT to pick up. Larry took his birthday off on Friday and there was no pickup that day, so he knew that meant this Monday would be even busier than usual. (Side note: Larry mentions several times how much he loves his job, and he's serious: He hadn't taken a single vacation or sick day since his last birthday. In the future, his supervisors will be making him take the vacations he has coming.)
In the back at Safeway, we find six grocery carts full of bakery items for donation. Rick and Larry bring the carts out the door two at a time. Right there in the parking lot they sort through the bread, cakes, cookies and other items from the grocery carts. Some goes into barrels and some is boxed up, based on how it will be stored and used back at UGM. This is where those Darigold cardboard boxes come in handy.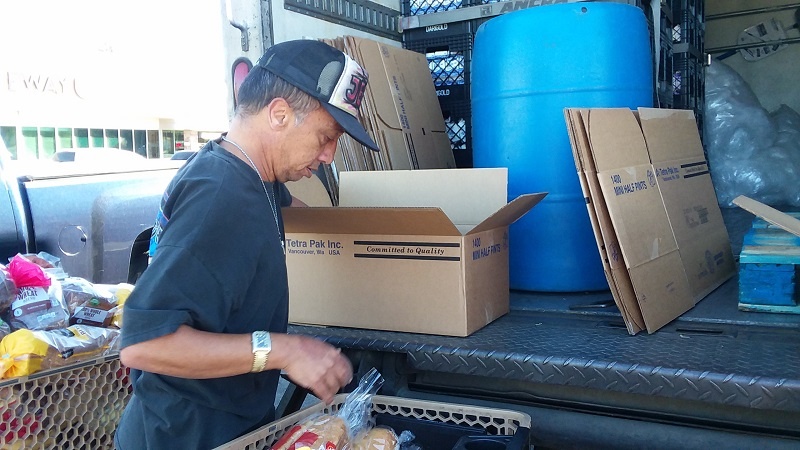 Going back in to pick up the other carts, we touch base with the bakery manager. I express how thankful we are to get such large donations. She says, "Well, I'd prefer to sell them" – which brings up an important point. Most of these donations are of food that is "stressed" – perfectly good right now but beyond the point at which stores want to sell it to customers. There's a ticking clock on most of the donations we receive, and our warehouse crew has to act fast to sort and distribute it. To me, Larry and Rick seem like "manna gatherers" – bringing in God's provisions right when they're needed, and not a moment before or after.
The truck is full, so as planned we'll return to UGM to unload.
10:00 – The warehouse crew meets the truck in UGM's loading area and begins to sort the contents. First, they weigh and record each pallet. Then several men with dollies hurry to get the cold food into the walk-in refrigerators.
Larry unloads the pallets of Darigold milk using a forklift. Compared to the huge cranes he operated in his previous life in Houston, it's a simple job. In fact, they're all such a well-oiled machine that I'd only get in the way if I tried to help.
As I stand there just watching, however, a smiling man comes over and says, "May I help you?" Blake is a volunteer who works alongside residents and staff in the warehouse – yet another of the hundreds of high-impact volunteers who make the ministry possible by serving behind the scenes.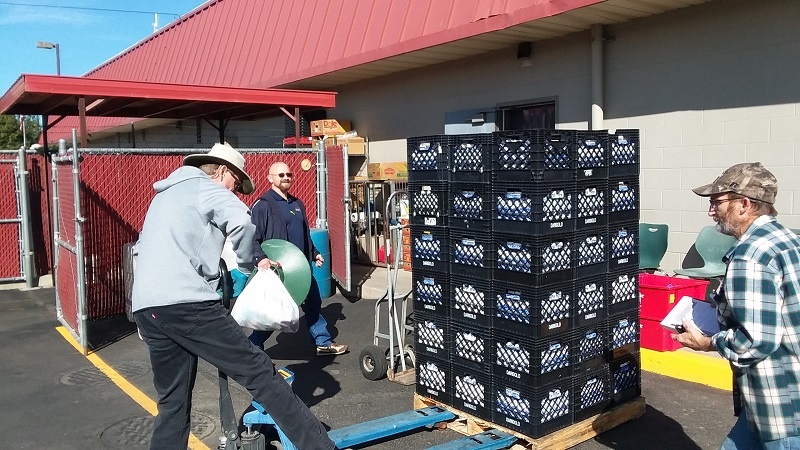 10:35 – We're back on the road with an empty truck, our first stop at Yoke's Fresh Market in Latah Valley. I'm struck by how each store handles donations differently. Here, we also check in with several different departments, plus the backroom shelves Larry knows are dedicated for donations. An especially nice treat is in the freezer at Yoke's today: Three big boxes of meats!
Several times throughout the day, I ask Larry and Rick if these donations are "about like normal" – and they never give me a solid yes or no. "I've learned to expect anything," Larry says.
11:10 – A stop at Trader Joe's on the South Hill yields several carts loaded with banana boxes full of assorted foods. At Trader Joe's there's something a little different, too: several boxes of cut flowers! I've seen these before around the ministry to beautify UGM offices, shelters, and events -- making our facilities welcoming to residents, visitors and workers. While flowers don't feed or shelter anyone, who's to say what's really essential?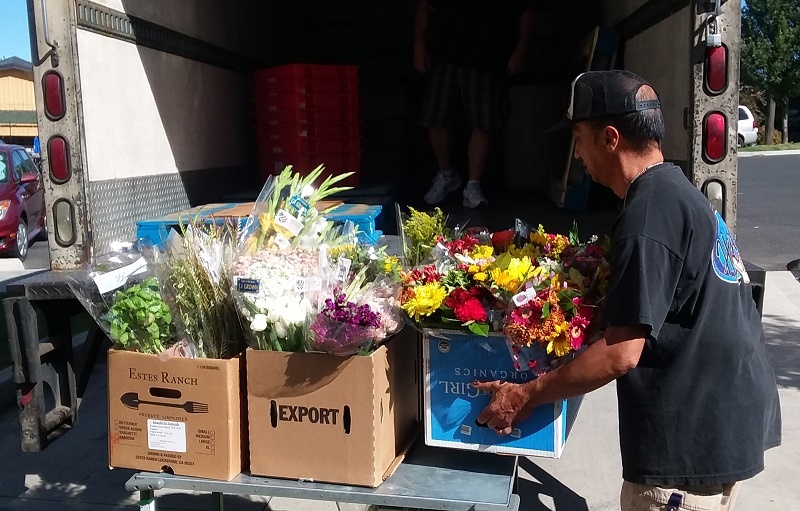 From Trader Joe's, Larry makes a phone call to warn the next stop that we're coming. It's a big one: Wal-Mart in Spokane Valley.
11:40 – Walking into the back room at Wal-Mart, the first thing I hear is "How was your birthday?" Valerie, whose name tag says she's worked there for more than 20 years, knows Larry and remembered he wasn't there on Friday. She pulls out several rolling carts piled with donations, including 14 big boxes full of eggs, plus 20-plus boxes of other foods.
Larry notes that this is as much as he's ever picked up at Wal-Mart in one stop.
Then, "Can you take body wash?" Valerie asks. Larry says the shelters would love that. Larry and Rick load up 20 cases of organic body wash.
12:30 p.m. – At Costco in Spokane Valley, the first employee to see Larry come in says, "Oh, you guys are going to kill me." Why? Too much stuff to pick up, evidently.
No such thing! In fact, alongside several baskets of food there's a sleeping bag, sleeping pads, swim-masks and snorkels – and nothing wrong with any of it except damaged packaging. The only thing they can't pick up today with an almost-full truck is a brand-new mattress. But Larry says he'll be sure to get it the next time he comes by.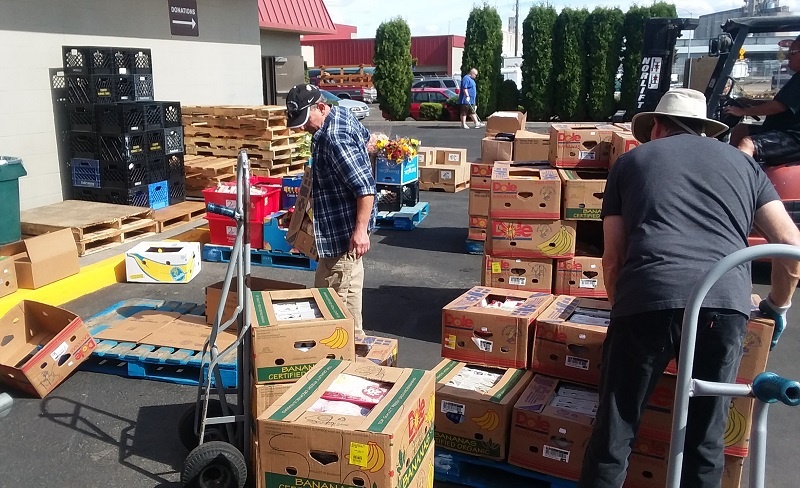 1:00 – Another full load arrives at UGM, and the warehouse crew again kicks into action to sort out the contents. Because there is so much to sort and only one more stop to make, Larry leaves Rick at UGM to help the warehouse crew. That leaves the seat free for me to ride along to Peirone Produce, a major source of the fresh foods that make for the well-rounded meals at UGM.
1:15 – We leave for Peirone in the truck, the side of which bears the face of a much-beloved former UGM resident, Paul, who passed away last year. Larry had befriended Paul during their time living at the shelter.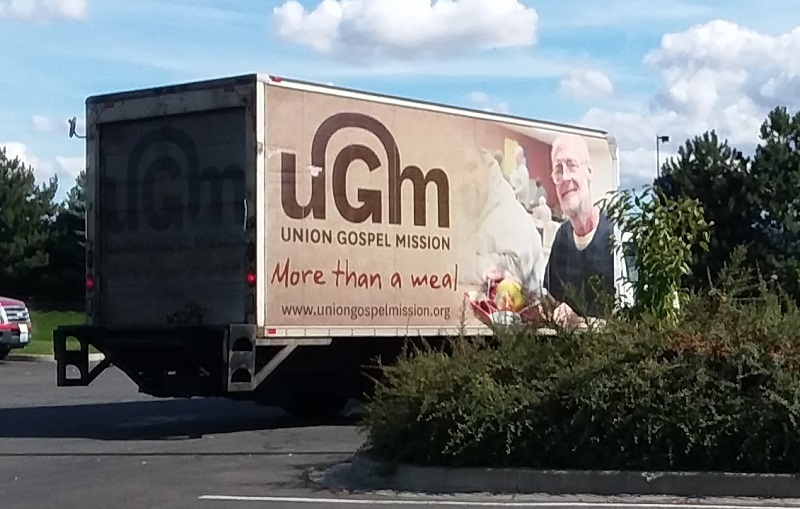 Paul's picture provides a great segue for Larry to talk about his own journey at UGM. He found us online when he was unemployed and hopeless in the Houston area after his mother's death. He arrived in January 2014 and found the hope he was looking for as one of the first participants in the Employment Ready Program. Ever since getting his first job at the Thrift Stores, he's been happy to be part of the UGM team.
1:40 – Larry backs the truck into one of many loading doors at Peirone, Door 2. We drop off the last batch of "thank-you" cookies in their break room. As we head over to Door 2 from the inside, at least a dozen forklifts whiz around us at impressive speeds bearing pallets of fresh produce. Soon, one drives up with a pallet for UGM: Berries, lettuce, peppers, and broccoli.
2:15 – Back at UGM, the crew just finished sorting through the last dropoff when we arrive with this last offering. That was one of the busiest days he'd ever seen, Larry tells me. But he knows what he collected will be a blessing to hundreds, maybe thousands of people.
So tomorrow, he'll get back on the road again.
To fill the biggest needs that aren't donated by our food partners, the Fall Food Drive from October 1 through November 30 is a great way you can help. To request a UGM collection point for your church, business or other group, call UGM's Resource Coordinator at 509.532.3815. They'll deliver and pick up the collection barrels and assign you a top-needed item to collect, such as coffee, condiments, canned vegetables, etc.