You may have noticed a recurring theme on the Impact Blog: Everybody who works at UGM is in ministry. Whether in maintenance, payroll, the kitchen or working directly with residents, working here is a chance to be part of something bigger to bless our community. That's certainly how Rick Schwartz sees it when he takes the wheel of the UGM Motors tow truck.
Rick knew what UGM was all about before he applied for the vehicle donations driver job. His wife, Gwen, is the Director of Advancement at UGM and he kept hearing her stories of meeting with donors and learning about their hearts to support the ministry. Some of them had been through amazing ordeals, and it only made them more compassionate toward others.
When he was hired as the Motors driver, Rick began to see it face to face. "I was blown away by just the heart of people in Spokane to give back. And it makes me feel very fortunate every day, to do what I do and to really feel grateful for the opportunity."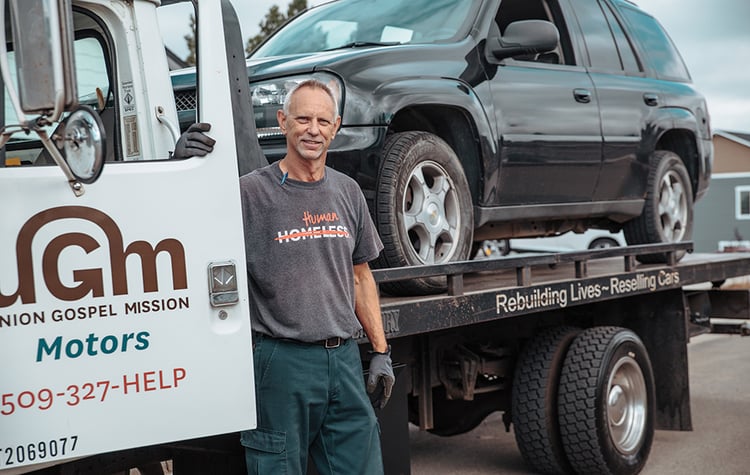 A chance to connect
Rick likes to share UGM's story with donors who have only heard of it through TV commercials or roundabout ways. They know their donation supports homeless services, but they're excited to hear how far it can go and how those services focus on changing people's lives for the better.
More often than not, he's able to tell them a few things they didn't already know about UGM, especially how their donation is maximized by different kinds of donors and partnerships UGM has with a generous community.
"Everybody has a piece in this. The people that donate to the Thrift Stores, the people who buy at the Thrift Stores, the people that donate at the Motors, the people that buy at the Motors. It all goes into this big pie that we try to help people get a new start in life."
He constantly invites donors to visit UGM, take a tour, and see up close what they're supporting. And he isn't shy about encouraging them to volunteer, because volunteers make it possible to stretch each donation to its maximum impact.
Sometimes, the donors have already done their homework. One man told Rick that when he wanted to donate his '66 International Scout, he had called several other vehicle donation programs before UGM. Twice, he found out he was actually talking to call centers in Asia.
He was glad to find out UGM is 100% local: funding, employees, clients, and cars all come from right here in the Inland Northwest, which reduces overhead and administrative costs that could reduce the impact of vehicle donations. In fact, 88% of donations UGM receives go directly toward services for our clients in Spokane and Coeur d'Alene.
Hearing the stories
Rick spends at least as much time listening as talking to donors. Aside from a minuscule number of people who "donate" just so someone will come pull a car out of a ravine or haul away a worthless fifth wheel, everyone Rick meets has a different story behind wanting to donate their vehicle: "It's never about the car."
One gentleman wanted to donate a beautiful black '72 Corvette special edition kept in a garage. Rick sometimes just can't help himself: He asked why the owner didn't just sell it. It would obviously sell quickly, for a good deal of money.
The man told him he and his wife recently became Christians and the Lord had been leading them to "get rid of our idols." He said his wife had already done a good job of getting rid of her stuff and donating it.
"She's got a clean soul. I've still got a speck in mine, and it's sitting right there…. The Lord told me to give it; I cannot [sell it]. I idolize that thing."
He told Rick the only condition for the donation: He needed to haul the car away with all its contents. Rick said that was fine. (When he got it back to the lot, they discovered folding chairs, a massive collection of memorabilia, and other cool things you'd bring to display it at a car show, which were a great bonus for the buyer!)
As Rick got ready to tow the car away, the donor said, "This is the greatest day of my life now, because I've got a clean soul. I know you guys will do well with it, and hopefully it will bless somebody else down the road."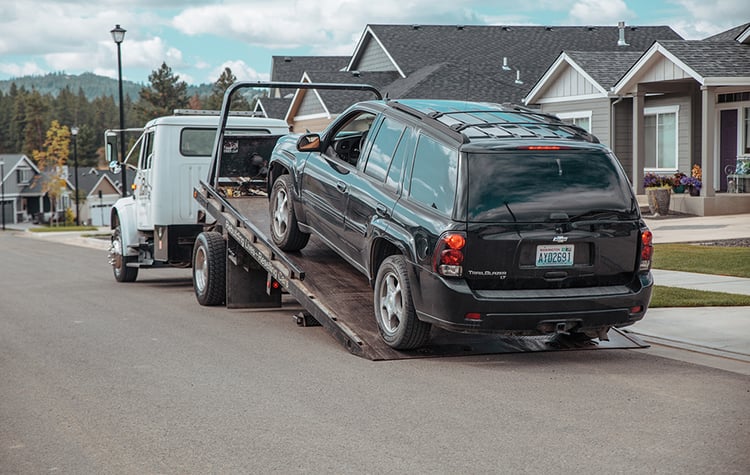 Rick has also picked up cars from donors who have needed the kinds of help UGM offers. They want to pay it forward. One gentleman donated a Porsche, and again Rick couldn't help but wonder aloud why he didn't just sell such a beautiful car.
"He said, 'I was an alcoholic, I'm recovering. I didn't go through UGM but I know what it does for people, because I've talked to people. They're better off than I am right now. … I just want to donate it because I know it's going to help somebody that's in the same position I am.' "
That's the kind of heart Rick sees over and over. "It's the stories behind these cars that makes the difference."
"Her small token"
But Rick's pickups aren't usually Corvettes and Porsches. Especially since the changes in standard tax deductions that took effect in 2018, Rick doesn't see a large proportions of high-end vehicles. But he regularly meets people who don't have a lot but want to give what they have: "everyday people that were going paycheck to paycheck, but still had a heart for the Mission."
One elderly woman donated a well-used but well-maintained little sedan with more than 200,000 miles. As he hooked it up to the truck, he noticed she was getting emotional.
"I've got a lot of memories in this car," she said. She had fled an abusive husband with her daughter in that car. In the years since, her daughter ended up in trouble and she had taken custody of her grandkids. She also had memories of conversations in the car with the grandkids: "We never turned the radio on. We talked."
But her grandkids also have run into trouble, and she feared they would need to come to UGM for services. Feeling helpless, she wanted to do what she could, give what she had. Rick prayed with her and drove away, knowing he was towing more than a well-used car: It was a "widow's mite."
"It was her small token, knowing what UGM does, … that it can help change her grandkids and her daughter around if and when they come through the doors."
Another donor told Rick the story of why she chose to donate: She had nearly been killed in a domestic violence incident and still keeps a low profile so her ex-husband won't find her.
She wished she had known about UGM when she was going through that crisis, but a relationship with Jesus is how she still copes with ongoing fallout from that trauma. And she wanted to help UGM share that hope. "I know it's not much, but hopefully you get something out of it that helps somebody going down the road."
Despite a constantly busy schedule and a truck that sometimes breaks down, Rick works from his heart because of the remarkable people he gets to meet every day.
"It keeps me coming back. I've never had a job where that happens."
"Every pickup is a different story." Want to share your vehicle and your story? Get started here.