Robert Kollenborn, 56, walked out of Geiger Correctional Facility on September 17, 2017, and walked straight to the Union Gospel Mission Men's Shelter. 8.5 miles.
"I didn't stop because I was afraid my legs would start to cramp up."
He needed to get here because he had nowhere else to go. He had burned every bridge.
Have you ever noticed how many passages there are in Scripture about paths?
"Show me your ways, Lord, teach me your paths. Guide me in your truth and teach me, for you are God my Savior, and my hope is in you all day long." – Psalm 25:4-5
Robert's hope wasn't in God when he first came to UGM. "I believed in God, but I had never read the Bible… because I thought it was fiction."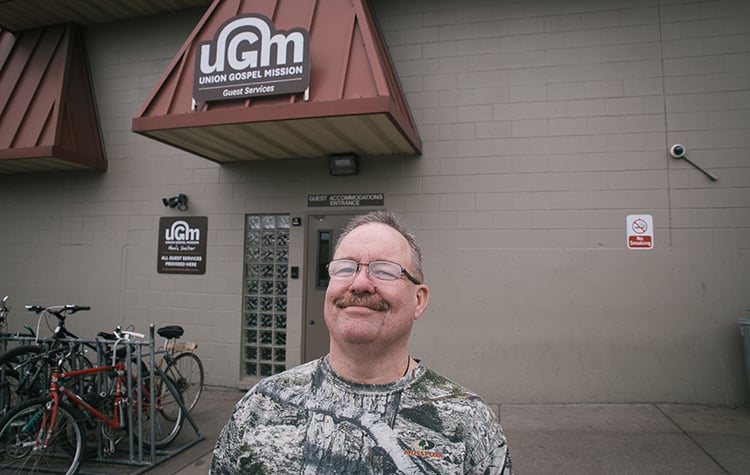 Robert spent six weeks sitting in the day room, confused about the next steps. Finally, he went to Dean Whisler, UGM Social Services Manager, who also helps determine which men are a good fit for the long-term recovery program. He said, "I'm an alcoholic, and I need help."
Robert had spent his entire adult life in addiction: Four decades. Change seemed nearly impossible.
Interestingly, God appeared to be directing his steps, lighting the path. One step at a time.
"He guides me along the right paths for his name's sake." – Psalm 23:3
Robert entered the program, and in Phase One, he began to read the Bible and "found it was real."
When asked what made him change his mind, Robert explained, "I could see evidence of me changing.
"My thought processes were starting to change, how I perceived things. The real me was starting to surface, who I really am. I've been a protective personality for so long. I didn't allow anyone into my feelings. I was hardened. I wasn't alive. I was just a walking body with no emotions, no feelings… It's hard to undo that."
You might say "impossible" – without God. Before coming to UGM, Robert hated himself, thought God was irrelevant and thought he hated other people.
"I thought I couldn't stand people, but I actually really enjoy being around people. When we're not in class or we're not processing, I miss it. I need to be around others."
Seeing himself change reinforced Robert's belief in God. In January 2018, he started going to church. "I started normalizing church, like that was a normal Sunday morning." He was baptized in April, "and then I realized, these people are my family."
Robert starts his day with a personal worship time. He reads the Bible and sings hymns, which literally amazes him. He even sings in the shower. "Amazing Grace" is a favorite.
Robert is a new man. His relationship with God has changed. His view of himself has changed, and his attitude toward other people has changed.
"I used to be demanding. I would bark things. I don't do that at all. I'm very gentle because I've been hurt, and it's torturous. I overlook people's faults. I look at who they really are. I give people a chance. I don't just look at the cover of the book. I listen.
"I've gone through all the hardships in my life. If that's what it took to get right here, right now, it was well worth it. I wouldn't change my life one iota if it didn't end up right here – sitting here talking with you right now."
But Robert knows his path isn't over. He hasn't arrived.
"It's hard to let that old me go, because he wants to stick around."
"Teach me your way, Lord; lead me in a straight path because of my oppressors." – Psalm 27:11
Robert has a five-year plan that includes work (he is doing his practicum at Berg Camp Solutions and hopes to continue working there after he completes the program), church, volunteering in the kitchen at UGM (he and kitchen supervisor Dale Fruin have developed a close friendship), and holding tight to accountability.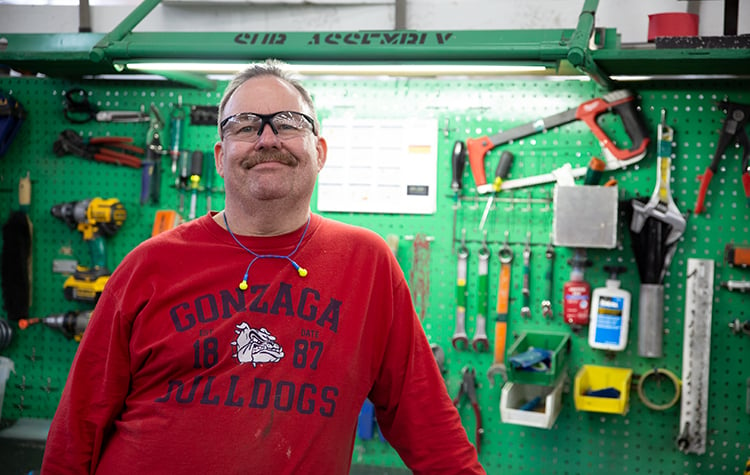 "If I can make it five years, I'm out of the woods, but I'm always going to stay with support. Everyone is one step away from that slippery slope."
Join us in praying for Robert, that God would continue to direct his steps.
Robert's story is unique, like everyone else's. But there are a few common themes that have stood out during Phil's 30+-year career bringing the light of the gospel to the poor and homeless.