We talk a lot about the cycle of homelessness and addiction here at UGM. We know that substance abuse is a contributing factor for a large percentage of individuals experiencing homelessness. However, it's also important to recognize that every day we also meet people who are experiencing homelessness for reasons completely unrelated to alcohol and drugs.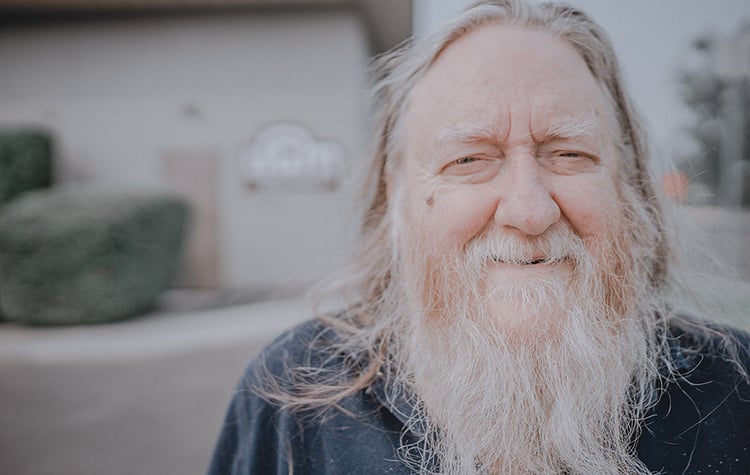 Joseph came to UGM from the hospital where he'd been treated for third degree burns on his feet and a head injury. These two unrelated injuries occurred almost immediately before his apartment flooded, creating a trifecta of crises. While his apartment was being restored, he had nowhere else to go. His head injury was so bad that he actually doesn't remember the decision to come here. But he does know he would have been on the street if he hadn't made his way to us.
"I don't really know where I would have went. I know there are some other places, but they're not like this, from what I understand. This is probably the best spot to be. The Lord takes care of those who love him, so it doesn't surprise me that he put me in a good place. Two pillows, clean pillowcases, clean sheets and a blanket. You can't beat that."
Joseph also enjoys three meals a day, multiple growing friendships, a daily chore, and professional medical help changing the dressings on his feet twice a week. "They're really caring people," he says. "It's professional, you can tell they know what they're doing. And they treat people really good. Whoever is here in this town that is homeless, this is the place they need to find if they can."
Soon, he'll be able to move back into the restored apartment with his daughter, with a care provider to help him. But he hopes he can eventually come back to UGM and help with chapel and continue to encourage other residents.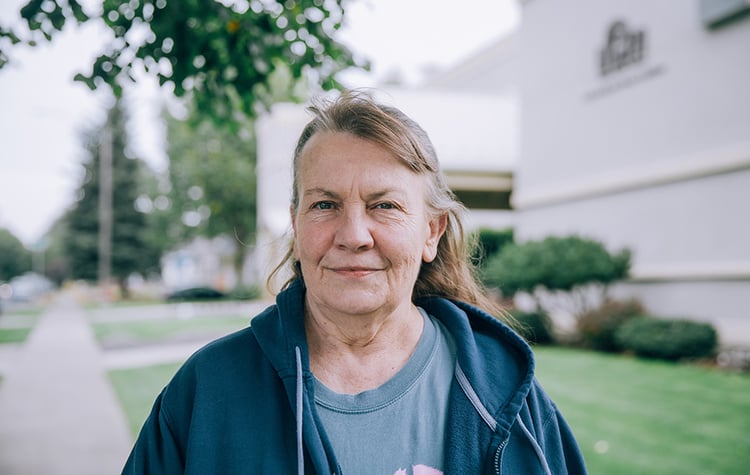 Kathleen has come to UGM before. She's never been an addict or lived on the streets, but she's always struggled to understand why her life keeps falling apart.
Kathleen's search for a healthy, whole life started when she was very young. Raised in an abusive environment, she would send letters to her aunts, practically begging for rescue. Only one of them ever responded. And there was no rescue. With no concept of what a healthy relationship was, at 19 she married "just to get out of the house." A few years later, with a 3-year-old and a 2-year-old, she separated from her first husband, only to discover she was again pregnant, this time with twins. She followed through with the divorce and wound up raising her four kids alone, in poverty.
She was in and out of other abusive relationships but did not remarry until her kids were grown. That relationship turned sour as well, and Kathleen began a cycle of getting a good job, getting laid off or leaving, becoming homeless, finding a shelter, building herself back up again, and getting another job.
Always hoping this time she'd find the stable, healthy life she knew existed. But did it only exist for others?
As years went on and the pattern persisted, Kathleen started to consider that something might be wrong on the inside. Last winter she quit yet another good job, this time because the work load (16-hour days) was no longer possible physically. She qualified for social security benefits and chose to come back to UGM for community and support while she decided how to proceed next with her life.
"I feel protected and secure when I'm here," she says of UGM.
"I don't want to be alone again. And it's scary because I don't want to repeat the same things, just grab whatever job and…repeat the cycle. I'm looking for more meaning and fulfillment this time."
The Crisis Shelter for Women and Children offers the first step to Recovery. We provide rest and clean-and-sober safety for any woman, but we encourage those who want more to consider moving into our Recovery program at Anna Ogden Hall, a step Kathleen is considering.
"Sometimes I feel like the Spirit is telling me I need to do this simply because of the revolving cycle I've lived through with being homeless. It's just been a vicious cycle. And I can attribute that to the child abuse I lived through and all the abandonment issues. It's followed me my whole life and it's still there. And I keep working in that cycle of every ten years: work, get displaced… and I've been homeless so many times in the past 24 years and that's not normal."
Ready to exit survival mode, Kathleen is in a safe place to discover her unique value and change her patterns once and for all.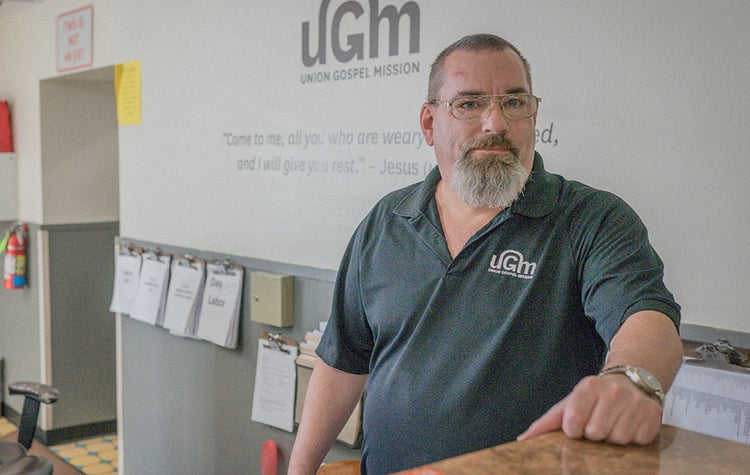 Ken says he was punished for being a straight A student. When he would bring home another report card with perfect grades, his father would beat him because he was "showing off."
That trauma, paired with the complex trauma of repeated sexual assault at the hands of a trusted adult, put Ken into a sort of survival mode as well. He was smart and uniquely capable, but when he was offered a full ride scholarship to Gonzaga University, he turned it down for no other reason than that he didn't want to please his parents.
"I made some bad decisions, but I don't think my head allowed me to make the right ones at that point in time."
Still, he found success. He worked his way up from entry level jobs to management at several firms, eventually becoming a regional manager at Mor Furniture.
For about ten years, he was so successful in fact, that if someone had suggested he'd wind up at a men's shelter, he would have laughed.
But just as with other successes in the past, one day he dropped everything and quit.
"Everywhere I went I made it right to the top. And I made really good money. But then one day would come up and I'd just... I don't know why... 'I'm not going to go to work.' I would just be done with that, and move forward."
In 2018, he sabotaged himself in the most hurtful way yet: He took a police matter into his own hands and wound up charged with 1st degree burglary. He served 20 months in prison. "I had to admit I did it. I deserved the time I got."
In prison, he had plenty of time to reflect on his life: Why was he stuck in a cycle of achieving success and sabotaging himself? Why could he not stay in charge of his life, or in control of his anger? He had a feeling it had something to do with the molestations he endured as a young teen, but that didn't help him know what to do differently next time. So, when he was released, he decided to seek help at UGM before making another career move. He needed to slow down and build a stronger base for himself before getting tripped up again in the same old cycle.
Today, he's a resident volunteer at UGM, living in community, and working the intake desk. He's also working with a psychologist at Frontier Behavioral Health.
"The first time I ever spoke of the abuse was with Ed Schultze [UGM volunteer psychologist]. That was within the first few weeks of being at UGM. He's so easy to talk to and I was able to bring it out. But I need more, I need to go deeper, that's why I'm working with Frontier. I've tucked [the pain] in for 40 years and somehow that needs to come out."
Even though he has not entered UGM's LIFE Recovery program, he sees the benefits and is learning a lot about the program anyway.
"To be honest with you, I think everybody needs that LIFE Recovery program. If I'd known I'd be here this long, I would have gone for it. I always thought it was all about addictions, until I'd been here a while and realized it's LIFE recovery. LIFE. I needed that."
Homelessness is not a choice that a healthy person makes, and UGM has the programming and qualified staff to help all kinds of people dig deep and find the root cause of their instability or discontent. The goal here is not just free food and shelter, but healing for LIFE.
We believe every person is created in the image of God with immeasurable beauty and worth and that no one was created for mere survival on the streets. We believe each person is created with a purpose, a unique gift no one else can offer the world and that one of our jobs is to help them discover it.
Learn more about homelessness by downloading our free e-book below.
=