Meet Keith Green, UGM Board President, 2005-2014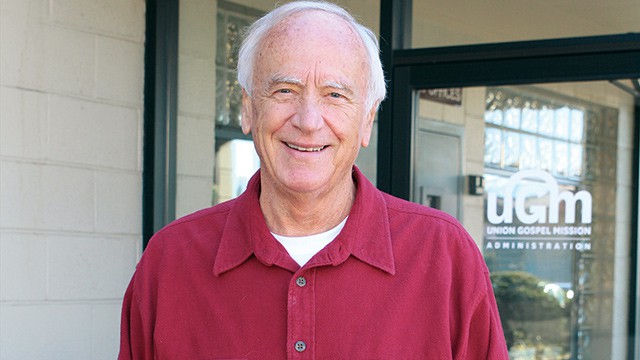 Keith Green's first personal interaction with the Union Gospel Mission came about back in the mid-1990s when he met Executive Director Phil Altmeyer at a community meeting on low-income housing. Keith was the Director of the FHA Office for Eastern Washington and was dealing with about 1,000 foreclosures. It was Keith's job to liquidate them and get them into the hands of new owners. But first, he needed to get them "mucked out" as he put it; so he asked Phil about hiring a group of men from the Mission as a clean-up crew. Phil supported the idea wholeheartedly and the two men made it happen.
"We had several crews cleaning up houses," Keith said, "and without question, the report came to me that the Mission team was the best team. They arrived on time or before. They were done before we figured they would be done, and they did a great job with a smile."
So began what turned into a 20-year tenure for Keith serving on the UGM Board of Directors, nine of those as president. Over that time, Keith said, he gained "an appreciation of what willing people with a godly heart can do for those who are troubled and in need."
Over the years, Keith said, one of the big highlights for him is seeing families restored. "It's heartwarming to see them rebuild that relationship and bring closeness back together in love."
On behalf of the Board of Directors and the UGM staff, Phil expressed his deep appreciation for Keith's faithful service.
"He has a heart and passion for those we serve and has led with strong commitment and enthusiasm."
Don't worry, Keith said. His term as president may be over, but he's not going anywhere.
Meet Mark Dresback, New UGM Board President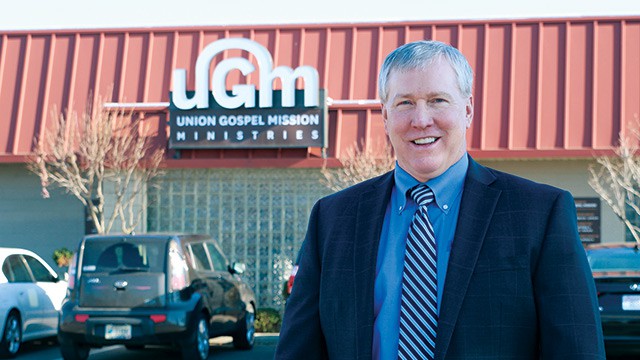 UGM made a big impression on Mark Dresback way back in the 7th grade. Mark's dad was a pastor, and Mark accompanied him when he preached at the old Mission on Browne. Harry Altmeyer, director at the time, took Mark aside and explained that many of the Mission's guests had been attorneys, doctors, businessmen, etc.
"He was trying to impress on me that these people, who were very successful in their careers, were not necessarily successful in life…and so I started on a mission, if you will, of trying to discover what makes a difference."
At first, Mark wanted to be a pastor like his dad, but over time, he discovered that his mission field was the workplace, his home, and providing leadership at UGM.
As a husband, father, grandfather and Senior Vice President at Inland Northwest Bank, Mark is a busy man. However, he feels clearly called to serve on the board at UGM.
"There's a draw here. Anybody who gets involved here sees the hand of God. It's really His work. We're aiding Him. We're accompanying Him. We're privileged to watch His work, and you don't want to miss that."
Executive Director Phil Altmeyer expressed his confidence in Mark's leadership: "Mark has a long history of serving. He's proven himself as a leader in the community and has a strong love for the Lord."